Much of the mate­ri­als, water, or ener­gy that we pro­duce today is either lost, wast­ed, or dis­card­ed from the eco­nom­ic sys­tem even though they still have val­ue. A cir­cu­lar econ­o­my mod­el ques­tions how that val­ue can be retained or even cre­at­ed from resources – that would, under oth­er cir­cum­stances, be lost or wast­ed – through reduc­tion, reusing, repair­ing, reman­u­fac­tur­ing, recy­cling and recov­er­ing of these resources. Hence, a cir­cu­lar econ­o­my is an oppor­tu­ni­ty to rebrand unwant­ed waste and loss­es into valu­able resources.
#1 Circular economy is a recycled notion
Let's re-estab­lish the truth around a com­mon mis­con­cep­tion: cir­cu­lar econ­o­my is not a nov­el rev­o­lu­tion­ary idea. As far back as 1966, the econ­o­mist Ken­neth Bould­ing defined what we can qual­i­fy as the embry­on­ic notion of cir­cu­lar econ­o­my. In his essay, "The Eco­nom­ics of the Com­ing Space­ship Earth," he describes an econ­o­my of the past as one with seem­ing­ly unlim­it­ed resources, reck­less and exploita­tive behav­iour of extrac­tion, pro­duc­tion, and con­sump­tion. He com­pares it to a closed econ­o­my of the future, which he calls: the "space­man" economy.
In a space­man econ­o­my, "the Earth has become a sin­gle space­ship, with­out unlim­it­ed reser­voirs of any­thing, either for extrac­tion or for pol­lu­tion, and in which, there­fore, man must find his place in a cycli­cal eco­log­i­cal sys­tem which is capa­ble of con­tin­u­ous repro­duc­tion of mate­r­i­al form even though it can­not escape hav­ing inputs of ener­gy." Also, in 1990 the term cir­cu­lar econ­o­my was explic­it­ly coined in an envi­ron­men­tal eco­nom­ics book1 and in the Chi­nese law pro­mot­ing cir­cu­lar econ­o­my2.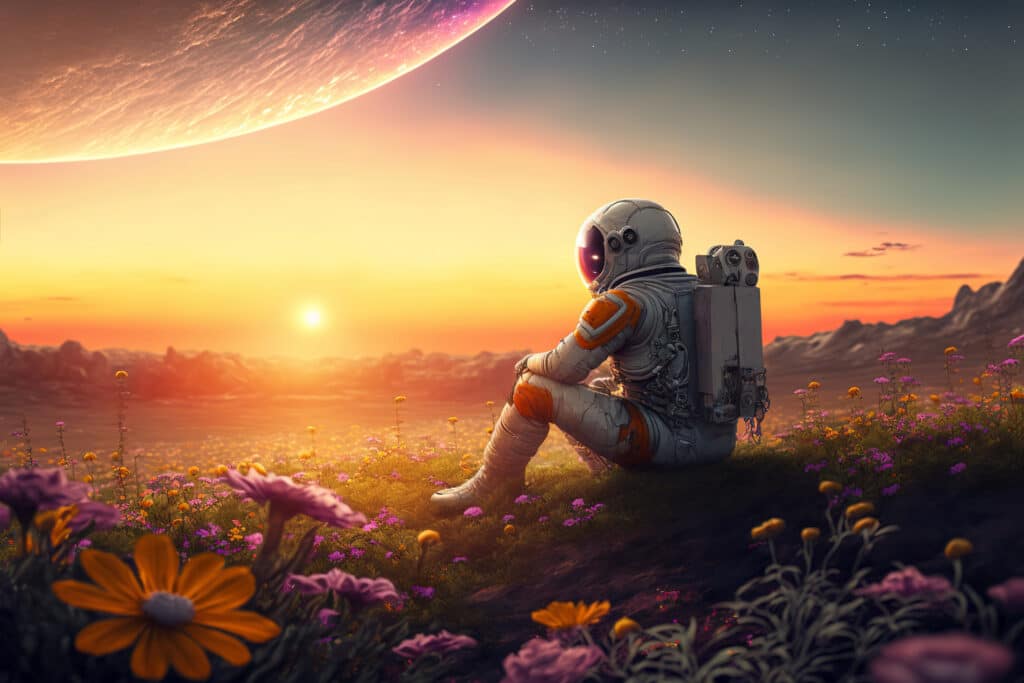 #2 Circular economy is now a well branded discourse
The Ellen MacArthur Foun­da­tion (EMF) and the con­sult­ing firm McK­in­sey joined forces to strength­en the argu­ment for the solu­tion pro­posed by the cir­cu­lar econ­o­my to the prob­lems cre­at­ed by the lin­ear econ­o­my. They stag­ger­ing­ly suc­ceed­ed in embark­ing a wide pan­el of eco­nom­ic actors and pol­i­cy­mak­ers through a well brand­ed and attrac­tive dis­course, clear visu­al rep­re­sen­ta­tions of cir­cu­lar bio­log­i­cal and tech­ni­cal flux­es, can­vas, and con­crete models.
As such, cir­cu­lar econ­o­my was then per­ceived as a way out of the eco­nom­ic cri­sis of 2010. Back then, the eco­nom­ic sphere suf­fered from the soar­ing prices of raw mate­ri­als due to the high demand inflict­ed by the Chi­nese eco­nom­ic devel­op­ment, the glob­al embar­go by Chi­na on rare met­als, and the glob­al envi­ron­men­tal degra­da­tion and dam­ages trans­lat­ed by con­crete indi­ca­tors and proofs3. Oth­er insti­tu­tions fol­lowed the lead of the EMF and start­ed intro­duc­ing their own per­cep­tions and def­i­n­i­tions for cir­cu­lar econ­o­my4, such as the French Agency for Eco­log­i­cal Tran­si­tion (ADEME). To date, there are more than 100 def­i­n­i­tions car­ry­ing dif­fer­ent mean­ings5!
#3 Circular economy is an impossible physical utopia
A cir­cu­lar econ­o­my where waste no longer exists, and all resources are indef­i­nite­ly val­ued is unre­al­is­tic. In any prag­mat­ic sys­tem, it is impos­si­ble to have per­fect­ly closed resource loops con­tain­ing indef­i­nite­ly recy­cled or recy­clable mate­ri­als and entire­ly recov­ered dis­si­pat­ed ener­gy due to ther­mo­dy­nam­ics con­straints6.
A cir­cu­lar econ­o­my is an oppor­tu­ni­ty to rebrand unwant­ed waste and loss­es into valu­able resources.
In fact, there are lim­i­ta­tions in mate­r­i­al prop­er­ties lead­ing to unavoid­able wear and tear7. For exam­ple, due to mate­r­i­al fatigue after use, the recy­cling of alu­mini­um is lim­it­ed to a num­ber of cycles, and to ensure it meets qual­i­ty stan­dards, the addi­tion of approx­i­mate­ly 5 % pure vir­gin alu­mini­um is required8. Also, mul­ti­ple plas­tic recy­cling cycles reduce the poly­mer chains they con­tain, which degrades qual­i­ty9. There are also lim­i­ta­tions in tech­nolo­gies lead­ing to inevitable dis­si­pa­tion in the envi­ron­ment, pos­si­ble con­t­a­m­i­na­tion, and retain­ing of haz­ardous sub­stances in the econ­o­my when engag­ing in cir­cu­lar econ­o­my activ­i­ties. Illus­tra­tive exam­ples of this issue are sludges from indus­tri­al waste waters, that con­tain nutri­ents like phos­pho­rus, and incin­er­a­tion bot­tom ash­es con­tain­ing scrap met­als. They can respec­tive­ly be used as fer­til­iz­ers and con­struc­tion aggre­gates whilst avoid­ing the extrac­tion of vir­gin mate­ri­als such as min­er­al fer­til­iz­ers and grav­els. How­ev­er, their lev­el of pol­lu­tants is high­er than the tra­di­tion­al mate­r­i­al they replace10. These fac­tors make it hard for com­pa­nies to replace well-func­tion­ing val­ue chains with pri­ma­ry resources with waste as a resource from cir­cu­lar activity.
Con­cern­ing ener­gy, it is in con­stant need across the world. And, while we can cap­ture, trans­form, and trans­port it, each of these oper­a­tions in turn con­sumes ener­gy with the avail­able tech­nolo­gies we have11. Hence, hav­ing closed ener­gy loops with­out addi­tion­al inputs of ener­gy is con­se­quent­ly unfea­si­ble in the fore­see­able future.
#4 Circular economy cycles are not always green
Numer­ous ben­e­fits can be asso­ci­at­ed with cir­cu­lar econ­o­my prin­ci­ples – name­ly, a reduc­tion in the extrac­tion of pri­ma­ry resources and waste cre­ation. How­ev­er, for many researchers, there is still sig­nif­i­cant uncer­tain­ty on the con­crete pos­i­tive envi­ron­men­tal and social impact of cir­cu­lar econ­o­my. Some argue that imple­ment­ing cir­cu­lar strate­gies does not by default dimin­ish envi­ron­men­tal impact12 for a sim­ple rea­son: The Rebound Effect (Jevon's Para­dox). It hap­pens "when cir­cu­lar activ­i­ties, which have low­er per-unit-pro­duc­tion impacts, also cause increased lev­els of pro­duc­tion, reduc­ing their ben­e­fits."13
The 'Cir­cu­lar Rebound Effect' hap­pens when cir­cu­lar activ­i­ties, which have low­er per-unit-pro­duc­tion impacts, also cause increased lev­els of pro­duc­tion, reduc­ing their benefits.
Dif­fer­ent mech­a­nisms can lead to a cir­cu­lar rebound effect14. For exam­ple, when sec­ondary prod­ucts (from upcy­cling, reusing, reman­u­fac­tur­ing, or recy­cling activ­i­ties) are not ade­quate sub­sti­tutes to pri­ma­ry prod­ucts (prod­ucts man­u­fac­tured using vir­gin mate­ri­als). A recent study showed that a com­pa­ny sell­ing upcy­cled mar­ble slabs gen­er­at­ed an addi­tion­al envi­ron­men­tal impact equal to 13.2% of the emis­sion sav­ings expect­ed15. The sec­ondary prod­uct being inad­e­quate for the mar­ket, it was not able to draw cus­tomers away from the pri­ma­ry prod­uct. Anoth­er mech­a­nism trig­ger­ing rebound effect is clients' behav­iour such as increased con­sump­tion or use. In the Unit­ed States, researchers showed that smart­phone reuse gen­er­at­ed a rebound effect that off­sets from 30 to 45 % of the expect­ed emis­sions sav­ings16. As such, avoid­ing these rebound effects requires ecosys­temic think­ing to keep an eye on the full picture.
Fur­ther­more, con­cerns are being raised about the social costs of a cir­cu­lar econ­o­my. Bad work­ing con­di­tions, pow­er asym­me­tries, issues of equi­ty and inclu­sion may be over­looked17. Exam­ples of this involve jobs in col­lect­ing and sort­ing recy­cling con­tent, and repair­ing activ­i­ties under­tak­en by social­ly mar­gin­al­ized groups. Stud­ies esti­mat­ed that in 2016 approx­i­mate­ly 58% of all plas­tic recy­cled glob­al­ly was col­lect­ed by the infor­mal sec­tor1819, often oper­at­ing in unsafe con­di­tions and with­out employ­ment ben­e­fits2021. This leads to weak cir­cu­lar­i­ty22 exclud­ing social respon­si­bil­i­ty and rein­forc­ing unequal pow­er relations.
There­fore, pro­fes­sion­als are devel­op­ing indi­ca­tors and met­rics allow­ing man­ag­ing the deploy­ment of cir­cu­lar prac­tices and assess­ing their actu­al impact232425. The objec­tive is to make it less easy to make unfound­ed state­ments on the cir­cu­lar econ­o­my and bring real issues raised by the transition.
#5 Circular economy is a matter of creative collaboration
The metaphor of the cir­cle is a pow­er­ful tool. It helps com­pa­nies rethink the way they pro­duce and the way we con­sume. It trig­gers cre­ative think­ing and fos­ters coop­er­a­tion between eco­nom­ic actors to cre­ate bright solu­tions. It can be done through new part­ner­ships, man­age­ment indi­ca­tors, meth­ods of eco-design, fru­gal con­cep­tion of mate­ri­als and ener­gy use, cri­te­ria for per­for­mance eval­u­a­tion and val­ue cre­ation26.
Ulti­mate­ly, the issue raised is how to stim­u­late coop­er­a­tion not only with­in com­pa­nies and entire indus­tries, but also with gov­ern­ments and pol­i­cy­mak­ers to make it hap­pen. It is time for pro­duc­ers and the state to reclaim the idea of strong cir­cu­lar­i­ty based on "a closed, mate­r­i­al loop lim­it­ed in size and space, embed­ding the prin­ci­ple of fair dis­tri­b­u­tion of resources"27. It is time to push aside false hopes and promis­es of the utopi­an cir­cu­lar econ­o­my and pro­vide care­ful expla­na­tions of its lim­its and cocre­at­ing aus­pi­cious con­di­tions to imple­ment it successfully.
Farah Doumit