Health and biotech
How synthetic biology could help degrade plastic waste
Key takeaways
390 million tons of plastics were produced in 2021, the majority of which will probably be dumped back into nature.
While plastics are a pollutant for most living things, some bacteria and fungi have acquired the ability to turn them into a source of energy.
Synthetic biology is one of the tools that could be used to limit the pollution linked to the production and use of plastics.
In particular, it proposes to apply engineering methods to molecular biology in order to "optimise living things".
Combining synthetic biology with these micro-organisms could be a solution for recycling plastics.
After a year of stag­na­tion due to the pan­dem­ic in 2020, glob­al plas­tics pro­duc­tion has start­ed to rise again: 390 mil­lion tonnes were pro­duced in 2021, 90% of which was pro­duced from fos­sil resources1. Once used, the major­i­ty is like­ly to end up as waste, adding to the 5 bil­lion tonnes that had already accu­mu­lat­ed in 2015, rep­re­sent­ing 79% of all plas­tic waste pro­duced by human­i­ty2. The envi­ron­men­tal prob­lems posed by these mate­ri­als are numer­ous. Could micro-organ­isms help solve them?
Natural plastic eaters
Although plas­tics are pol­lu­tants for the vast major­i­ty of liv­ing beings, some bac­te­ria and fun­gi have acquired the abil­i­ty to turn them into an ener­gy source. Found in the soil, the sea or the intestines of some ani­mals, sev­er­al species of micro-organ­isms can attack dif­fer­ent types of plas­tics (PET, PP, PS, PE, PUR, PLA…) thanks to enzymes that alter these long hydro­car­bon chains3. How­ev­er, this does not mean that sim­ply putting them in con­tact with the right plas­tic will make it disappear.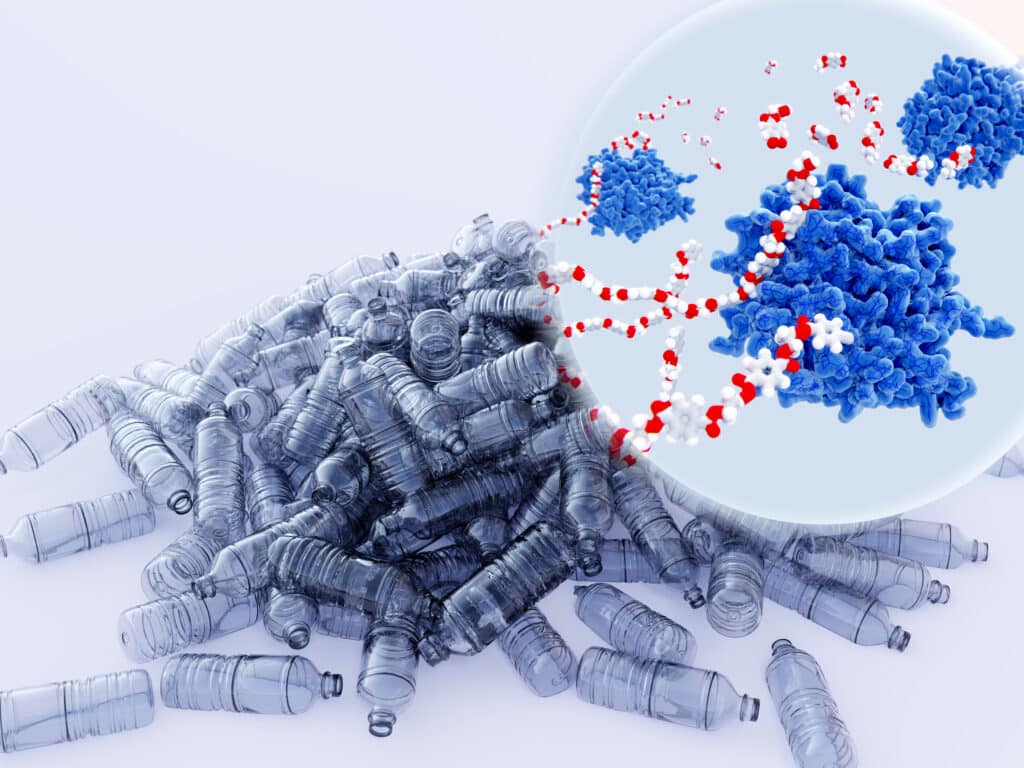 The process is most effec­tive when the plas­tics have already been dam­aged, for exam­ple by UV light or chem­i­cal treat­ments, and when the micro-organ­isms are placed under opti­mal pH and tem­per­a­ture con­di­tions4. How­ev­er, each species is only active on cer­tain plas­tics and being able to attack a mate­r­i­al does not imply being able to degrade it com­plete­ly. Even the strains that have attract­ed the most atten­tion, such as Ideonel­la sakaien­sis, a bac­teri­um that breaks down PET into its con­stituent monomers5, have a major lim­i­ta­tion: they need a few weeks or even months to degrade lim­it­ed quan­ti­ties of plas­tics. In oth­er words, these plas­tic-eat­ing micro-organ­isms are not an ide­al solu­tion for man­ag­ing our pol­lu­tion. But they could still be of great help to us!
Optimising what already exists
Progress in genet­ics, in terms of under­stand­ing the mech­a­nisms involved, antic­i­pat­ing pos­si­ble results, and devel­op­ing mol­e­c­u­lar tools, now makes it pos­si­ble to vol­un­tar­i­ly mod­i­fy genomes – in par­tic­u­lar to make organ­isms syn­the­sise cer­tain types of pro­tein. Many bio­log­i­cal research projects now involve the pro­duc­tion of cells or even organ­isms that over- or under-express cer­tain genes. The genet­ic mod­i­fi­ca­tions that make it pos­si­ble to obtain them are almost a craft, with each researcher mak­ing what they need. But this approach can be adapt­ed to a com­plete­ly dif­fer­ent scale!
Since 2000, syn­thet­ic biol­o­gy has pro­posed apply­ing engi­neer­ing meth­ods to mol­e­c­u­lar biol­o­gy. It con­sid­ers genes and oth­er DNA sequences (espe­cial­ly reg­u­la­to­ry ones) as build­ing blocks that can be opti­mised and com­bined in a meta­bol­ic engi­neer­ing log­ic. The new bio­log­i­cal syn­the­sis path­ways thus devised can then be implant­ed in cells, gen­er­al­ly micro-organ­isms, which become small genet­i­cal­ly mod­i­fied pro­duc­tion fac­to­ries. This approach has its lim­i­ta­tions, the main one being the chaot­ic com­plex­i­ty of liv­ing organ­isms. A syn­thet­ic path­way that seems opti­mal in the­o­ry does not always work in prac­tice, once con­front­ed with the real­i­ty of a cel­l's envi­ron­ment. And the tran­si­tion to a larg­er scale, which is essen­tial for many appli­ca­tions, con­sti­tutes an addi­tion­al lev­el of dif­fi­cul­ty: liv­ing sys­tems often remain sen­si­tive and unpredictable.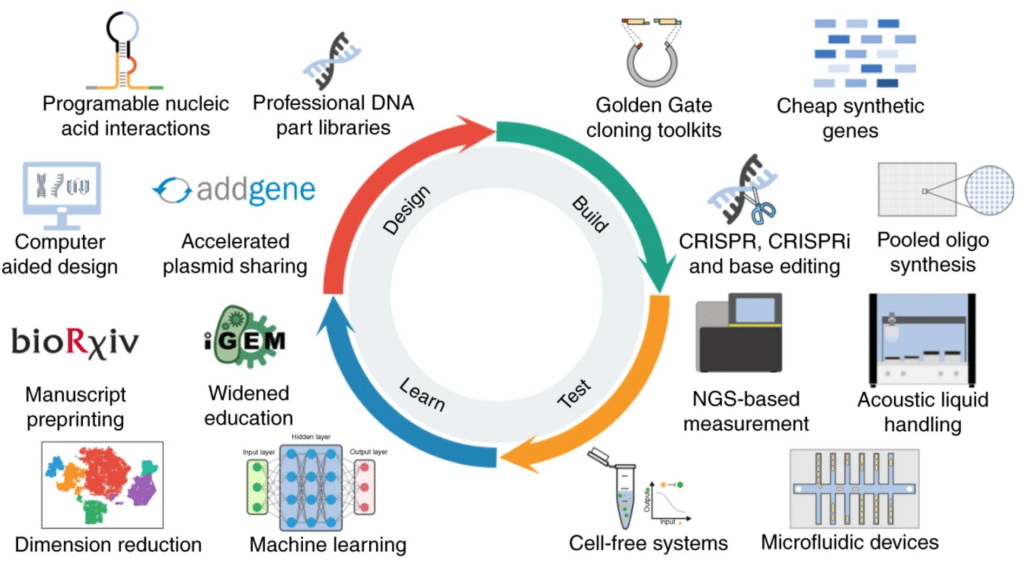 Nev­er­the­less, in the last twen­ty years, syn­thet­ic biol­o­gy has become much more than a the­o­ret­i­cal vision. Many com­pa­nies are invest­ing in this approach, which has already led to the com­mer­cial­i­sa­tion of var­i­ous prod­ucts in fields as diverse as med­i­cine, food, and mate­ri­als7. Fuelled by biotech­no­log­i­cal advances such as DNA syn­the­sis, high-through­put sequenc­ing, and new gene-edit­ing tech­niques, sup­port­ed by increas­ing­ly pow­er­ful com­put­er tools and inte­grat­ing new knowl­edge struc­tured in increas­ing­ly rich data­bas­es, it seems rea­son­able to expect syn­thet­ic biol­o­gy to pro­duce break­throughs8.
Attacking plastics
Microor­gan­isms capa­ble of degrad­ing plas­tics may not be effi­cient enough to be use­ful on a large scale, but their study pro­vides new ammu­ni­tion for syn­thet­ic biol­o­gy! Each enzyme dis­cov­ered enrich­es the cat­a­logue of tools avail­able to design and opti­mise meta­bol­ic path­ways. And the mod­i­fi­ca­tion of these pro­teins after study­ing their struc­ture some­times makes it pos­si­ble to obtain even more effi­cient ver­sions of them, only a few years after their dis­cov­ery910.
Unlike oth­er recy­cling meth­ods, which involve a loss of mate­r­i­al qual­i­ty, the bio­log­i­cal degra­da­tion path­ways allow the con­stituent monomers of the plas­tics to be returned. These can then be reassem­bled to pro­duce a prod­uct equiv­a­lent to new, with no con­straints on the colours or types of objects that can be man­u­fac­tured. How­ev­er, there are still prob­lems to over­come. On the one hand, this decon­struc­tion of plas­tics releas­es the addi­tives added to these mate­ri­als, which must be man­aged on their own. On the oth­er hand, these approach­es remain more expen­sive than pro­duc­tion from fos­sil resources, and incen­tives will be need­ed to push man­u­fac­tur­ers to imple­ment them. More­over, as yields are nev­er per­fect, the life cycle of plas­tics will not be infi­nite. Final­ly, even if they are no longer pure­ly the­o­ret­i­cal, these process­es are still being developed!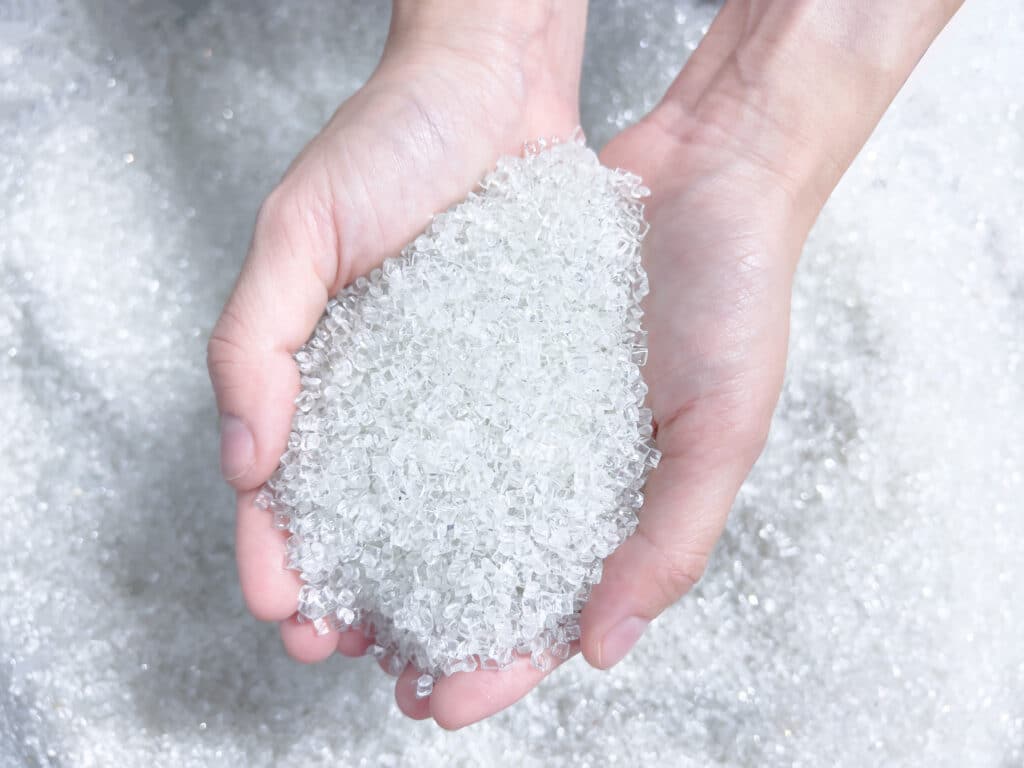 One of the pio­neers of plas­tic degra­da­tion using syn­thet­ic biol­o­gy is a French com­pa­ny: Car­bios (https://​www​.car​bios​.com/fr/). It has devel­oped a process based on an enzyme called LCC, iden­ti­fied in 2012 by Japan­ese researchers who car­ried out a metage­nom­ic analy­sis (https://​www​.poly​tech​nique​-insights​.com/​t​r​i​b​u​n​e​s​/​s​a​n​t​e​-​e​t​-​b​i​o​t​e​c​h​/​l​a​-​m​e​t​a​g​e​n​o​m​i​q​u​e​-​c​o​m​m​e​n​t​-​e​t​u​d​i​e​r​-​l​a​-​b​i​o​d​i​v​e​r​s​i​t​e​-​m​i​c​r​o​s​c​o​pique) of a com­post11. Com­pared with oth­er pro­teins capa­ble of degrad­ing PET, LCC was found to be par­tic­u­lar­ly effec­tive. Muta­tions were used to improve its activ­i­ty and tem­per­a­ture resis­tance to pro­duce monomers that effec­tive­ly reman­u­fac­tured PET to a qual­i­ty com­pa­ra­ble to new PET at a rea­son­able cost12. After set­ting up an indus­tri­al demon­stra­tor13, the com­pa­ny con­tin­ued its devel­op­ment with the con­struc­tion of its first biore­cy­cling site14.
Promises and limits
Beyond this exam­ple, the num­ber of patents linked to the recy­cling of plas­tics and the devel­op­ment of alter­na­tive mate­ri­als shows the dynamism of this sec­tor15, which is of inter­est to both indus­try and fun­da­men­tal research. Alone or in com­bi­na­tion with oth­er approach­es16, syn­thet­ic biol­o­gy is one of the tools that could make it pos­si­ble to lim­it the pol­lu­tion linked to the pro­duc­tion and use of plastics.
How­ev­er, this should not detract from the many issues raised by its use. Some are very clear, such as the man­age­ment of addi­tives, the improve­ment of yields, the opti­mi­sa­tion of costs, the adap­ta­tion to dif­fer­ent types of plas­tics and, gen­er­al­ly, the dif­fi­cul­ties of devel­op­ment and scal­ing up. Oth­ers touch on more del­i­cate issues. Indeed, the micro-organ­isms pro­duced by syn­thet­ic biol­o­gy are genet­i­cal­ly mod­i­fied. This rais­es ques­tions about the patentabil­i­ty of liv­ing organ­isms, but also about the risks of release into the nat­ur­al envi­ron­ment. While the abil­i­ty to degrade plas­tics is use­ful in a waste man­age­ment con­text, it seems impor­tant to keep con­trol of it.
In gen­er­al, there is still a long way to go to achieve a rea­son­able use of plas­tics. Estab­lish­ing a true cir­cu­lar econ­o­my is a chal­lenge in itself17, reduc­ing our depen­dence on these ubiq­ui­tous mate­ri­als is anoth­er. While it is rel­e­vant to con­sid­er each tool to move in the right direc­tion, no sin­gle tool will be suf­fi­cient to solve all the problems.