With the advent of the dig­i­tal age, protest move­ments are now being expressed and organ­ised dif­fer­ent­ly. In the past, they were, for exam­ple, led by trade unions or polit­i­cal par­ties that strug­gled to estab­lish demon­stra­tions with a high lev­el of mobil­i­sa­tion, due to a lack of coor­di­na­tion. And if they did man­age to mobilise peo­ple, it had to be through inter­me­di­aries due to these coor­di­na­tion problems.
Today, with social net­works, things are dif­fer­ent: it is much sim­pler to pick up on protest sig­nals and to organ­ise, mak­ing it eas­i­er to build move­ments around these aggre­gates of anger. Ger­main Gau­thi­er, a doc­tor­al stu­dent in eco­nom­ics, works on the impact of social net­works on the for­ma­tion of this type of move­ment. He analy­ses two recent protest move­ments: the "Me Too" move­ment and the "Yel­low Vests" protests in France.
The Yellow Vests and Facebook
The Yel­low Vests – a spo­radic move­ment born out of the protest around the rise in fuel prices in France which began in 2018 – is one of the typ­i­cal exam­ples of the new protests and the dig­i­tal organ­i­sa­tion that has sprung up around them. No leader, no polit­i­cal par­ties, just a pop­u­la­tion at the end of its teth­er in a high­ly com­plex eco­nom­ic sit­u­a­tion, mobil­is­ing en masse via social net­works12. This move­ment gave rise to demands that went beyond the price of petrol and extend­ed to the re-estab­lish­ment of the wealth tax, while remain­ing some­what con­fused due to the lack of struc­ture of the movement.
Indeed, the cre­ation of numer­ous groups on Face­book, still active today, is one of the organ­i­sa­tion­al ele­ments of the move­ment. To bet­ter under­stand it, Ger­main Gau­thi­er and his co-authors mapped the online and offline mobil­i­sa­tions of the Yel­low Vests. For online mobil­i­sa­tion, they list­ed more than 3,000 geolo­cat­ed groups on Face­book with near­ly 4 mil­lion mem­bers in total; as well as mil­lions of mes­sages post­ed on hun­dreds of pages relat­ed to the Yel­low Vests. For offline mobil­i­sa­tion, the researchers have a map of inten­tions to demon­strate on the evening of the first ral­ly, on 17th Novem­ber 2018, which brings togeth­er near­ly 300,000 protesters.
The cor­re­la­tion between atten­dance in Face­book groups and the gen­er­al mobil­i­sa­tion of the Yel­low Vests move­ment is very real. More­over, unlike move­ments that could not ben­e­fit from the impe­tus of social net­works, offline mobil­i­sa­tion per­sists even after the mas­sive mobil­i­sa­tion in the streets (see graph below).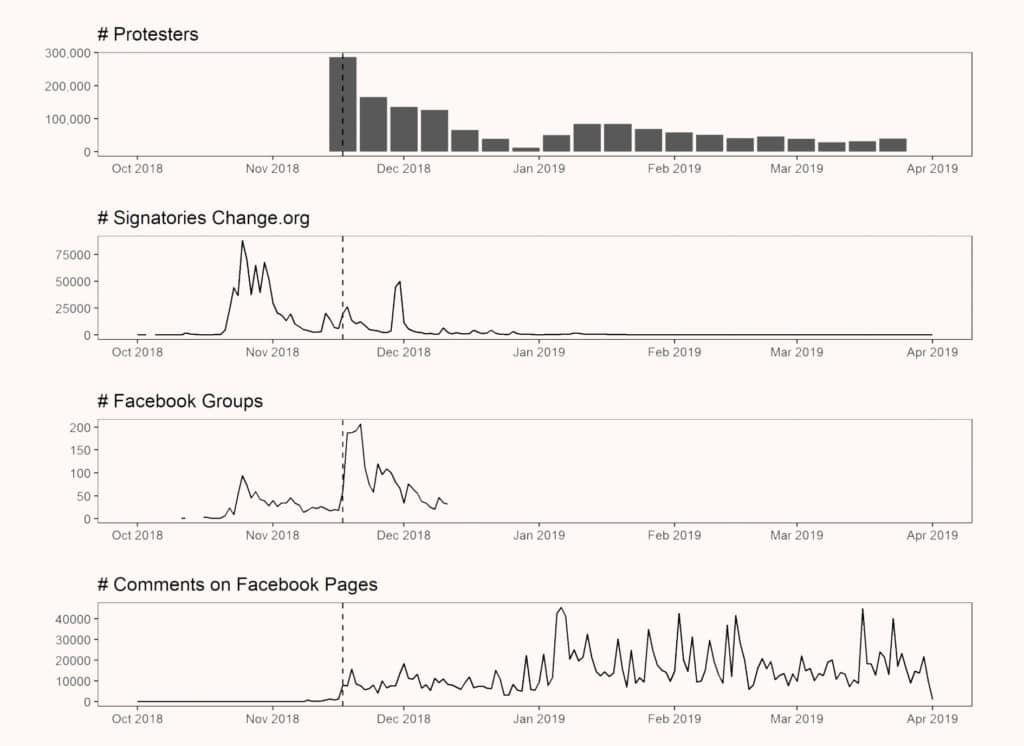 This graph shows the rela­tion­ship between offline and online mobil­i­sa­tion, but also the move­men­t's abil­i­ty to endure over time. It can be seen that the curve relat­ing to com­ments on Face­book pages only decreas­es slight­ly, unlike the mobilisation.
Ger­main Gau­thi­er explains, "the spa­tial cor­re­la­tion between Face­book groups and organ­ised phys­i­cal block­ades is large­ly pos­i­tive and explains the offline mobil­i­sa­tion more than the admin­is­tra­tive socio-demo­graph­ic data of the regions. On the eve of 17th Novem­ber, there were near­ly 918 Face­book groups with more than 100 mem­bers – that's already more than a mil­lion poten­tial pro­test­ers. If this first online mobil­i­sa­tion was impres­sive, the sec­ond was even more so. In the after­math of 17th Novem­ber, a new wave of Face­book groups was cre­at­ed, feed­ing the move­ment and keep­ing the protest alive on social net­works4."
This study there­fore shows that the Yel­low Vests move­ment has tend­ed to mul­ti­ply in an inno­v­a­tive dig­i­tal era, defy­ing codes and mobil­is­ing a large num­ber of peo­ple. The ques­tion which remains unan­swered is that of pre­dic­tion. Will it be pos­si­ble, in the near future, to pre­dict protest move­ments by sim­ply analysing "big data"?
Ger­main Gau­thi­er does not think so, but he warns, "our abil­i­ty to pre­dict the appear­ance of social move­ments is still poor. How­ev­er, many dic­ta­to­r­i­al regimes around the world have under­stood the impor­tance of social net­works (and more gen­er­al­ly of dig­i­tal traces) for mon­i­tor­ing pop­u­la­tions. From that point of view, the risk is very real."
Me Too, a new generation of protest
Ger­main Gau­thi­er also stud­ied a dif­fer­ent type of protest move­ment in the MeToo phe­nom­e­non, which encour­ages women to speak out and express them­selves, from social net­works, on sex­u­al vio­lence. This move­ment gained momen­tum at the time of the Wein­stein affair in 2017.
Whilst Me Too does not cre­ate large demon­stra­tions in the streets, it offers an unprece­dent­ed lev­el of mobil­i­sa­tion on social net­works while impact­ing real life through free speech and dis­rupt­ing social codes. Gau­thi­er com­pares the MeToo move­ment to May 68 (in France), explain­ing that, "this move­ment is already shak­ing up soci­etal codes oppress­ing women and aims to pro­found­ly change soci­etal norms in the long term." The pres­sure of the move­ment is then applied to many insti­tu­tions. As such, the mobil­i­sa­tion on social net­works means that, even with­out large protests in the real world like the Yel­low Vest, the glob­al move­ment that is MeToo is forc­ing politi­cians to look at social net­works and become aware of their impact.
Gau­thi­er pro­vides an accu­rate mea­sure of this impact by using a num­ber of vari­ables to high­light the poten­tial cor­re­la­tion between the MeToo move­ment on social net­works and sex crime com­plaints. By com­par­ing sex crime com­plaints before and after the appear­ance of the "#Metoo" hash­tag, which went viral on Twit­ter in Octo­ber 2017, he observes a sig­nif­i­cant increase in sex crime com­plaints in the Unit­ed States (around +20% between 2017 and 2018 for New York City, for example).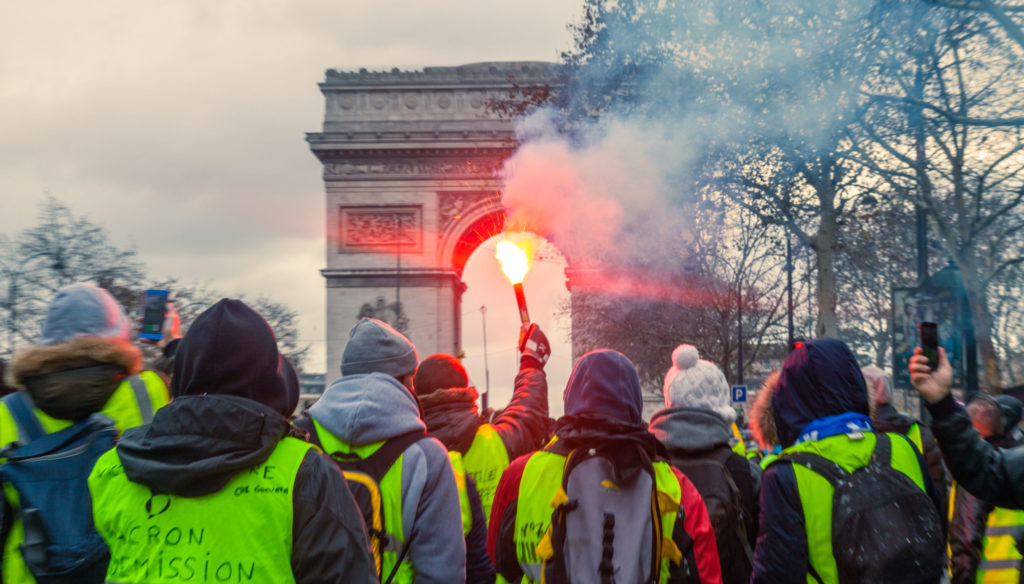 But the MeToo move­ment seems to be the cul­mi­na­tion of an anger that has been res­onat­ing for years on social net­works. Since 2010, the num­ber of ref­er­ences to sex­u­al vio­lence on social net­works has been steadi­ly increas­ing. In his report on the sub­ject, he writes, "empir­i­cal find­ings indi­cate sub­stan­tial pre-trends before the advent of the MeToo move­ment. I esti­mate that the share of vic­tims who even­tu­al­ly report a sex crime to the police dou­bled between 2009 and 2017, from 30% to 60%. In terms of the inci­dence of sex crimes, my esti­mates sug­gest a 50% decrease in New York City and a 20% decrease in Los Ange­les. »
There are sev­er­al notable exam­ples to show the eco­nom­ic impact of the move­ment: the 16% drop in the Wynn Resort Group after accu­sa­tions of sex­u­al harass­ment against the CEO, the 21% drop in the Guess Group, again for the same rea­sons. Not to men­tion the bank­rupt­cy of the stu­dio found­ed by Har­vey Weinstein.
All of these exam­ples show us that even with­out sig­nif­i­cant offline mobil­i­sa­tion, online mobil­i­sa­tion can have many impacts on com­pa­nies and poli­cies. Social net­works are now at the heart of soci­ety and the line between online and offline has nev­er been so blurred.
"We still can't pre­dict the next big moves in social net­works. But, thanks to the data we can get from them, we are able to look very close­ly at how move­ments devel­op," he con­cludes. "Nev­er­the­less, it is dif­fi­cult to know today whether the way move­ments are pro­gress­ing is due to social net­works or not. For exam­ple, if we had access to this kind of data dur­ing the Mar­garet Thatch­er era in the UK, we might see the same pat­terns…"
Interview by Fabien Roches