Is sail­ing propul­sion a seri­ous option for reduc­ing the car­bon foot­print of mar­itime freight?
Since 2011, we have seen the emer­gence of projects for the use of diesel propul­sion in the mer­chant navy. And the cur­rent sit­u­a­tion – in par­tic­u­lar the very high cost of ener­gy – is increas­ing­ly favourable to the sec­tor. Wind is a source of ener­gy that is free from the prob­lems of spec­u­la­tion, secu­ri­ty, and infra­struc­ture. In addi­tion, the Inter­na­tion­al Mar­itime Organ­i­sa­tion and the Euro­pean Com­mis­sion are demand­ing increas­ing decar­bon­i­sa­tion efforts from shipown­ers, and sea freight is expect­ed to be includ­ed in the EU Emis­sions Trad­ing Scheme by 2023.
The huge advan­tage of diesel propul­sion is its avail­abil­i­ty: it is an ide­al solu­tion in the short term, and com­ple­men­tary to alter­na­tive fuels in the longer term. There are already 15 ships in the world that are using sail propul­sion sys­tems. Some tech­nolo­gies are mature, such as Flet­tner rotors, and oth­ers will be test­ed very soon. For exam­ple, the Nantes-based start-up Airseas has been test­ing its kite since Decem­ber 2021 on a ship char­tered by Air­bus between France and the Unit­ed States. Zéphyr & Borée plans to launch its Canopée sail­ing car­go ship this year, which will trans­port the future Ari­ane 6 launch­er from main­land France to French Guiana.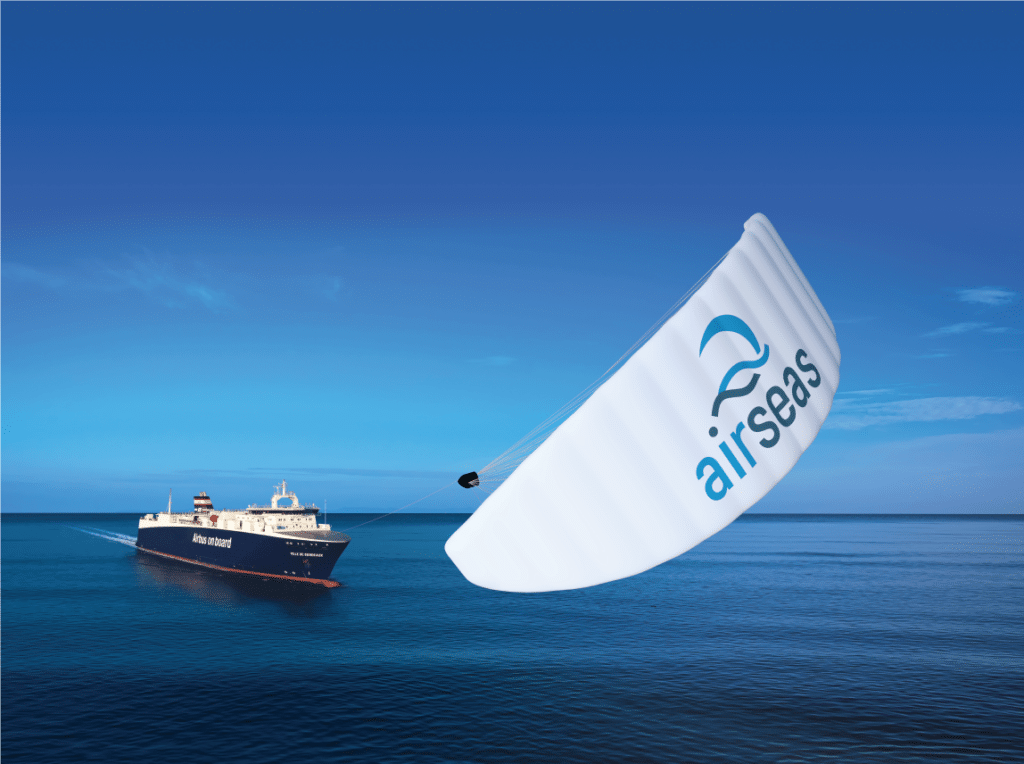 You men­tion sev­er­al tech­nolo­gies: in con­crete terms, what is the nature of sail propulsion?
There is a real pro­lif­er­a­tion of inno­va­tions and tech­ni­cal solu­tions. The most mature solu­tion is the Flet­tner rotor, dis­cov­ered in 1924. Since 2010, the firm Ener­con has demon­strat­ed that this tech­nol­o­gy is com­pat­i­ble with the con­straints of mar­itime freight. The rotors need to be rotat­ed by means of anoth­er ener­gy source, a motor, or a huge fan in the case of suc­tion pro­files. Cur­rent­ly, oil-fired gen­er­a­tors are used on board to pro­duce this pow­er, and alter­na­tive fuels could be con­sid­ered in the future.
There are also oth­er wind propul­sion tech­nolo­gies that use only wind pow­er. Con­ven­tion­al flex­i­ble fab­ric wings, such as those on old rigs like the three-mast­ed Belem, age quick­ly and are not very effi­cient. Today, shipown­ers are turn­ing to rigid pan­els, made of com­pos­ite mate­r­i­al, or thick pro­files that resem­ble an air­craft wing.
All these sys­tems are locat­ed on the deck of the ship, and there­fore require space. One of the lat­est solu­tions explored is the kite: this time the wing is aer­i­al. This is quite inno­v­a­tive, and the tech­nol­o­gy is cur­rent­ly being developed.
Can all ships be equipped, and can we achieve 100% wind propulsion?
It is pos­si­ble to retro­fit exist­ing ships today. A study 1 esti­mates that 40–45% of the world fleet (37,000–40,000 ships) could be retro­fit­ted by 2050, due to the low­er cost of this propul­sion and its wide avail­abil­i­ty. Wind will in most cas­es be an aux­il­iary ener­gy source, part­ly reduc­ing the need for the ship's com­bus­tion engine.
New ships will have to be built to achieve almost entire­ly wind propul­sion (they will still car­ry an engine to secure the port approach). This per­for­mance can only be achieved by ships designed for this pur­pose, and not by retro­fitting: their hulls must inte­grate anti-drift sys­tems linked to the use of sails, and the posi­tion­ing of the masts must respect the bal­ance of mass­es and access to car­go spaces by port ser­vices. The Neo­line sail­ing freighter, cur­rent­ly under devel­op­ment, will be equipped with four masts pro­vid­ing 90% of the ener­gy require­ment for its propulsion.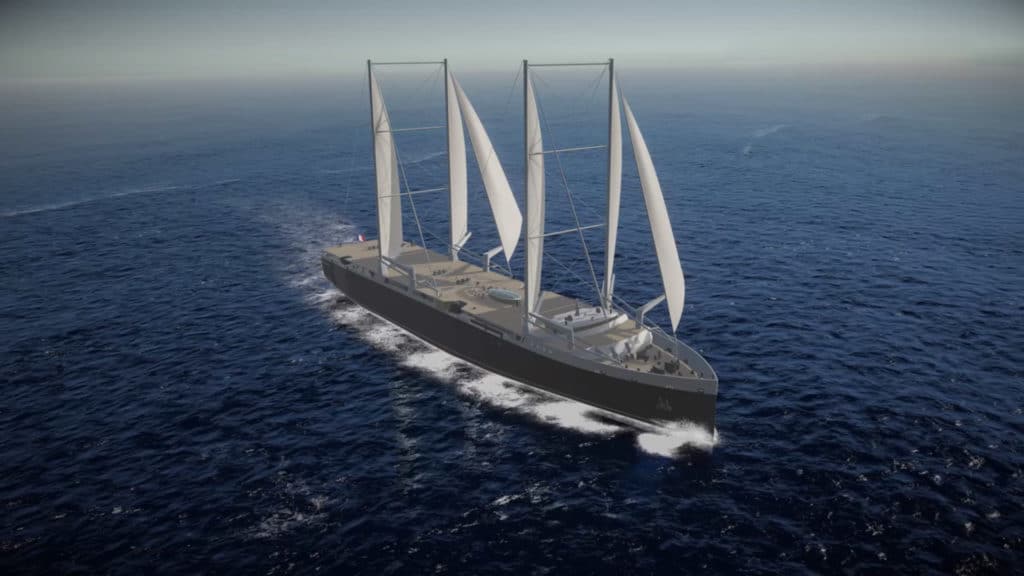 The heav­ier the ship, the more pow­er is need­ed to move it. Sail­ing propul­sion makes sense on medi­um-sized ships – up to 200 metres in length – at a speed of about 15 knots. By com­par­i­son, a con­tain­er ship can be up to 400 metres long and trav­el at 20 knots.
So, deploy­ing vee-propul­sion on a large scale will require a reor­gan­i­sa­tion of mar­itime trade?
Yes, the con­cept of mas­si­fi­ca­tion using con­tain­er ships and logis­tics hubs is out­dat­ed. Ship propul­sion address­es new tasks, such as the long-dis­tance trans­port of goods on inter­me­di­ate-sized ves­sels. They can call at more ports, espe­cial­ly sec­ondary ones: this brings the goods clos­er to the con­sumer and reduces pre- and post-car­riage, which is usu­al­ly done by road. Speed is also reduced: the Neo­line car­go ship will sail at an aver­age speed of 11 knots. This does not pre­vent ship­pers such as Man­i­tou and Beneteau from show­ing inter­est. It will be a vir­tu­ous logis­tics chain, and con­sumers must be involved by accept­ing longer deliv­ery times to avoid a rebound effect.
Anoth­er change con­cerns the mode of nav­i­ga­tion. Wind propul­sion needs wind so some­times sea routes will have to be mod­i­fied to take advan­tage of it. To do this, crews can rely on mar­itime rout­ing – tak­ing into account the weath­er con­di­tions – which is essen­tial for sail­ing solu­tions. But shipown­ers are not used to this type of nav­i­ga­tion, and there is a psy­cho­log­i­cal brake. Final­ly, it should be not­ed that the propul­sion of sail­ing boats is more favourable on transat­lantic routes in the North, and less so on the route between Europe and Asia.
What is its decar­bon­i­sa­tion potential?
We do not know pre­cise­ly. A study 2 shows that 3,700 to 10,700 ships could be equipped with diesel propul­sion sys­tems by 2030. This could avoid the emis­sion of 3.5 to 7.5 mil­lion tonnes of CO2 in 2030. We can also rely on the esti­mate of the retro­fit poten­tial of exist­ing ships pro­duced for the UK gov­ern­ment (37,000 to 40,000 ships) 3: if 10% of fuel can be saved by the use of sail propul­sion, an over­all reduc­tion in con­sump­tion of around 3% is achieved.
But the major uncer­tain­ty con­cerns the actu­al ener­gy gain of the sys­tems. There are no stan­dards for mea­sur­ing per­for­mance, only the man­u­fac­tur­ers pro­vide an esti­mate of the gain made by their solu­tion. On this basis, it is esti­mat­ed that the ener­gy gain asso­ci­at­ed with Flet­tner rotors is around 8%, up to 20% for the kite or even up to 30% for thick pro­files. But these are the­o­ret­i­cal mea­sure­ments: today we lack mea­sure­ments in nav­i­ga­tion as well as a stan­dard, such as an ISO norm. This is an impor­tant issue, which would enable shipown­ers to accu­rate­ly assess the return on invest­ment of these decar­bon­i­sa­tion solutions.