Energy
Why energy retrofitting hasn't taken off
Key takeaways
The building sector is responsible for 28% of global greenhouse gas (GHG) emissions, two thirds of which relate exclusively to indirect emissions (heating, lighting, ventilation etc.).
While the potential for energy retrofitting is currently under-exploited, it is a crucial step towards reducing indirect GHG emissions.
So far, energy renovation has been slow because there is a lack of both real government action and support from the real estate sector.
We seem to be moving in the right direction, but it is not yet possible to meet long-term objectives: energy retrofitting must therefore become a new social norm.
The build­ing sec­tor (res­i­den­tial and non-res­i­den­tial) is respon­si­ble for 28% of glob­al green­house gas (GHG) emis­sions1. Although the French aver­age is in line with this fig­ure, the sec­tor accounts for 36% of the Euro­pean Union's emis­sions2. So, what are the prin­ci­pal means of mit­i­ga­tion? Indi­rect emis­sions. Heat­ing, domes­tic hot water, light­ing, ven­ti­la­tion, and house­hold appli­ances account for two thirds of the sector's emis­sions. Accord­ing to Ademe, in France, the sector's con­sump­tion has increased by 20% in 30 years3.
Some coun­tries are now set­ting tar­gets. Ther­mal reg­u­la­tions gov­ern the con­struc­tion of new build­ings (the RE2020 is applic­a­ble in France, for exam­ple). Many retro­fitting plans, based on finan­cial aid, aim to improve the ther­mal insu­la­tion and heat­ing of exist­ing build­ings. Ener­gy retro­fitting is a cru­cial means of mit­i­ga­tion, but the build­ing ren­o­va­tion rate is only 1.1% in main­land France4. As such, we can see that ener­gy retro­fitting is strug­gling to gain momen­tum: CO2 emis­sions from hous­ing ener­gy con­sump­tion fell by an aver­age of 2.5% per year between 2012 and 20195, yet 17% of French hous­ing (i.e. 5.2 mil­lion dwellings) are ener­gy "sieves"6.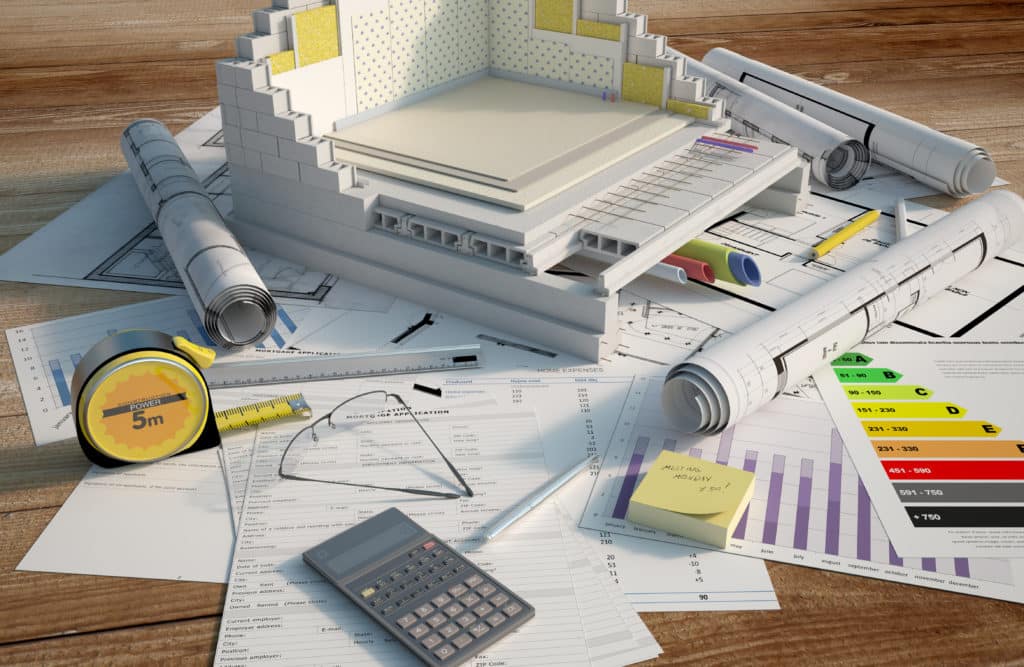 So, how can we speed up ener­gy retro­fitting in France? A report pub­lished in May 2022 by IDDRI and ADEME7 is based on work car­ried out by 23 experts, as one of the authors, Andreas Rüdinger, describes in detail.
Why has the implementation of energy retrofitting been so slow?
Every­one agrees on the impor­tance of ener­gy retro­fitting, but there has been no real progress, it is in total dis­ar­ray! In our report car­ried out in 2020, we iden­ti­fied var­i­ous stick­ing points that we call con­tro­ver­sies. The most impor­tant of these is the dif­fi­cul­ty of impos­ing ener­gy-effi­cient ren­o­va­tion as a new social norm.
On the house­hold side, for exam­ple, there is no label to com­pare prop­er­ties on the hous­ing mar­ket. The ener­gy per­for­mance diag­no­sis pro­vides use­ful indi­ca­tors, but ener­gy per­for­mance is far from being a pri­or­i­ty in the prop­er­ty mar­ket. Real estate pro­fes­sion­als also need to recog­nise this new stan­dard. How­ev­er, pro­fes­sion­al fed­er­a­tions are still very reluc­tant to accept ener­gy ren­o­va­tion oblig­a­tions and the con­straints that could result from them and are gen­er­al­ly less inter­est­ed in ener­gy ren­o­va­tion than in new construction.
Don't public policies have a role to play in developing this new social norm?
Of course. Over the past 10 years, it has become clear that there is no strate­gic roadmap. Each year, sub­si­dies allo­cat­ed dif­fer­ent­ly: some­times towards spe­cif­ic equip­ment (such as the replace­ment of boil­ers), and less towards oth­ers (such as dou­ble glaz­ing), or towards retro­fitting pack­ages, etc. In 2017, a study showed the val­ue of set­ting up a sin­gle-sub­sidy based on the per­for­mance achieved after ren­o­va­tion. The 2019 Ener­gy and Cli­mate Law oblig­es the State to include a com­pre­hen­sive plan for ener­gy retro­fitting in the next Mul­ti­an­nu­al Ener­gy Pro­gramme, but this has been slow to materialise.
This lack of a coher­ent lead­er­ship is one of the major obsta­cles to achiev­ing wide­spread retro­fitting. It is impos­si­ble to car­ry out any real trans­for­ma­tion of the sec­tor, as com­pa­nies can­not invest with­out a medi­um-term vision. This trans­for­ma­tion is how­ev­er nec­es­sary because there is not enough incentive.
Is this a lack of strategic vision or an economic problem?
The sec­ond con­tro­ver­sy iden­ti­fied is the lack of a strate­gic roadmap, which gen­er­ates eco­nom­ic obsta­cles. Eco­nom­ic analy­sis of retro­fitting suf­fers from a lack of con­sis­ten­cy. How then can we define the scope of the cost of ener­gy retro­fitting? For some, it rep­re­sents the entire cost of the work. But this then includes work that is not relat­ed to ener­gy per­for­mance because most house­holds car­ry out more com­pre­hen­sive ren­o­va­tions than just for that pur­pose. Oth­er analy­ses focus on the addi­tion­al cost direct­ly attrib­ut­able to the ener­gy per­for­mance improve­ments, exclud­ing main­te­nance and repair work (e.g. replac­ing a boil­er at the end of its life is not includ­ed in the cost of ener­gy renovation).
The same ques­tion aris­es for the ben­e­fits obtained: should we only take into account the reduc­tion in ener­gy bills, or should we include the ben­e­fits relat­ed to com­fort and par­tic­i­pa­tion in the eco­log­i­cal tran­si­tion? To over­come this con­tro­ver­sy, we pro­pose eval­u­at­ing not the prof­itabil­i­ty but the eco­nom­ic via­bil­i­ty of ren­o­va­tion. It inte­grates dif­fer­ent cri­te­ria: the ben­e­fits for house­holds in the broad sense, finan­cial sol­ven­cy and the reduc­tion of risks linked to effi­cient retro­fitting. This last point remains cru­cial for build­ing col­lec­tive con­fi­dence around "low ener­gy" renovation.
Effi­cient retro­fitting can­not be a basic ren­o­va­tion result­ing in a bet­ter per­for­mance class than F.
Final­ly, it should not be for­got­ten that by tack­ling the "ther­mal sieves", inhab­it­ed by low-income house­holds, we are also work­ing towards a fair tran­si­tion. A large part of the cost of ren­o­va­tion is cov­ered by pub­lic finances, but the remain­ing costs or pre-financ­ing can be a real obsta­cle. In response to the ener­gy cri­sis, the French gov­ern­ment com­mit­ted €30 bil­lion to freeze prices and help pay bills: this kind of invest­ment in ener­gy retro­fitting would have been sig­nif­i­cant, but noth­ing has been done.
Given these findings, how can we speed up energy retrofitting?
We need to make effi­cient retro­fitting a new social norm. The term "effi­cient ren­o­va­tion" must be more clear­ly defined and made trans­par­ent for indus­try play­ers, as is the case in Ger­many. It can­not be a basic ren­o­va­tion that results in a bet­ter per­for­mance class than F. An effi­cient retro­fit is a com­pre­hen­sive ren­o­va­tion that ensures the deliv­ery of a "low ener­gy building".
In order to work towards this goal, sub­si­dies must be accom­pa­nied by per­for­mance oblig­a­tions at the end of the work. Today, there is no sys­tem­at­ic mon­i­tor­ing of the impact of the sub­si­dies, and one-off works receive more sup­port on a pro-rata basis. This sys­tem is not only detri­men­tal to ener­gy per­for­mance but also to the mon­i­tor­ing of poli­cies. We have no clear vision of the real effec­tive­ness of the ren­o­va­tions undertaken.
Yet GHG emissions from the building sector are falling. In 2021, they will even remain below the emissions ceiling set by the National Low Carbon Strategy (NLCS): amounting to only 74.9 Mt CO2e, compared to a threshold of 77 Mt CO2e8!
This is cer­tain­ly a step in the right direc­tion. When we start­ed our study three years ago, the build­ing sec­tor was the one that was fur­thest behind on its car­bon bud­get. How­ev­er, it should be not­ed that the cur­rent good results are part­ly explained by two changes: the sec­tor's car­bon bud­get was increased in the revi­sion of the SNBC in 2020 (edi­tor's note: it went from 65.4 to 80 Mt CO2e for 2020) and the method of cal­cu­lat­ing GHG emis­sions was changed, shift­ing part of the emis­sions to the ener­gy sector.
This down­ward trend can be explained by short-term gains, such as the mas­sive replace­ment of boil­ers. How­ev­er, these gains will not allow the long-term objec­tives to be met, in par­tic­u­lar the objec­tive of achiev­ing a "low ener­gy build­ing" aver­age per­for­mance lev­el for the sec­tor as a whole by 2050.
Anaïs Marechal