Science and technology
The airship returns: what surprises are left in store?
Key takeaways
Airships (i.e. blimps) could make a comeback, as they have undeniable advantages over other means of transport.
However, because of their lightness, they are subject to hazards and bad weather: more precise means of prediction and control must therefore be developed.
Computer simulation, the design of more resistant materials and wind prediction tools are making it possible to improve the new airships.
They will not replace large-scale air transport but can be useful for tourism or inter-regional travel.
Several companies, such as Flying Whales and Thales, are increasingly interested in the new airships.
Air­ships are often per­ceived as a tech­nol­o­gy from anoth­er era. When they came onto the mar­ket at the end of the 19th Cen­tu­ry. This new means of trans­port was a world­wide rev­o­lu­tion: in these enor­mous bal­loons, it was pos­si­ble to cross the Atlantic in less than 60 hours and to trav­el at speeds of over 130 km/h.
How­ev­er, this tech­nol­o­gy did not come to a hap­py end. The Hin­den­burg dis­as­ter in 1937 – a colos­sus bare­ly small­er than the Eif­fel Tow­er that burst into flames in the skies over New Jer­sey – is still seen as trau­mat­ic even today. How­ev­er, air­ships have unde­ni­able advan­tages, and this acci­dent has nev­er called them into question.
Olivi­er Doaré, a pro­fes­sor of flu­id mechan­ics, direct­ed Robin Le Mestre's the­sis aimed at mod­el­ling the effects of exter­nal and inter­nal flu­ids on the dynam­ic behav­iour of air­ships in flight1. This research is there­fore in line with a poten­tial revival of air­ships, as Olivi­er Doaré main­tains: "Since this dis­as­ter, there has been a cen­tu­ry of tech­no­log­i­cal progress."
Dependence on the wind
The Hin­den­burg was inflat­ed with hydro­gen, a high­ly flam­ma­ble gas. The Ger­mans did not choose to use this gas by chance: heli­um, which is much less flam­ma­ble, was already rec­om­mend­ed at the time, but was much hard­er to find. The lack of sup­ply was due to the geopo­lit­i­cal con­text of the peri­od. The Unit­ed States, which had a vir­tu­al monop­oly of the heli­um mar­ket, want­ed to keep its lead in this technology.
"Nowa­days, the vast major­i­ty of air­ship projects are inflat­ed with heli­um for safe­ty rea­sons," explains Olivi­er Doaré, "even though, for the same lift force, this requires a greater vol­ume of gas than with hydro­gen". How­ev­er, the idea of a hydro­gen-fuelled air­ship has not been com­plete­ly aban­doned: "In the case of elec­tric propul­sion pro­vid­ed by a fuel cell, hydro­gen could be the car­ri­er gas and the fuel at the same time," sug­gests Robin Le Mestre.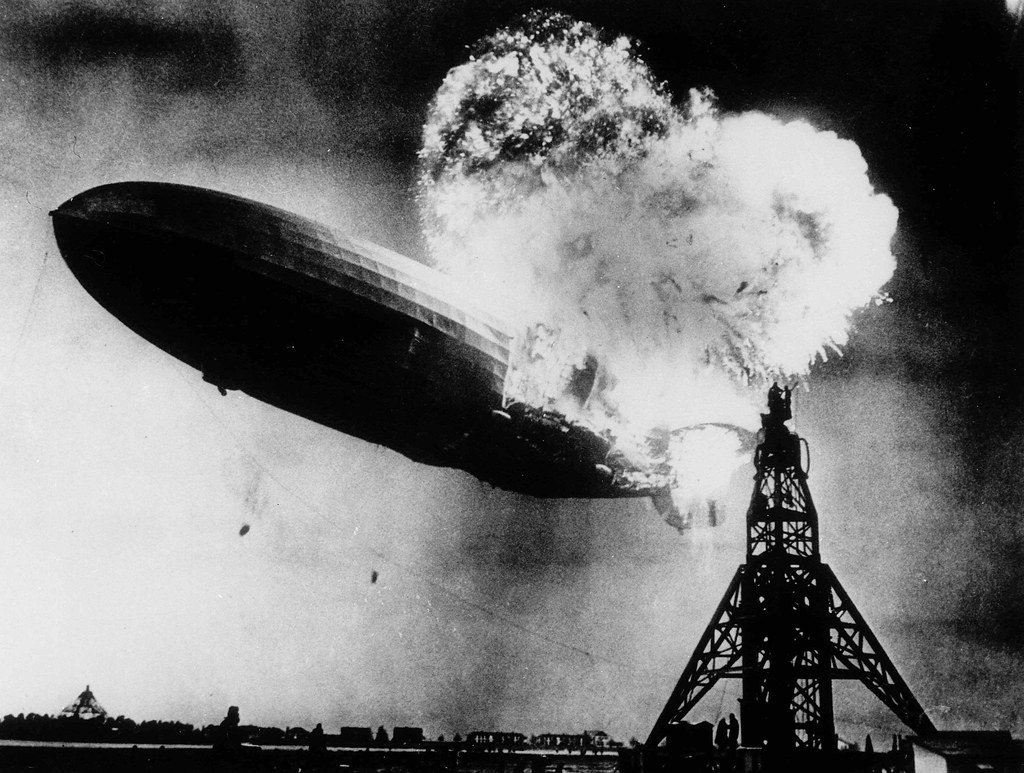 These two gas­es are used because they are lighter than air. "The air­ship is self-sup­port­ing thanks to Archimedes' thrust (in oth­er words, buoy­an­cy)," explains Robin Le Mestre, "so it requires almost no ener­gy to keep it in flight. This is a con­sid­er­able advan­tage, espe­cial­ly in the cur­rent eco­log­i­cal con­text, but it does imply con­straints that must be tak­en into account. "Because of its light­ness, the machine will be high­ly exposed to the vagaries of the weath­er," admits Robin Le Mestre.
To mark the return of air­ships, it will there­fore be nec­es­sary to mas­ter these already iden­ti­fied mete­o­ro­log­i­cal con­straints. "This is the whole point of my the­sis," says the PhD. "To go against the action of the wind, we need much more pre­cise means of pre­dic­tion and control."
The poten­tial of this the­sis has also attract­ed the atten­tion of the French aero­space research cen­tre, ONERA. Jean-Sébastien Schot­té, a research offi­cer at ONERA, helped devel­op these pre­dic­tion tools. Accord­ing to him, "bet­ter mod­el­ling of the cou­plings between the air­ship's deformable struc­ture and the flow of the sur­round­ing gas­es will make it pos­si­ble to improve sim­u­la­tions of the air­ship's in-flight behav­iour, for exam­ple in the face of gusts of wind, and this could help in the design and siz­ing of future air­ship projects."
Better prediction
In addi­tion to these advances in the field of dig­i­tal sim­u­la­tion, oth­er progress has been made in the design of mate­ri­als: "The mate­ri­als used today are more resis­tant, more water­tight, while being lighter," says Jean-Sébastien Schot­té. "More­over, wind pre­dic­tion tools exist and are very effec­tive," says Olivi­er Doaré. LiDAR tech­nol­o­gy, for exam­ple, these wind pre­dic­tion lasers, which are cur­rent­ly use­ful for opti­mis­ing the con­trol of wind farms, could also be use­ful for air­ships. "How­ev­er, to pre­dict the actu­al tra­jec­to­ry of an air­ship, and thus ensure its safe­ty, a mul­ti­tude of envi­ron­men­tal fac­tors must be tak­en into account," says the pro­fes­sor. "So much so that it is dif­fi­cult, with today's resources, to per­fect­ly sim­u­late the behav­iour of the craft on a computer."
In flu­id mechan­ics, the Navier-Stokes equa­tions are fun­da­men­tal. They allow us to rep­re­sent the most com­plex move­ments of flu­ids – and there­fore many of these envi­ron­men­tal fac­tors – but they are far too cum­ber­some to be used in com­plete sim­u­la­tions of the in-flight behav­iour of large flex­i­ble struc­tures such as air­ships. "The first step was there­fore to sim­pli­fy the Navier-Stokes equa­tions to retain only the essen­tial ele­ments," explains Robin Le Mestre. "By pos­tu­lat­ing hypothe­ses on each inter­ac­tion to be stud­ied, we were able to for­mu­late sim­pli­fied, but nev­er­the­less real­is­tic, equa­tions in order to be able to mod­el the sys­tem and its oper­a­tion through a set of math­e­mat­i­cal oper­a­tors, which can be digitised."
Air­ships are self-sup­port­ing thanks to their buoy­an­cy so require almost no ener­gy to stay in flight.
With this sim­pli­fi­ca­tion, the researchers were able to offer a real­is­tic sim­u­la­tion that could be accessed by rapid cal­cu­la­tions. In the long term, the engi­neers hope to be able to adapt the con­trols of the air­craft to real-life sit­u­a­tions. "A plane has so much pow­er, because of its weight and its engines, that if the pilot wants to go left, he takes the con­trols and, what­ev­er the wind and his behav­iour, he will go left," says Olivi­er Doaré. An air­ship will be great­ly affect­ed by the wind, and its engines may not be suf­fi­cient. There is a greater inter­est in com­bin­ing our knowl­edge of the effects of the wind with that of the craft's controls.
The research work in progress, of which Robin Le Mestre's the­sis is a part, there­fore aims to help man­u­fac­tur­ers opti­mise the design of air­ships, for exam­ple by enabling them to devel­op tools for pre­dict­ing con­trols in real time based on wind data.
A specific use
Size, impres­sive as it is, remains a draw­back to the poten­tial use of air­ships. Blimp mod­els are inflat­ed bal­loons with a min­i­mum of struc­ture. The advan­tage of this type of mod­el lies not in the safe­ty aspect, but in its pay­load. How­ev­er, in com­par­i­son with an aero­plane, for the same num­ber of pas­sen­gers or goods, the vol­ume required will be much greater. "From a per­son­al point of view," admits Olivi­er Doaré, "I don't think that the air­ship of tomor­row will replace the plane. First­ly because of the weight of the aero­nau­ti­cal indus­try, but also because of the dis­ad­van­tage of the size of the structures."
Indeed, an air­port requires a fair­ly large space to accom­mo­date air­craft. For a fleet of air­ships, the space required would be "insane". Pas­sen­ger trans­port will only be pos­si­ble on a small scale and could be ben­e­fi­cial in a few sit­u­a­tions: "From a touris­tic point of view, the air­ship can offer ser­vices sim­i­lar to a hot-air bal­loon ride," says Robin Le Mestre. As far as trans­port is con­cerned, there is a grow­ing inter­est in inter-region­al trav­el, or to areas with­out air­ports, such as many islands.
Aerostats: the large fam­i­ly of airships
Air­ships are machines that belong to the fam­i­ly of aerostats. This fam­i­ly includes hot-air bal­loons and teth­ered bal­loons. Both of these devices use tech­nol­o­gy sim­i­lar to that of air­ships, and the results of this the­sis can also be applied to them.
Teth­ered bal­loons, for exam­ple, are used for obser­va­tion mis­sions. They allow sur­veil­lance of areas for mil­i­tary, eco­log­i­cal, topo­graph­i­cal, or sim­ply fish­eries con­trol pur­pos­es. They are also use­ful for com­mu­ni­ca­tions pur­pos­es. What is more, once deflat­ed, their light­ness allows for rapid trans­port and deploy­ment in sen­si­tive areas.
Con­trol­ling the behav­iour of the craft in bad weath­er, while being able to pre­dict it, would give them the advan­tage of great sta­bil­i­ty in the air. This char­ac­ter­is­tic, com­bined with the low amount of ener­gy need­ed to keep them in the air, makes them very use­ful, even in the face of their com­peti­tors, the drones.
"The tech­nol­o­gy is not intend­ed to replace large-scale pas­sen­ger air trans­port, but its many advan­tages make it use­ful in many oth­er areas. Air­ships can still car­ry sev­er­al dozen tonnes," he says. They will be use­ful for spe­cif­ic sec­tors, espe­cial­ly those where time is of lit­tle importance.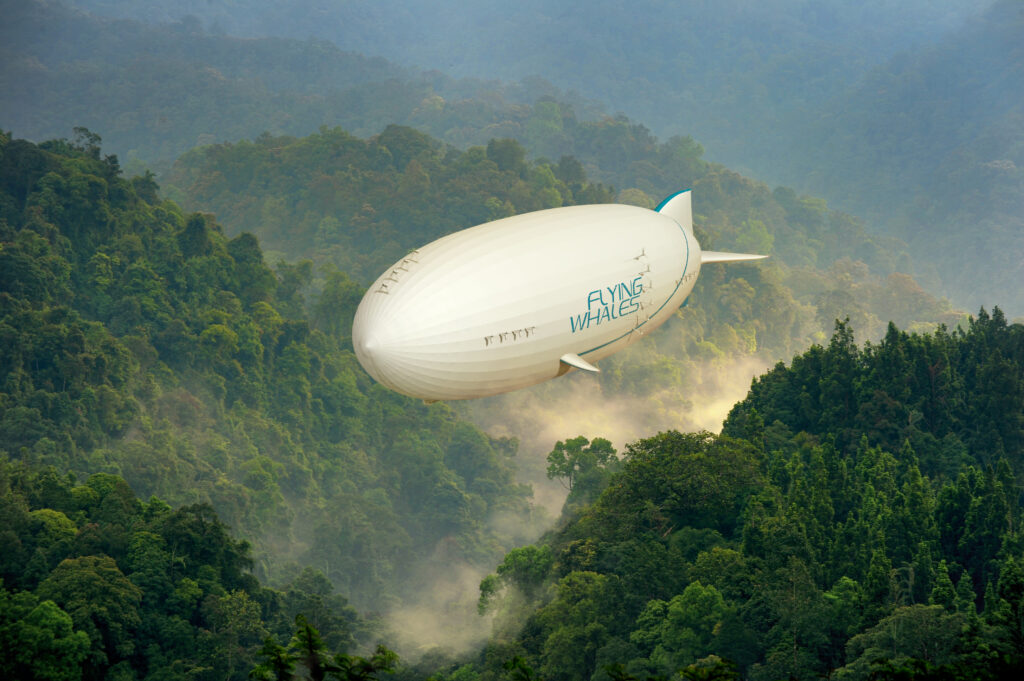 The com­pa­ny Fly­ing Whales, for exam­ple, is inter­est­ed in this the­sis. "The com­pa­ny wants to devel­op a pro­to­type air­ship in a few years' time, for trans­port­ing loads in inac­ces­si­ble areas, such as forests in moun­tain­ous regions," adds Robin Le Mestre. Trans­port­ing wood to an inac­ces­si­ble for­est by truck in this type of craft will be more effi­cient than by heli­copter, for which the stor­age space is small­er and the jour­ney more expensive.
The com­pa­ny Thales, in part­ner­ship with ONERA, has also launched the "Stra­to­bus" project2, an air­ship designed to fly in the stratos­phere. This air­ship will ful­fil mis­sions that are com­ple­men­tary to those of satel­lites, in a sur­veil­lance, com­mu­ni­ca­tion and defence func­tion. It should be not­ed that many projects are cur­rent­ly flour­ish­ing in indus­try: air­ships are there­fore not yet finished!
Pablo Andres