Society Health and biotech
Scientists have identified neurones that transform touch into social bonds
Key takeaways
Attachment theory assumes that physical contact with someone we care about strengthens our social bond with them.
Experiments have shown that an infant attaches to its mother not for her nutritive input but rather for the comforting contact she provides.
In humans, the force of this "pleasant" physical contact is in the range of 3-10 cm/sec and from a heat source approaching human body temperature.
However, some contacts may cause an aversive reaction, due to other stimuli or a pathological condition.
A better understanding of how we develop social bonds would allow us to better support people who have difficulties in this respect.
What could be warmer and more com­fort­ing than the touch of some­one we care about? Touch­ing a per­son to whom we are attached gives us plea­sure and brings us clos­er to that per­son. But is it the plea­sure that strength­ens the attach­ment, or is it the attach­ment that caus­es the pleasure?
Attach­ment the­o­ry has a long his­to­ry in psy­chol­o­gy, and Har­ry Har­low can be con­sid­ered one of its pre­cur­sors. Through exper­i­ments1 that were already con­tro­ver­sial at the time, he man­aged to refute a rather per­sis­tent pre­con­cep­tion of the era: that infants devel­op attach­ment to their moth­ers through breast­feed­ing. By sep­a­rat­ing baby mon­keys from their moth­ers at birth, he dis­cov­ered that between two mater­nal sub­sti­tutes – a stiff wire doll with a bot­tle of milk, and a soft­er cloth doll that was arti­fi­cial­ly heat­ed – the mon­keys chose the one that was com­fort­able and warm to the touch, rather than the one that would sat­is­fy their vital need for food.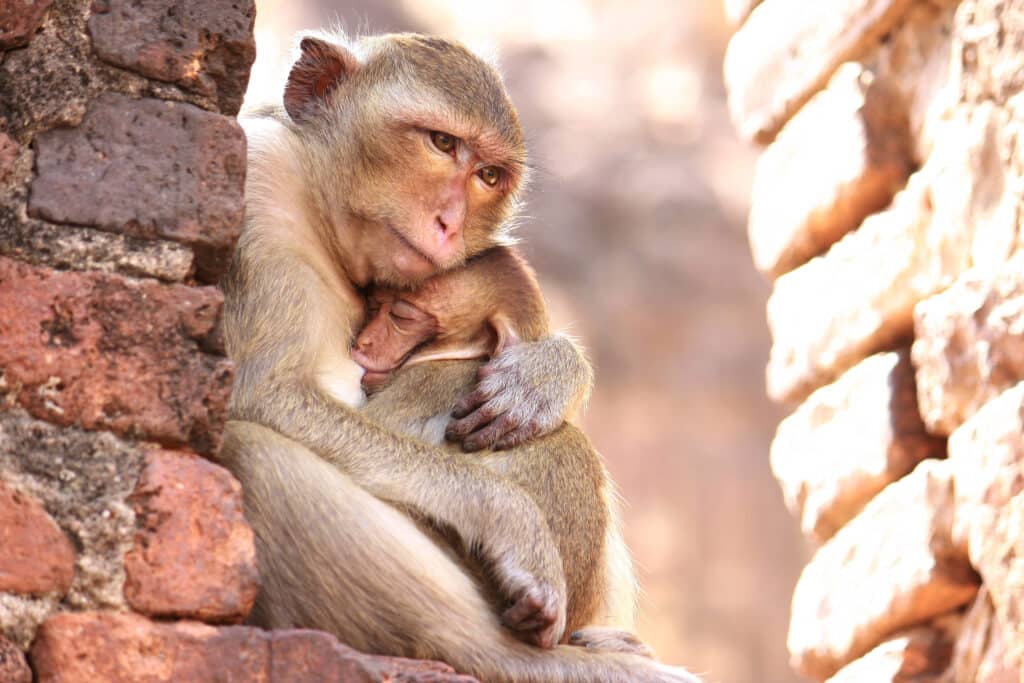 From this expe­ri­ence, the Eng­lish psy­chol­o­gist John Bowl­by devel­oped "attach­ment the­o­ry"2. This the­o­ry states that an infant attach­es itself to its moth­er not for the nour­ish­ment she pro­vides, but for the com­fort­ing touch she gives. This the­o­ry may date back to 1969, but psy­chol­o­gists have found it to be increas­ing­ly cred­i­ble in light of numer­ous exper­i­ments. The upshot is that for a child to devel­op social­ly and emo­tion­al­ly, he or she must have at least one fig­ure who cares for him or her con­tin­u­ous­ly and con­sis­tent­ly – a fig­ure for whom he or she will devel­op an attachment.
Amau­ry François, a researcher at the Insti­tute of Func­tion­al Genomics in Mont­pel­li­er, and his team decid­ed to go beyond the psy­cho­log­i­cal bound­aries of this the­o­ry by delv­ing into the bio­log­i­cal com­po­nent3. To do this, they focused on the pos­si­ble influ­ence of the sen­sa­tion of pleas­ant touch in strength­en­ing our social rela­tion­ships. "A net­work of neu­rons in humans, dis­cov­ered by the Swedish neu­rol­o­gist Åke Vall­bo4, which is respon­si­ble for this sen­sa­tion of pleas­ant touch," he explains. "These are called C‑Tactiles. Our exper­i­ment con­sist­ed of dis­cov­er­ing its equiv­a­lent in mice to test its effects on the devel­op­ment of social rela­tion­ships. In doing so, we were there­fore able to val­i­date the influ­ence of the C‑LTMR net­work (the equiv­a­lent of C‑Tactiles in rodents) on the social­i­sa­tion of mice."
A pleasant sensation of touch
"What we dis­cov­ered is that, in both mice and humans, there is a net­work of neu­rons spe­cif­ic to social touch, inner­vat­ing the skin and send­ing infor­ma­tion to the cen­tral ner­vous sys­tem (not itself part of it) when it is acti­vat­ed," explains Amau­ry François. "It's acti­va­tion only occurs under very spe­cif­ic con­di­tions. In gen­er­al, in humans, these touch­es are made at a cer­tain speed (between 3 and 10 cm/sec), from a heat source that is close to the tem­per­a­ture of the human body. These are stim­uli that almost all of us find pleas­ant, con­scious­ly, or uncon­scious­ly." No won­der infants feel so good in their moth­er's arms.
So, in mice the equiv­a­lent of this net­work (called C‑LMTR) has been iden­ti­fied. Using this, the research team designed a par­a­digm to test its influ­ence on the devel­op­ment of social rela­tion­ships. "For a group of mice genet­i­cal­ly mod­i­fied to have a defi­cien­cy in this net­work, the results are clear," says the researcher. "The group of mice in ques­tion no longer seems to inter­act nor­mal­ly with their fel­low mice, they favour iso­la­tion." One ele­ment of this result intrigued the researcher: the ani­mal with the defec­tive net­work does not flee from oth­ers, it sim­ply finds no inter­est in com­ing into con­tact with them.
The pleas­ant sen­sa­tion of touch is thought to be a moti­vat­ing fac­tor in socialisation.
It is impor­tant to note that this net­work of neu­rons is not the only one to be acti­vat­ed dur­ing direct con­tact. "The C‑LMTRs are present for the emo­tion­al val­ue, and their acti­va­tion is enough," says Amau­ry François. "The ques­tion of the influ­ence of oth­ers may still arise. We believe that this net­work func­tions some­what like the reward sys­tem. This pleas­ant sen­sa­tion may be a moti­vat­ing fac­tor in socialisation."
The evidence for attachment theory
We can there­fore estab­lish a direct link between con­tact with oth­ers and our attach­ment to them. "It is this com­fort­ing aspect of the warm, gen­tle touch that we feel that gives us the moti­va­tion, and the desire to repro­duce it. Which is, in the end, pret­ty much what Har­ry Har­low had observed. Since all these exper­i­ments on attach­ment the­o­ry, noth­ing sig­nif­i­cant had been done," recalls the researcher. Today, we have addi­tion­al answers to these ques­tions, which allow us to bet­ter ensure the prop­er social devel­op­ment of a child.
How­ev­er, this exper­i­ment does not answer all the ques­tions that this the­o­ry rais­es. "We stud­ied a neur­al net­work that only sends infor­ma­tion to the brain," adds Amau­ry François. "The point is to under­stand how this infor­ma­tion is trans­lat­ed in the brain so that it is per­ceived as pleas­ant, but also to under­stand why cer­tain con­tacts, although they respect the con­di­tions of pleas­ant touch, cause an almost oppo­site effect."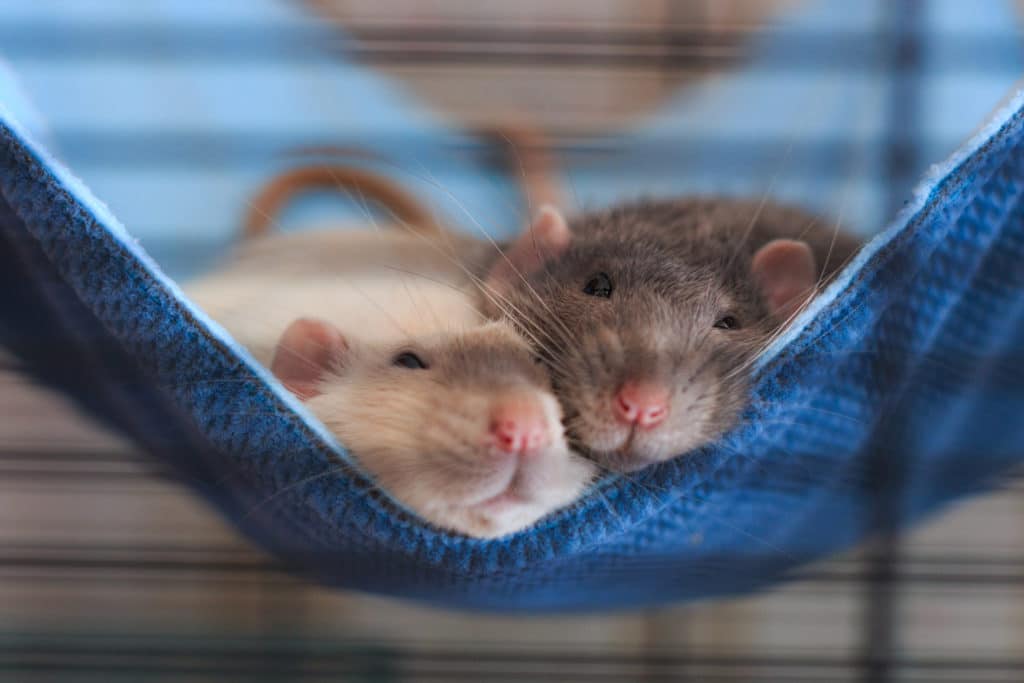 After all, if a stranger comes up to you in the street and caress­es you, your reac­tion is like­ly to be one of aver­sion. For the researcher, the expla­na­tion would come from oth­er stim­uli, which are not nec­es­sar­i­ly per­cep­ti­ble. "In the mice's cages, one fac­tor that we couldn't influ­ence was odours," he says, "because you don't see them and per­ceive them in the same way as mice. Smell can be asso­ci­at­ed with pleasure/comfort with a place or an indi­vid­ual, also help­ing with attachment."
A faulty network can always be redeveloped
This net­work is nor­mal­ly innate in humans. How­ev­er, it is not ful­ly formed at birth, it must devel­op. As the genet­i­cal­ly mod­i­fied mice show us, if this net­work does not func­tion as it should, the indi­vid­ual will tend to favour iso­la­tion. But the effect can also be observed in mice with hyper­sen­si­tiv­i­ty. "In a neu­tral con­text, the acti­va­tion of this net­work is pleas­ant. In a patho­log­i­cal con­text, its over­ac­ti­va­tion will pro­voke con­tact adverse behav­iour," says Amau­ry François. The reac­tion is there­fore even stronger than for a lack of acti­va­tion. This time, the mouse will avoid social con­tact and will have an inter­est in isolation.
In a patho­log­i­cal con­text, hyper­sen­si­tiv­i­ty will pro­voke con­tact-averse behaviour.
"This reac­tion is par­tic­u­lar­ly evi­dent in peo­ple with autism, which makes the sit­u­a­tion all the hard­er for the indi­vid­ual and their par­ents. As con­tact is reject­ed by the child, the par­ents are unsure of how to inter­act with the child. And all this will have a seri­ous impact on the child's social devel­op­ment," he admits.
This dis­cov­ery there­fore opens the way for a mul­ti­tude of dif­fer­ent research projects that will one day allow us to bet­ter under­stand how and why we devel­op social bonds with oth­ers. And, giv­en their proven impor­tance, per­haps it will also allow us to bet­ter sup­port peo­ple who have dif­fi­cul­ties in this area. "When the dif­fer­ence is at the devel­op­men­tal lev­el, and there is a prob­lem with neur­al net­work, there will cer­tain­ly be gaps. But it is not too late to devel­op and adapt to them," con­cludes the researcher.
Pablo Andres
Fur­ther reading
For more details on the research: https://​doi​.org/​1​0​.​1​1​2​6​/​s​c​i​a​d​v​.​a​b​o7566