Space
What are the risks of space for humans?
Key takeaways
Humans are not naturally equipped to live in space so many precautions must be taken when leaving the surface of Earth.
Technical and technological improvements have made it possible to avoid the inconveniences caused by old space equipment.
However, the human body undergoes many changes: congestion, loss of taste, loss of muscle mass or even weakening of the bones.
Exposure to cosmic rays can cause changes ranging from cataracts to increased risk of cancer to infertility.
Much work remains to be done to create a viable space environment for humans in the long term.
It is no sur­prise that humans are not nat­u­ral­ly equipped to live in space. Explor­ing it requires a great deal of tech­ni­cal adap­ta­tion, years of train­ing, not to men­tion high morale and phys­i­cal fit­ness. The first human space­flight took place on 12 April 1961, when Yuri Gagarin made his only trip around the Earth in the Sovi­et Vos­tok capsule.
Although human pres­ence in space was once rare, there have been peo­ple in space con­tin­u­ous­ly for the past two decades main­ly thanks to the famous Inter­na­tion­al Space Sta­tion (ISS), where astro­nauts from dif­fer­ent coun­tries take turns work­ing in and out­side the station.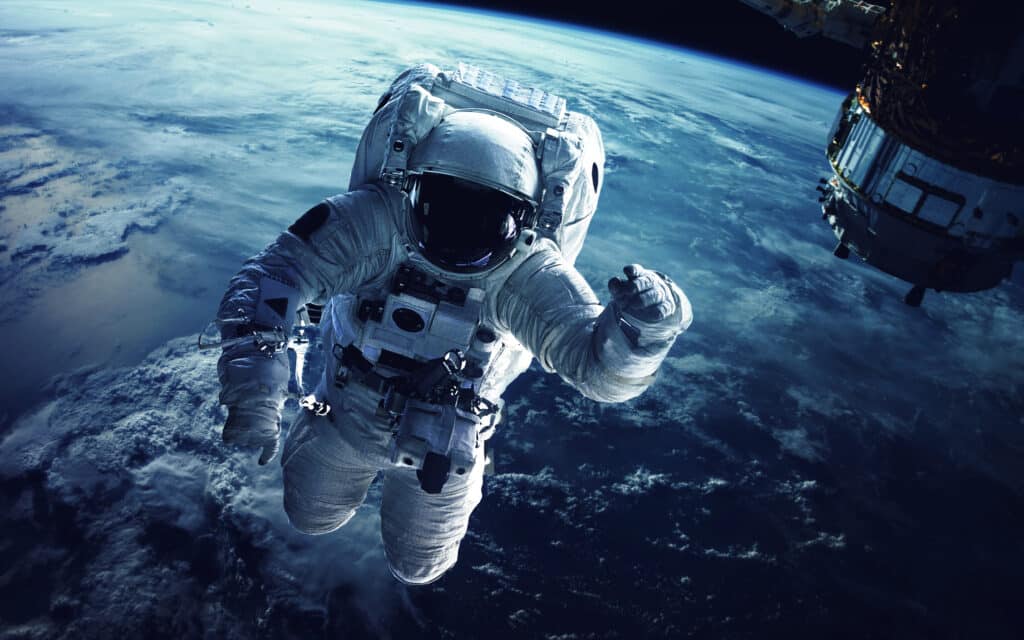 Space is often referred to as being very dan­ger­ous for humans, but what are the risks of ven­tur­ing into this extreme envi­ron­ment? How can they be min­imised? Is a space acci­dent pos­si­ble? And what influ­ence does space trav­el have on a human being?
An eventful history
The main prob­lem in space is that there is not just one haz­ard to watch out for, but a mul­ti­tude of fac­tors that if not prop­er­ly con­sid­ered can all lead to crit­i­cal sit­u­a­tions. And we learned this from the very begin­ning of the space age.
One of the first inci­dents occurred just four years after Gagarin's first flight. He remained in the pres­surised cab­in of his space­craft through­out his jour­ney whilst his coun­ter­part Alex­ei Leonov attempt­ed the first space­walk in a space­suit. After ten min­utes out­side the space­craft, he decid­ed to return but realised that the air pres­sure inside his suit had inflat­ed so much that he could no longer fit into the air­lock. As a result, he had no choice but to risk let­ting the air escape from his suit, reduc­ing the pres­sure to 1/3 of atmos­pher­ic pres­sure (at the risk of a gas embolism) to final­ly be able to return to the safe­ty of his ship. Today, there is no longer any risk of such an event hap­pen­ing. First­ly, because space­suits are much less flex­i­ble and elas­tic than Leonov's and, sec­ond­ly, because mod­ern space­suits oper­ate under a pure oxy­gen atmos­phere, which means that the inte­ri­or can be sub­ject­ed to much less pres­sure than Leonov experienced.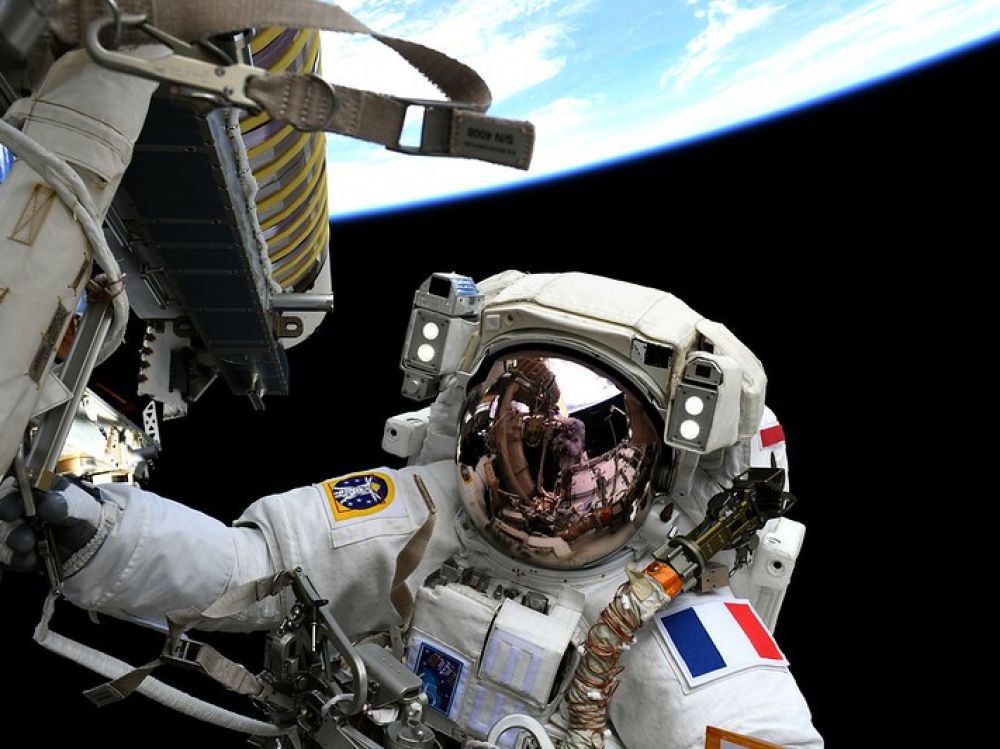 But a space­suit (called the EMU or Extrave­hic­u­lar Mobil­i­ty Unit for the Amer­i­can mod­el and the Orlan for the Russ­ian mod­el) is not only used to main­tain a breath­able atmos­phere and bear­able atmos­pher­ic pres­sure for the astro­naut. It also pro­tects against anoth­er extreme envi­ron­men­tal con­straint in space: temperatures.
In fact, in a vac­u­um, with no warm air to "stir up" the tem­per­a­ture around the astro­naut, the tem­per­a­ture dif­fer­ences between the light­ed and dark sides are gigan­tic. The illu­mi­nat­ed parts, which are direct­ly exposed to the Sun's rays, can rise to 120°C, while the tem­per­a­ture of the shad­ed parts can drop to ‑100°C. As such, water-cool­ing cir­cuits are inte­grat­ed into one of the lay­ers of the suit to redis­trib­ute the heat from the hot parts to the cold parts and main­tain a bear­able inte­ri­or tem­per­a­ture for the astro­naut. And every­thing is fine… so long as this cool­ing sys­tem does not leak!
On 16th July 2011, while out­side the Space Sta­tion, Ital­ian astro­naut Luca Par­mi­tano of the Euro­pean Space Agency felt water on the back of his neck. In weight­less­ness, water behaves in a pecu­liar way: it curls up and floats in front of the amused astro­nauts. But if it touch­es a human's skin, it sticks to it, held in place by a force called "sur­face ten­sion"… which is fine when you have a cloth to wipe it off, but can be much more seri­ous when you are alone in your suit, unable to touch your own face, and the water builds up more and more, threat­en­ing to grad­u­al­ly cov­er your eyes, nos­trils or suit visor.
For­tu­nate­ly for Luca, the space­walk is imme­di­ate­ly abort­ed and, with the help of his part­ner, astro­naut Christo­pher Cas­sidy, he man­ages to re-enter the Sta­tion with his eyes closed, the micro­phone and then the head­phones grad­u­al­ly turned off by the advanc­ing water. Once the pres­sure was restored in the air­lock, the crew on board entered in a hur­ry, unscrewed the hel­met, and final­ly sponged off the water which, after exam­i­na­tion, was indeed com­ing from the cool­ing system.
Influence(s) on the human body
The sim­ple fact of being safe in the ISS does not pre­vent the human body from under­go­ing a cer­tain num­ber of changes, at all lev­els (body, organs, cells, genet­ics). The dis­com­fort usu­al­ly starts when the astro­naut arrives on board. Used to pump­ing blood upwards to coun­ter­act grav­i­ty, the heart con­tin­ues to work even when the human in ques­tion is weight­less and no longer feels its own weight. The result is a red, swollen head, char­ac­ter­is­tic of these micro­grav­i­ty states.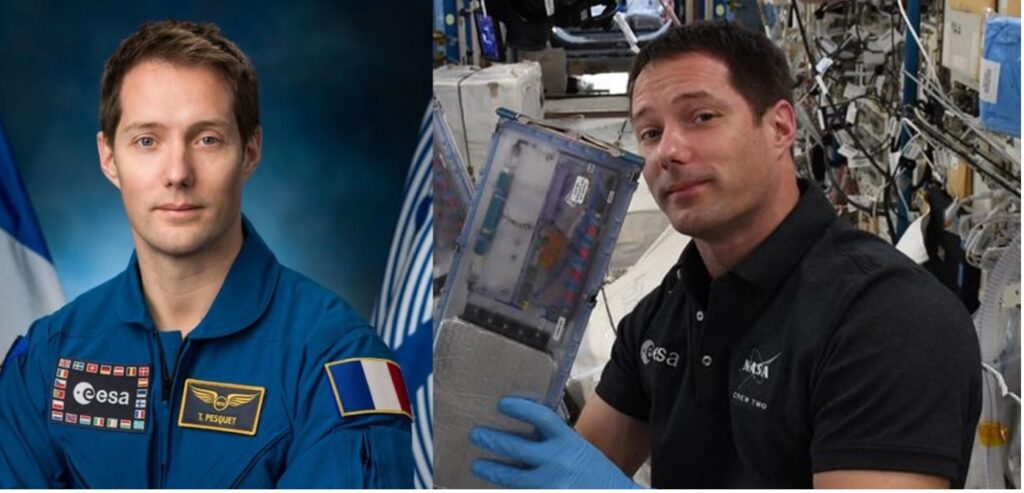 This con­ges­tion of the head and, among oth­er things, of the nasal mucous mem­branes, which are also swollen with blood, has a direct impact on the taste of the food eat­en there. In such a sit­u­a­tion, the air does not cir­cu­late well in the nose. As the sense of smell is a sig­nif­i­cant part of the taste sen­sa­tion of food, it los­es much of its flavour (this loss will be com­pen­sat­ed for in part by send­ing spici­er-than-aver­age dishes).
The loss of mus­cle mass, if not com­pen­sat­ed for by two hours of sport a day, can have seri­ous consequences.
But the impact on the human body can be more prob­lem­at­ic. In weight­less­ness, a sim­ple push against a wall is enough to pro­pel you to the oth­er side of the Space Sta­tion. In fact, you use your mus­cle struc­ture much less than on Earth. This results in a loss of mass which, if not com­pen­sat­ed for (or at least slowed down) by two hours of sports ses­sions per day, can have seri­ous con­se­quences upon return to Earth.
In par­al­lel with this loss of mus­cle, the bones also become more frag­ile and brit­tle. This pathol­o­gy, gen­er­al­ly reserved for elder­ly peo­ple on Earth, is called osteo­poro­sis. Even if this bone decal­ci­fi­ca­tion is reversible once back on the ground, a study1 con­duct­ed on 14 men and 3 women – before and after their stay in space – showed that even after one year of reha­bil­i­ta­tion, the resorp­tion of the astro­nauts' tib­ia struc­ture was still incom­plete. And of course, the longer the stay in space, the longer the return to normal.
What are the effects of space radiation?
There are many med­ical effects on the human body dur­ing a pro­longed stay in weight­less­ness: dizzi­ness due to imbal­ances in the inner ear, changes in eye pres­sure that can lead to reti­nal detach­ment, uri­nary reten­tion, kid­ney stones, etc. How­ev­er, there is one final dan­ger that should not be under­es­ti­mat­ed: the effect of radiation.
In space, cos­mic rays form a show­er of so-called "ion­is­ing" par­ti­cles. Pro­longed expo­sure to these rays can cause macro­scop­ic changes (burns, cataracts) and micro­scop­ic changes (genet­ic alter­ations, steril­i­ty or increased risk of devel­op­ing can­cer). These cos­mic rays are essen­tial­ly com­posed of pro­tons, elec­trons, and atom­ic nuclei, pro­pelled into space by the Sun (for low-ener­gy cos­mic rays) and oth­er much more vio­lent phe­nom­e­na such as explo­sions of mas­sive stars or black holes swal­low­ing mat­ter (caus­ing high-ener­gy cos­mic rays).
Inten­sive research is being car­ried out to pro­tect astro­nauts from space radiation.
On Earth, we are well pro­tect­ed from these cos­mic rays thanks to the Earth's mag­ne­tos­phere which deflects a sub­stan­tial part of this par­ti­cle flux, and the atmos­phere which phys­i­cal­ly stops the lit­tle that remains. In space, we can no longer rely on the pro­tec­tion of the atmos­phere (which is at a low­er alti­tude). And even though the mag­ne­tos­phere still plays a role for the ISS, which orbits at an alti­tude of only 450 km, the same is not true for when humans ven­ture fur­ther into the Uni­verse: the Moon in the near future and to Mars in the longer term.
This is why inten­sive research is cur­rent­ly being car­ried out, both on ways to pro­tect astro­nauts from this space radi­a­tion. But also on tools to mea­sure the radi­a­tion dose received on a dai­ly basis, and on the bio­log­i­cal effects of this radiation.
In this respect, one of the "most com­pre­hen­sive assess­ments we have ever had of the human body's response to space­flight" comes from a remark­able study2 car­ried out in 2015 on two twin broth­ers (Mark and Scott Kel­ly), one of whom stayed in space for 340 days while the oth­er remained on Earth. It was then pos­si­ble to fol­low these two genet­i­cal­ly iden­ti­cal men and to observe pre­cise­ly the changes brought about by the space envi­ron­ment at dif­fer­ent lev­els (bio­chem­i­cal, immune, genet­ic, phys­i­o­log­i­cal etc.).

The con­clu­sion is that space trav­el sig­nif­i­cant­ly alters the func­tions of the human body, and while the vast major­i­ty of these are restored once back on the ground, much work remains to be done to cre­ate a viable space envi­ron­ment for humans in the long term.