Energy Industry
Wind turbines: can we make blades recyclable?
Key takeaways
Today, more than 90% of the material used in a wind turbine can already be recycled in France.
Only the blades pose a problem. They are made of a composite, and it would be ideal to separate these materials to recover them.
However, it is currently very complicated to separate the matrix from the reinforcing fibres.
10,000 to 15,000 tons of composites from the wind energy sector will have to be processed in France each year from 2028.
The industry is developing new ways of recovering old blades, such as reuse, or the creation of recyclable blades.
The wind pow­er indus­try is fac­ing a major turn­ing point. The fleet is aging. In Den­mark, 50% of wind tur­bines are over 15 years old, and 40% in Ger­many1. Although wind tur­bines are designed to last about 20 years, the age of renew­al in Europe varies from 9 to 27 years. In France, only a small part (less than 5%) of the installed capac­i­ty is old­er than 15 years, and Ademe points out that most renewals could take place between 15 and 20 years. In the com­ing years, the poten­tial for renew­al will even accel­er­ate in Europe: it could increase from 3 GW per year in 2020 to more than 6 GW in 2030 accord­ing to Windeu­rope2.
Managing waste from wind turbines
So a new ques­tion aris­es: how do we man­age the waste from dis­man­tled wind farms? Accord­ing to DREAL Grand Est3, 90% of wind tur­bines are made of con­crete (840 tons on aver­age) and steel (246 tons). These mate­ri­als are eas­i­ly recy­cled and have sig­nif­i­cant mar­kets. Oth­er mate­ri­als such as cast iron and cop­per are also recy­cled. The sec­ond-hand mar­ket is also well devel­oped and includes major Euro­pean play­ers. « More than 90% of the mass of a wind tur­bine can already be recy­cled in France, these mar­kets are well struc­tured and will be able to absorb larg­er vol­umes, » says Aman­dine Volard, a renew­able ener­gy engi­neer at Ademe.
More than 90 per­cent of the mate­r­i­al from a wind tur­bine can already be recy­cled in France.
Only the blades pose a prob­lem today. They are made of a com­pos­ite mate­r­i­al: a mix­ture of poly­mer matrix (epoxy resin, polyurethane, or poly­ester) and rein­forc­ing fibres (most­ly glass or car­bon for off­shore wind tur­bines). The ide­al? Recov­er­ing each of the mate­ri­als to reuse them. How­ev­er, « it is very com­pli­cat­ed to sep­a­rate the matrix and the rein­forc­ing fibres, » explains Céline Largeau, head of the Zebra project at IRT Jules Verne. There are sev­er­al sep­a­ra­tion meth­ods: pyrol­y­sis (ther­mal), solvol­y­sis (chem­i­cal), gasi­fi­ca­tion and grinding.
These process­es allow the recov­ery of the fibres and/or the matrix, how­ev­er, no effi­cient recy­cling process is in place today4. Some process­es are ful­ly devel­oped and used on an indus­tri­al scale, such as pyrol­y­sis and grind­ing, but they strong­ly degrade the phys­i­cal prop­er­ties of the glass fibres. The recov­ered fibres are more expen­sive and of low­er qual­i­ty than non-recy­cled fibres, and the process is not eco­nom­i­cal­ly viable. Solvol­y­sis, on the oth­er hand, allows the recov­ery of undam­aged glass fibres and a reusable resin.
10,000 to 15,000 tons of com­pos­ites from the wind ener­gy sec­tor will need to be processed each year from 2028 in France.
But the process is not effi­cient, requires large quan­ti­ties of resources – sol­vent, water, ener­gy – and has not yet been suf­fi­cient­ly devel­oped. As a result, to date, only the incin­er­a­tion of blades in cement plants has been devel­oped, for exam­ple in Ger­many, where the renew­al of wind farms is already sig­nif­i­cant5. The com­pos­ite is used as fuel and the residues are incor­po­rat­ed into clinck­er, a con­stituent of cement. We esti­mate that 10,000 to 15,000 tons of com­pos­ites from the wind pow­er sec­tor will need to be processed each year in France from 2028 onwards6, » explains Aman­dine Volard. But the cement indus­try is already in demand in sec­tors oth­er than wind pow­er and will not be able to process such quan­ti­ties on its own.
Recovery, recycling and reuse
Dri­ven by a num­ber of fac­tors (see box), the indus­try is devel­op­ing new ways of recov­er­ing old blades. Some sep­a­ra­tion process­es that are not yet ful­ly devel­oped – solvol­y­sis, gasi­fi­ca­tion and high-volt­age frag­men­ta­tion – are being test­ed. Mature process­es such as pyrol­y­sis are being improved in order to obtain out­put fibres with inter­est­ing prop­er­ties. The R3FIBRE project7, led by Bcir­cu­lar, for exam­ple, makes it pos­si­ble to inte­grate recy­cled fibres into com­mer­cial cement to improve its per­for­mance. Oth­er ini­tia­tives focus on the val­ue chain. "One of the objec­tives of the Zebra project is to iden­ti­fy new sec­tors that could use fibres from wind tur­bines," explains Céline Largeau. "The auto­mo­tive indus­try, for exam­ple, is a prime sec­tor." Reuse is anoth­er pos­si­bil­i­ty. In its analy­sis8, Bax & Com­pa­ny points out: « For the moment, recy­cling is get­ting the most atten­tion, even if it is not the most desir­able waste man­age­ment strat­e­gy. » Indeed, the authors point to the pos­si­bil­i­ty of direct­ly reusing the blades for exam­ple for build­ing facades.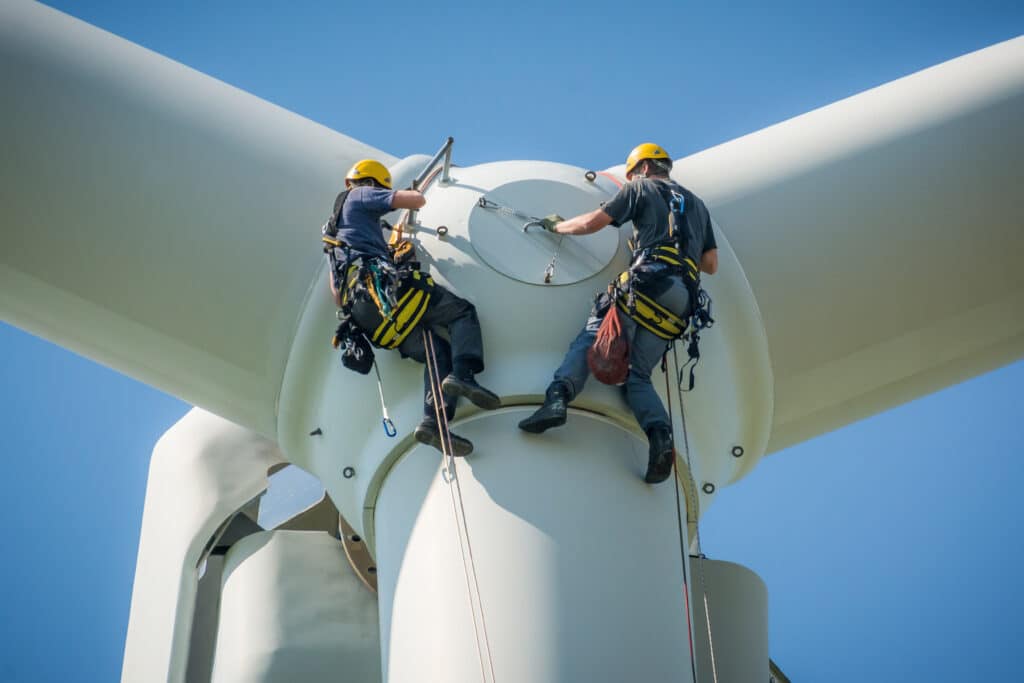 Anoth­er key area of action is the devel­op­ment of inno­v­a­tive, ful­ly recy­clable blades. Zero waste has been invit­ed to the table by man­u­fac­tur­ers who are aim­ing for this goal by 20409. Siemens Game­sa has already been mar­ket­ing the first ful­ly recy­clable wind tur­bine blade, the Recy­clable­Blade, since 2021. Com­posed of a new resin and glass fibre, the com­pos­ite mate­r­i­al can be sep­a­rat­ed at the end of its life by chem­i­cal means. In France, the ZEBRA project led by the IRT Jules Verne is focus­ing on anoth­er inno­v­a­tive resin for the sec­tor, ther­mo­plas­tic resin. Com­bined with a high-per­for­mance glass fibre, the result­ing com­pos­ite mate­r­i­al can be chem­i­cal­ly recy­cled. « The glass fibre devel­oped by Owens Corn­ing can incor­po­rate a cer­tain amount of recy­cled glass fibre, which means that this resource can be reused, » says Céline Largeau. The resin can also be reused. One of the chal­lenges of these new blades is to char­ac­ter­ize their car­bon foot­print over their entire life cycle (LCA), because this has nev­er been done before, » says Largeau. We will soon be able to pro­vide the LCA of the Zebra blade, and the results look promising. »
THE INDUSTRY IS BEING PUSHED TOWARDS RECYCLING
The indus­try is prepar­ing to deal with grow­ing wind waste streams in a strained con­text. The June 22 decree10 on wind pow­er instal­la­tions requires that 90% of the total mass of dis­man­tled wind tur­bines be reused or recy­cled by July 2022, and 95% by Jan­u­ary 1, 2024. « How­ev­er, Aman­dine Volard points out that these tar­gets have already been reached by the first wind farms dis­man­tled in France. Eco­nom­ic incen­tives – such as the inclu­sion of the recy­cling rate in the scor­ing cri­te­ria for the lat­est off­shore wind ten­der – are also an impor­tant cat­a­lyst for the indus­try to evolve. » Anoth­er recent change is the eco­nom­ic cri­sis. « The man­u­fac­ture of glass fibre requires a lot of ener­gy, so costs have risen sharply in recent months, » says Céline Largeau. « This makes recy­cled fibre more com­pet­i­tive on the mar­ket. » She con­tin­ues: « Final­ly, pub­lic opin­ion plays a very impor­tant role: incin­er­a­tion or land­fill­ing of waste does not reflect very well on the industry.
Anaïs Marechal