Energy Science and technology
How recycling solar panels will help preserve energy security in Europe
Key takeaways
Of the 3.5 million tonnes of silicon manufactured worldwide, Europe as much as 17%, while China produces as much as 75%.
It takes about 6 tonnes of scarce natural resources to produce one tonne of photovoltaic silicon or "polysilicon".
This chain generates a lot of CO2 – for a standard 60-cell module manufactured in China, 77 kg of CO2is emitted compared to 13 kg in France.
The technologies developed today make it possible to recycle solar panels in their entirety with the exception of the polymers.
The wave of panels at the end of their life combined with recycling should make it possible to build a new virtuous and almost autonomous value chain in Europe.
In the pho­to­volta­ic indus­tri­al chain – from quartz to elec­tron – it is often said that sil­i­con is abun­dant­ly avail­able on our plan­et. But, con­trary to the com­mon­ly used expres­sion, this abun­dance in the Earth's crust has noth­ing to do with its indus­tri­al avail­abil­i­ty. To extract so-called 'met­al­lur­gi­cal' sil­i­con (99.8% pure), very spe­cial qual­i­ty quartz, low-ash reac­tive coal, wood and elec­tri­cal ener­gy are required. Of the 3.5 mil­lion tonnes man­u­fac­tured world­wide, Chi­na pro­duces around 75%, while Europe pro­duces only as much as 17% of its own consumption.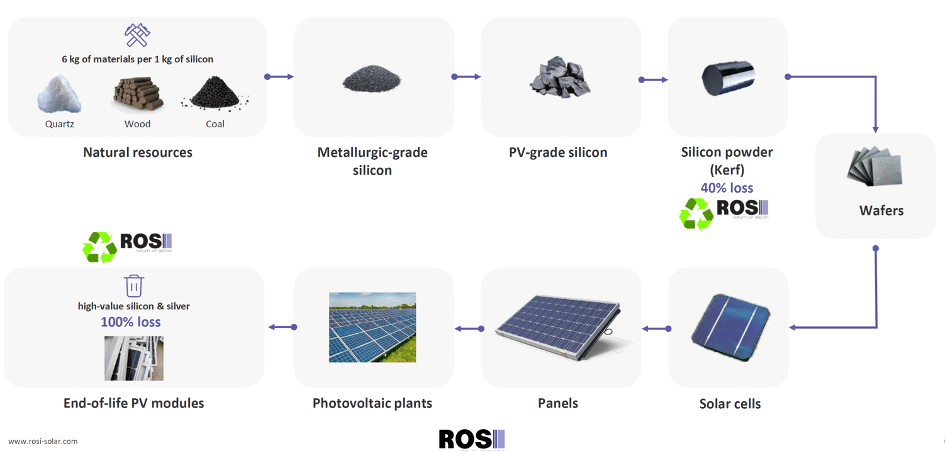 This sil­i­con must be puri­fied to a puri­ty of 9N (99.9999999) in order to be processed into pho­to­volta­ic "grade". How­ev­er, Europe and the Unit­ed States, which were lead­ers in the 2010s, have become mar­gin­al in the pro­duc­tion of this mate­r­i­al. Only the Ger­man com­pa­ny, Wack­er, has man­aged to remain a major play­er, thanks to its qual­i­ty, even if the pres­sure exert­ed on prices and anti-dump­ing mea­sures have been enabling Chi­nese pro­duc­ers to obtain a cur­rent mar­ket share of more than 90%. The fol­low­ing two tables illus­trate this*:

In 2022, 827,000* tonnes of PV sil­i­con were man­u­fac­tured in Chi­na com­pared to about 40,000 tonnes in Ger­many. Giv­en the pro­cess­ing yields, it takes about 6 tonnes of scarce nat­ur­al resources to pro­duce one tonne of pho­to­volta­ic sil­i­con or "poly­sil­i­con" (5.8 T/T to pro­duce Mg-Si, and then a min­i­mum of 5% loss in the con­ver­sion of Mg-Si to PV-Si).

From polysilicon to electron
The next step is to trans­form this pure mate­r­i­al into ingots, which are in fact more than 83% monocrys­talline. The search for high pho­to-elec­tric yields is turn­ing play­ers away from poly­crys­talline ingots, while the 'semi-mono', a French curios­i­ty, is non-exis­tent. At this stage, about 35 to 40% of the sil­i­con is lost, trans­formed into kerf – a nano­met­ric sus­pen­sion of chips that is very dif­fi­cult to use. Wafers are then obtained. Here again, Chi­na has cap­tured most of the world's pro­duc­tion with 357 GW equiv­a­lent. Only one Euro­pean pro­duc­er is still oper­at­ing (NORSUN in Norway).
The wafers are then trans­formed into cells, a process that requires 7–12 steps depend­ing on whether PERC, TOPCON or HETEROJONCTION tech­nolo­gies are used. It is at this stage that the sil­ver col­lec­tors are put in place. In 2020, PV was already con­sum­ing 3000 T/year or 10% of the world's avail­able sil­ver. This has increased to 13% by 2022. Chi­na pro­duced 318 GW equiv­a­lent in 2022 and fore­casts to 2030 make sil­ver extrac­tion unten­able with­out recycling.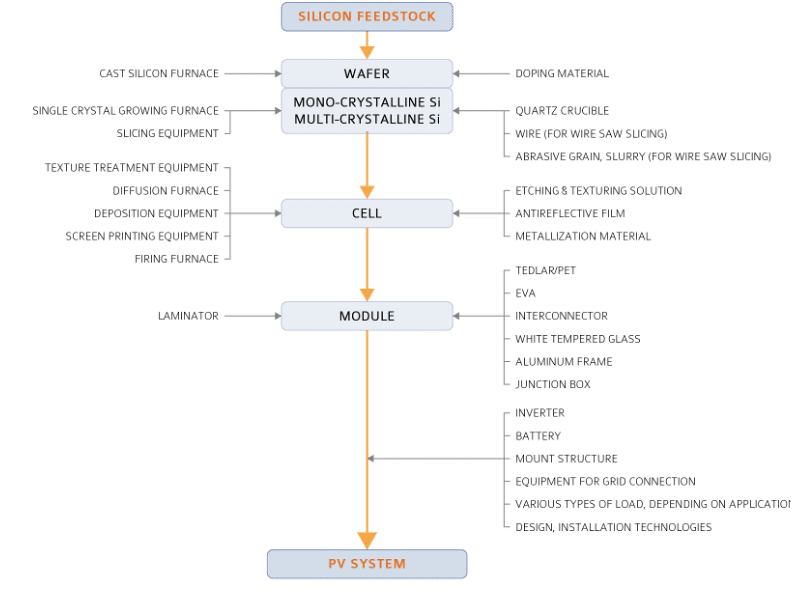 Final­ly, the assem­bly of cells, inter­con­nect­ed by cop­per-based col­lec­tors, is encap­su­lat­ed between two sheets of EVA to with­stand about 20 years of weath­er­ing, and then glued under a sheet of glass, with an alu­mini­um frame, to become a mod­ule. There is a strong trend towards increas­ing the num­ber of cell for­mats, both whole and half cells, to opti­mise the effi­cien­cy and capac­i­ty per mod­ule. From the 150 WattC of the 2010s, we are now mov­ing to mod­ules deliv­er­ing 500 WattC1. Chi­na has pro­duced the equiv­a­lent of 288 GW of mod­ules by 2022.
This chain is high­ly ener­gy con­sum­ing and gen­er­ates CO2 emis­sions. If we cal­cu­late these two indices, for a stan­dard 60-cell mod­ule man­u­fac­tured in Chi­na, deliv­er­ing 350 WattC, we obtain respec­tive­ly 120 KWH con­sumed and 77 kg of CO2 reject­ed. The same mod­ule man­u­fac­tured entire­ly in France would have required 118 KWH and released 13 kg of CO2.
Panel recycling
We can now mea­sure what it means to recre­ate a sov­er­eign PV chain in Europe, where only basic sil­i­con met­al and PV grade sil­i­con are avail­able. The inclu­sion of recy­cling of loss­es in this val­ue chain is essen­tial for the sus­tain­abil­i­ty of a new indus­tri­al mod­el to avoid the waste of scarce nat­ur­al resources.
The tech­nolo­gies devel­oped today now make it pos­si­ble to recy­cle solar pan­els in their entire­ty – with the excep­tion of poly­mers – includ­ing ker­f's (ROSI has devel­oped tech­nolo­gies to recy­cle them as a replace­ment for fresh sil­i­con), the alu­mini­um frame (the cir­cuits and tech­nolo­gies already exist), the glass (which has to be per­fect­ly clean in order to be recy­cled by glass­mak­ers), the cop­per (the cir­cuits and tech­nolo­gies already exist) and the silver.
But most impor­tant­ly, and this was the most dif­fi­cult part, we are now able to recy­cle these dif­fer­ent sources of sil­i­con to 5N qual­i­ty: recov­ery effi­cien­cies are around 90% of a pan­el's con­tent. The wave of end-of-life pan­els com­bined with the recy­cling of ker­f's should make it pos­si­ble to build a new vir­tu­ous and almost autonomous val­ue chain in Europe.