Health and biotech Society
How to limit the effects of endocrine disruptors on the brains of children
Key takeaways
Last April, the European Commission published a roadmap for banning thousands of dangerous substances in consumer products by 2030 – including endocrine disruptors.
Contrary to most toxicological measures, their dose does not predict the toxicity of exposure – a tiny amount can lead to long-term damage to health and there is there is a "cocktail" effect of different molecules.
Using the EDC-MixRisk project which studies children's health in relation to mothers' exposure to endocrine disruptors, researchers identified a realistic "cocktail" that was potentially damaging to brain development.
Eleven molecules were identified as being at risk for a delay in cognitive development including phthalates, perfluorinated compounds and phenols.
The study suggests that if they had used these doses to control chemicals in everyday products, they could have prevented 57% of women from being exposed to dangerous doses.
As the Euro­pean Com­mis­sion pre­pares a black­list of tox­ic sub­stances to be banned from con­sumer prod­ucts cir­cu­lat­ing in the EU, the ques­tion that has haunt­ed tox­i­col­o­gists for the past 20 years becomes inescapable: how do we assess endocrine dis­rup­tors? Present in plas­tics, cos­met­ics, paints and even fruit and veg­eta­bles because of pes­ti­cides, this fam­i­ly of chem­i­cal mol­e­cules is not defined by its chem­i­cal struc­ture nor the nature of its appli­ca­tions. Rather, it is defined but by the type of unde­sir­able effects it induces in liv­ing organ­isms – effects involv­ing dis­rup­tion of hormones.
The fam­i­ly of endocrine dis­rup­tors includes var­i­ous types of mol­e­cules: phtha­lates, per­flu­o­ri­nat­ed com­pounds, parabens, etc. And their cumu­la­tive action with­in a bio­log­i­cal sys­tem is dif­fi­cult to pre­dict. Yet, this is what we expect from reg­u­la­tions, in the form of thresh­olds below which con­sumers, pro­fes­sion­als using these prod­ucts or users of the spaces where they are present are pro­tect­ed from their harm­ful effects. A seem­ing­ly sim­ple problem.
Changing the regulatory paradigm
But "the dose makes the poi­son" is the par­a­digm of tox­i­col­o­gy, not endocrinol­o­gy. Indeed, expo­sure to infin­i­tes­i­mal dos­es of cyanide, for exam­ple, is not very risky. It is even found nat­u­ral­ly in hydrangea leaves, apple seeds and cher­ry pits; yet this does not mean that apple trees should be banned.
How­ev­er, if cyanide were an endocrine dis­rup­tor, we would have to think dif­fer­ent­ly. Because of their mode of action, the dose does not pre­dict the tox­i­c­i­ty of expo­sure to endocrine dis­rup­tors. An infin­i­tes­i­mal amount admin­is­tered at a key moment dur­ing a cru­cial process such as brain devel­op­ment in chil­dren can lead to long-term dam­age to health.
An infin­i­tes­i­mal amount admin­is­tered at a key moment dur­ing brain devel­op­ment can lead to long-term dam­age to health.
Sim­i­lar­ly, the sum of small dos­es accu­mu­lat­ed on the same tar­get can pro­duce con­se­quences lat­er in life. This is the "cock­tail" effect. Hence, assess­ing action of endocrine dis­rup­tors is a chal­lenge for reg­u­la­to­ry sci­ence. And research by sev­er­al Euro­pean lab­o­ra­to­ries, in col­lab­o­ra­tion with the Icahn School of Med­i­cine at Mount Sinai, with­in the H2020 EDC-MixRisk project (2015–2019), is seek­ing a solu­tion to this prob­lem. They pre­sent­ed a very ambi­tious approach last Feb­ru­ary1.
Jean Bap­tiste Fini, a biol­o­gist spe­cial­is­ing in endocrine dis­rup­tors and one of the authors of the arti­cle, explains, "our idea was to study the effects of mix­tures instead of test­ing them mol­e­cule by mol­e­cule. This approach bet­ter rep­re­sents the expo­sure of indi­vid­u­als in real life because the risk of devel­op­ing a dis­ease depends on a mul­ti­tude of expo­sures to mol­e­cules, the dos­es of which are often low and below cur­rent reg­u­la­to­ry thresh­olds."
The aim is to increase the num­ber of tests to bet­ter account for the risks. Their work takes advan­tage of the Swedish Sel­ma cohort, which fol­lows more than 2000 moth­er-child pairs since the 10th week of preg­nan­cy2. The EDC-MixRisk project has set out to study chil­dren's health in rela­tion to moth­ers' expo­sure to endocrine disruptors.
Endocrine disruptors affect the brain
"We stud­ied the health of the sub­jects from sev­er­al angles. The first study we pub­lished con­cerned the cog­ni­tive aspect," explains Jean-Bap­tiste Fini. The sci­en­tists researched which chem­i­cal mol­e­cules were asso­ci­at­ed with lan­guage delay in chil­dren whose moth­ers were exposed to these prod­ucts. Eleven mol­e­cules were iden­ti­fied as being at risk for this cog­ni­tive-delay cri­te­ri­on. The pan­el of chem­i­cals cho­sen will not sur­prise any tox­i­col­o­gist: phtha­lates, per­flu­o­ri­nat­ed com­pounds, phe­nols… these mol­e­cules are known to spe­cial­ists, and some are already sub­ject to reg­u­la­to­ry restrictions.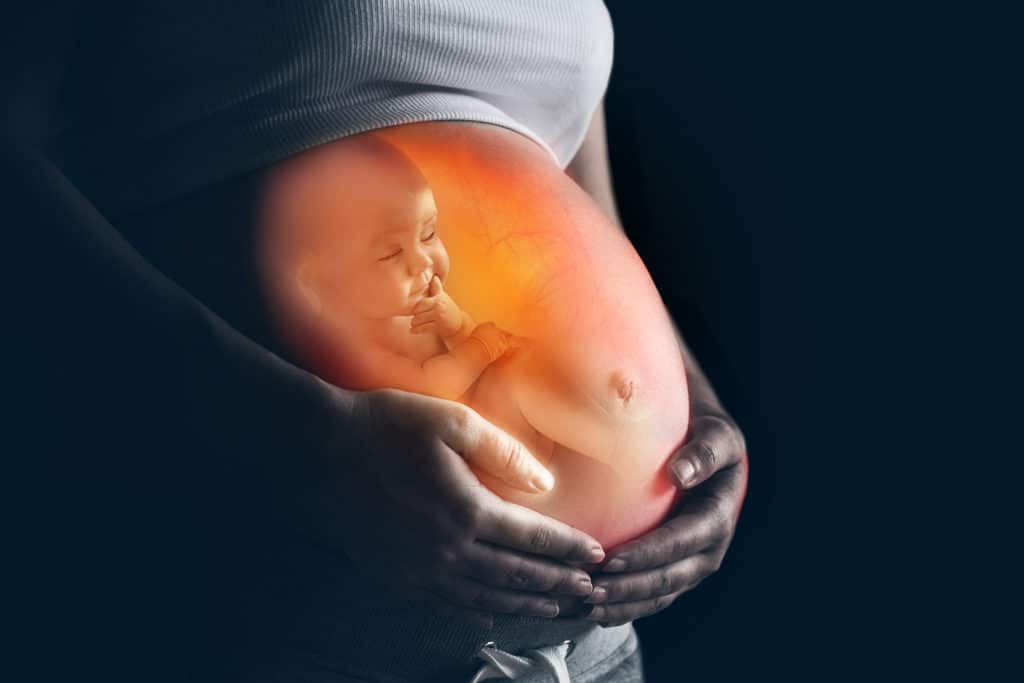 "Once we had estab­lished the mix of chem­i­cals, it was sent to all the lab­o­ra­to­ries par­tic­i­pat­ing in this study," says the French spe­cial­ist. The cock­tail was sub­ject­ed to a bat­tery of tests, on human cells in cul­ture and on recog­nised ani­mal mod­els such as zebrafish and xeno­pus. The strength of this study is that it links epi­demi­o­log­i­cal data with con­trolled lab­o­ra­to­ry tests.
On human brain cells in cul­ture, the researchers from the Uni­ver­si­ty of Milan demon­strat­ed that the cock­tail caus­es cel­lu­lar repro­gram­ming. As such, gene acti­va­tion was mod­i­fied, in par­tic­u­lar genes involved in learn­ing disorders.
In ani­mal research, sci­en­tists from the Muse­um Nation­al d'Histoire Naturelle in France and the Uni­ver­si­ty of Gothen­burg in Swe­den observed thy­roid effects on amphib­ian and zebrafish lar­vae. The mol­e­c­u­lar mech­a­nisms involved do not, how­ev­er, involve exact­ly the same genes as those in human cells. "This high­lights the fact that, even if phys­i­o­log­i­cal traits, in par­tic­u­lar dis­rup­tion of the ner­vous sys­tem, are con­served among ver­te­brates, the genes involved may be dif­fer­ent between aquat­ic mod­els and mam­mals," explains Jean-Bap­tiste Fini.
Risk calculation
Togeth­er, these data con­tribute to a body of sci­en­tif­ic evi­dence demon­strat­ing the risk of expo­sure to these endocrine dis­rup­tors dur­ing the pre­na­tal phase – even at dos­es accept­ed by cur­rent regulations.
But the great pow­er of this study lies in the risk analy­sis of the cock­tail of mol­e­cules. "This is a very inno­v­a­tive and com­plex approach devel­oped by Chris Gen­nings, a sta­tis­ti­cian from Mount Sinai," he explains. Using the exper­i­men­tal data, she was able to cal­cu­late the risk of the mix­ture and pre­dict a thresh­old above which the chil­dren would have been pro­tect­ed from cog­ni­tive impairment.
"If we had used these dos­es to con­trol chem­i­cals in every­day prod­ucts, we would have pre­vent­ed 57% of women from being exposed to dan­ger­ous dos­es," sum­maris­es the French specialist.
This research comes at a time of reg­u­la­to­ry change in Europe. Last April, the Euro­pean Com­mis­sion pub­lished a roadmap for ban­ning thou­sands of dan­ger­ous sub­stances in con­sumer prod­ucts by 20303. The inclu­sion of prod­ucts on this future black­list is a cru­cial issue for reg­u­la­to­ry sci­ence, and the con­sid­er­a­tion of endocrine dis­rup­tors will be cen­tral to it. The approach devised by the Euro­pean con­sor­tium could con­tribute to this.
"We hope that our work will help reg­u­la­to­ry sci­ence to address the prob­lem in order to bet­ter pro­tect the pub­lic," says Jean-Bap­tiste Fini.
Agnès Vernet