Health and biotech Science and technology
Multi-photon microscopy to better treat diseases
Key takeaways
To understand fundamental physiological mechanisms and processes, as well as those of many pathologies, it is essential to observe cellular metabolic activity in real-time with subcellular resolution.
In biology, it is common to "tag" molecules with fluorescence markers, but this is an invasive technique, as one has to "enter" the cell.
However, there are fluorescent molecules already present in cells that can be stimulated without artificially integrating them and interfering with the living system.
Acquiring this type of knowledge opens the way to many applications in medicine, as it allows the metabolism of cells – an indicator of their activity – to be mapped. This, for example, allows the identification of the metabolism of cancer cells, which are likely to develop many forms of cancer.
Chiara Stringari, a researcher at the Lab­o­ra­to­ry of Optics and Bio­sciences (LOB) at École Poly­tech­nique, is skirt­ing at the fron­tier of sev­er­al dif­fer­ent sci­en­tif­ic dis­ci­plines. Her aim is to devel­op inno­v­a­tive micro­scop­ic obser­va­tion tech­niques to map the meta­bol­ic activ­i­ty of cells and tis­sues with greater pre­ci­sion. To do this, she uses a tech­nique based on two-pho­ton opti­cal microscopy; a method using two pho­tons pro­ject­ed onto a tar­get cell, through a laser, which make a mol­e­cule in that cell react so it becomes vis­i­ble by flu­o­res­cence. Cor­rect func­tion­ing of a healthy cell is deter­mined by activ­i­ty of the mol­e­cules with­in it. Observ­ing them and char­ac­ter­is­ing their flu­o­res­cence life­time with greater pre­ci­sion allows researchers to iden­ti­fy the mol­e­c­u­lar sig­na­ture, and thus nor­mal cel­lu­lar func­tion, so that they can estab­lish med­ical diagnoses.
Observ­ing cel­lu­lar meta­bol­ic activ­i­ty in real-time with sub­cel­lu­lar res­o­lu­tion is cru­cial to under­stand­ing fun­da­men­tal phys­i­o­log­i­cal mech­a­nisms and process­es as well as those of sev­er­al patholo­gies. To do this, it is com­mon to "tag" mol­e­cules with flu­o­res­cence mark­ers, but this requires an inva­sive tech­nique, as one has to "enter" the cell. As such, an inva­sive tech­nique will always have an impact on the organ­ism being observed, how­ev­er small. Chiara Stringari, on the oth­er hand, relies on the flu­o­res­cent mol­e­cules already present in cells – in par­tic­u­lar NADH and FAD, which are present in all our liv­ing cells and pro­vide infor­ma­tion on metab­o­lism. They can be stim­u­lat­ed with­out being arti­fi­cial­ly inter­fer­ing with the liv­ing sys­tem. It is tech­nique that is still in the pre-clin­i­cal phase. So, tests on humans have there­fore not yet begun; exper­i­ments are still lim­it­ed to the in vit­ro (on arti­fi­cial organ­isms) and in vivo (in par­tic­u­lar on zebrafish and mice) stages.

Observing the molecule without tagging it
Bypass­ing the 'tag­ging' stage there­fore makes this tech­nique, which is still under devel­op­ment, as inno­v­a­tive as it is use­ful. "It is the core of my research to devel­op new meth­ods using non-lin­ear optics," states Chiara Stringari. It gives researchers access to new infor­ma­tion, while using con­trasts or endoge­nous bio­mark­ers – that remove the need for tag­ging – so that this tech­nique is as non-inva­sive as pos­si­ble." The abil­i­ty to observe the activ­i­ty of mol­e­cules, like that of any oth­er cell in our body, as close­ly as pos­si­ble, thus allows us to under­stand their devel­op­ment, with­out dam­ag­ing the bio­log­i­cal sys­tems observed.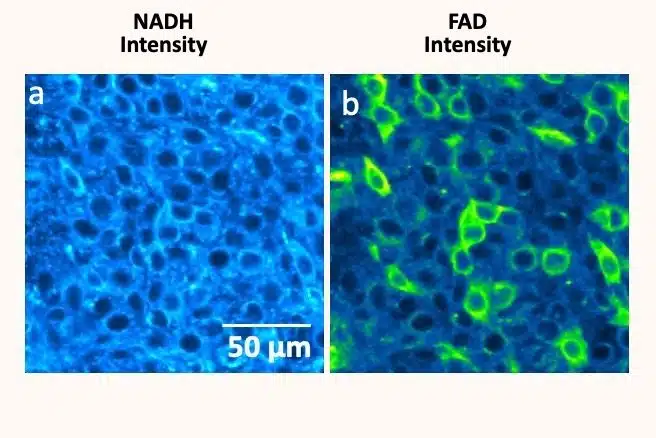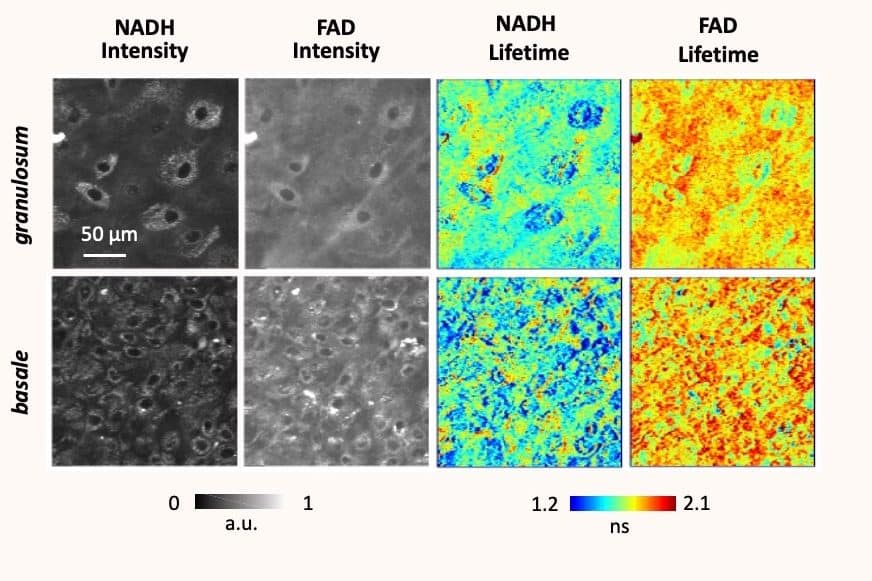 Acquir­ing this type of knowl­edge opens the way to many appli­ca­tions in med­i­cine, as it allows researchers to map cel­lu­lar metab­o­lism – an indi­ca­tor of activ­i­ty in cells. "Espe­cial­ly since metab­o­lism, which is very impor­tant for devel­op­ment, affects epi­ge­net­ics," she explains. "Map­ping allows us to cre­ate a mod­el and bet­ter under­stand the inter­est and role of the dif­fer­ent con­nec­tions between cells. And there­fore, to under­stand the inter­ac­tions they have with their envi­ron­ment." This, in turn, allows the iden­ti­fi­ca­tion of the metab­o­lism of can­cer cells, which are like­ly to devel­op many forms of can­cer. "The bio­mark­ers used allowed us to dis­so­ci­ate healthy cells from can­cer cells. The bio­mark­ers used have allowed us to sep­a­rate healthy cells from can­cer cells, allow­ing us to estab­lish phe­no­typ­ic meta­bol­ic sub­types of cancer."
Better understand how brain cells work
"The aim is not to diag­nose, but this tech­nique does pro­vide many tools to facil­i­tate this. In my opin­ion, the most impor­tant thing is to bet­ter under­stand how our brain cells work."
These obser­va­tions give us infor­ma­tion about the envi­ron­ment of the mol­e­cules. It allows us to under­stand how they inter­act with their sur­round­ings, and what acti­vates them. The researchers make an exper­i­men­tal mea­sure­ment on a sub-cel­lu­lar scale (< 1 µm), in order to estab­lish a map of the metab­o­lism and iden­ti­fy the lack (or abun­dance) of cer­tain mol­e­cules in our cells. Espe­cial­ly since "each cell has a sort of fin­ger­print of its metab­o­lism", she says.
Using anoth­er non-labelling tech­nique – that of the third har­mon­ic gen­er­a­tion, which com­ple­ments two-pho­ton flu­o­res­cence – Chiara Stringari is work­ing in par­tic­u­lar on imag­ing myelin, a lipid sheath which is "very impor­tant in the con­nec­tion and meta­bol­ic sup­port of neu­rones," she explains. Study­ing a 3D rep­re­sen­ta­tion of myelin allows her to under­stand the impact that its degra­da­tion can have on the metab­o­lism of neu­rones, in com­bi­na­tion with the data obtained using the two-pho­ton tech­nique. "This allows us to learn more about our brains, while also pro­vid­ing leads for research into diag­no­sis, both of which are very complementary."
Mul­ti­ple scle­ro­sis is a dis­ease that affects myelin, caus­ing its degra­da­tion (demyeli­na­tion) and neu­rode­gen­er­a­tion. Chiara Stringari and her team have there­fore under­tak­en research on this dis­ease, in ex vivo con­di­tions, with a view to estab­lish­ing "the bio­log­i­cal con­se­quences of myelin pathol­o­gy at the lev­el of cel­lu­lar metab­o­lism and neu­ronal net­works". Com­par­ing the func­tion of dis­tinct phas­es known as myeli­na­tion and demyeli­na­tion makes it pos­si­ble to learn more about how it works, its cel­lu­lar activ­i­ty and, above all, its repair.
Indeed, many dis­eases are caused by the degra­da­tion of brain cells; these are known as neu­rode­gen­er­a­tive dis­eases. The stud­ies under­tak­en by Chiara Stringari could help in the iden­ti­fi­ca­tion of effec­tive ther­a­peu­tic strate­gies. And it will allow us to go even fur­ther, by under­stand­ing how a cell ini­ti­ates its degra­da­tion, we could, per­haps one day, pre­vent this process.
Interview by Pablo Andres