Health and biotech
Can viruses be used to fight bacterial infections?
Key takeaways
Long before Covid-19, the WHO was already warning about certain infectious agents considered "one of the most serious threats to global health".
Responsible for 1.27 million deaths worldwide in 2019, likely to cause 10 million a year by 2050, this threat is antibiotic-resistant bacteria.
A number of patients, infected with antibiotic-resistant bacteria, have already been saved by compassionately administered bacteriophages.
In France, the PHAGEinLYON programme has treated several dozen patients since 2017 and recently received funding from the ANR to develop access to phage therapy.
While the main caus­es of death in devel­oped coun­tries, includ­ing France, are can­cer and car­dio­vas­cu­lar dis­ease1, the World Health Organ­i­sa­tion warned (well before Covid-19) that it con­sid­ers cer­tain infec­tious agents "one of the most seri­ous threats to glob­al health, food secu­ri­ty and devel­op­ment"2. This threat is antibi­ot­ic-resis­tant bac­te­ria, which were respon­si­ble for 1.27 mil­lion deaths world­wide in 20193 and could cause 10 mil­lion deaths annu­al­ly by 20504.
Yet, it is dif­fi­cult to fight against this phe­nom­e­non. Lim­it­ing and opti­mis­ing the use of antibi­otics can reduce the emer­gence of new antibi­ot­ic resis­tant bac­te­ria. But the search for new antibi­otics has unfor­tu­nate­ly not been very suc­cess­ful, while we also need treat­ments capa­ble of coun­ter­act­ing the antibi­ot­ic resis­tant bac­te­ria that already exist… What if the solu­tion was even old­er than antibiotics?
Healing with viruses
Decem­ber 1917. Félix d'Hérelle, a sci­en­tist whose biog­ra­phy is worth a look, pub­lished a paper in the Pro­ceed­ings of the Acad­e­my of Sci­ences5. He described invis­i­ble microbes, capa­ble of destroy­ing the bac­te­ria respon­si­ble for dysen­tery or typhoid fever by mul­ti­ply­ing at their expense. He described these microbes as "bac­te­rio­phages", i.e., lit­er­al­ly, bac­te­ria eaters. As virol­o­gy was still in its infan­cy at the time, Félix d'Hérelle was not aware of it, but he had just described virus­es capa­ble of infect­ing and killing bac­te­ria! Today, they are still called bac­te­rio­phages, or phages for short.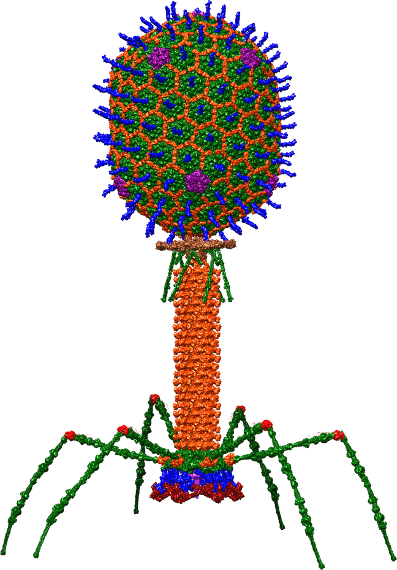 The author­ship of this dis­cov­ery is dis­put­ed as d'Hérelle was not the first to make this kind of obser­va­tion. He was, how­ev­er, the first to have the idea of using these virus­es as treat­ments. His 1917 paper explains that phages can pro­tect rab­bits against dysen­tery, with­out any side effects, and are spe­cif­ic to cer­tain strains of bac­te­ria: the foun­da­tions of phage ther­a­py were laid.
Indeed, since they are only a threat to bac­te­ria, these ene­mies of our ene­mies have the right pro­file to become our allies. Phage ther­a­py thus became an inter­na­tion­al craze in the 1920s! At the time, there was no oth­er way to fight bac­te­r­i­al infec­tions. Peni­cillin was dis­cov­ered in 1928, but it was not puri­fied and used for med­ical pur­pos­es until over a decade later.
From phages to antibiotics… and back again?
Antibi­otics were inex­pen­sive, very effec­tive, easy to pro­duce, store and admin­is­ter. As ear­ly as the 1940s, they replaced bac­te­rio­phages, whose effec­tive­ness was less cer­tain, with­out replac­ing them entire­ly: ther­a­peu­tic phages were avail­able in France until the end of the 1980s. But Alexan­der Flem­ming, the dis­cov­er­er of peni­cillin, was right when he warned about the bac­te­ri­a's capac­i­ty for resis­tance. Could phages be more effec­tive than antibi­otics in this respect?
Unlike these inert mol­e­cules, virus­es evolve spon­ta­neous­ly to adapt to bac­te­r­i­al adap­ta­tions. Their ther­a­peu­tic use should repro­duce the arms race clas­si­cal­ly observed between a par­a­site and its host instead of the dead end in which antibi­otics are stuck. And there are oth­er rea­sons why phages are a promis­ing alternative!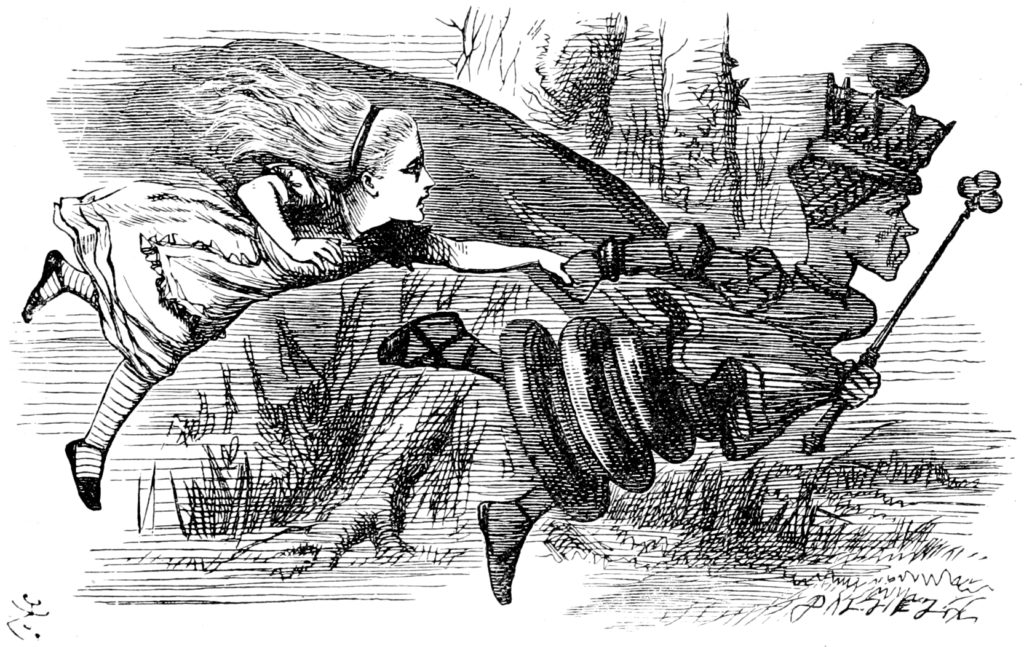 In terms of mech­a­nisms of action, antibi­otics can be com­pared to bombs and bac­te­rio­phages to pre­ci­sion shoot­ing: the for­mer destroy bac­te­ria en masse while the lat­ter are spe­cif­ic to a type of bac­te­ria. In the mid­dle of the 20th Cen­tu­ry, it was dif­fi­cult to char­ac­terise bac­te­r­i­al or viral strains and the wide range of action of antibi­otics was an advan­tage. Today, we know that our organ­isms are true ecosys­tems, con­tain­ing about as many bac­te­ria as human cells6. Bac­te­rio­phages would allow us to tar­get only those that are path­o­gen­ic, pre­serv­ing the rest of our micro­bio­ta and con­cen­trat­ing spon­ta­neous­ly at the sites of infection.
From theory to practical application
A num­ber of patients infect­ed with antibi­ot­ic-resis­tant bac­te­ria have already been saved by com­pas­sion­ate admin­is­tra­tion of bac­te­rio­phages. These cures have some­times received sig­nif­i­cant media cov­er­age, such as that of the spouse of Stef­fanie Strathdee, an epi­demi­ol­o­gist who has since become co-direc­tor of the first phage ther­a­py research cen­tre in the Unit­ed States7.
In France, the PHAGEin­LY­ON pro­gram8 has treat­ed sev­er­al dozen patients since 2017 and recent­ly received fund­ing from the ANR to expand access to phage ther­a­py. Its results are very promis­ing, but we are still far from being able to deploy this approach on a large scale.
Cer­tain tech­ni­cal and admin­is­tra­tive con­straints remain restric­tive, start­ing with the pro­duc­tion of med­ical phages, which need to meet high-qual­i­ty stan­dards. In France, there is cur­rent­ly only one com­pa­ny9 capa­ble of pro­duc­ing phages for human use. Bel­gium con­sid­ers phages as magis­tral prepa­ra­tions, not as drugs, which facil­i­tates their pro­duc­tion. In any case, the ques­tion of the patentabil­i­ty of these bio­log­i­cal enti­ties is not clear-cut, which may slow down indus­tri­al invest­ments. And there are still sci­en­tif­ic lim­its to the devel­op­ment of phagotherapy.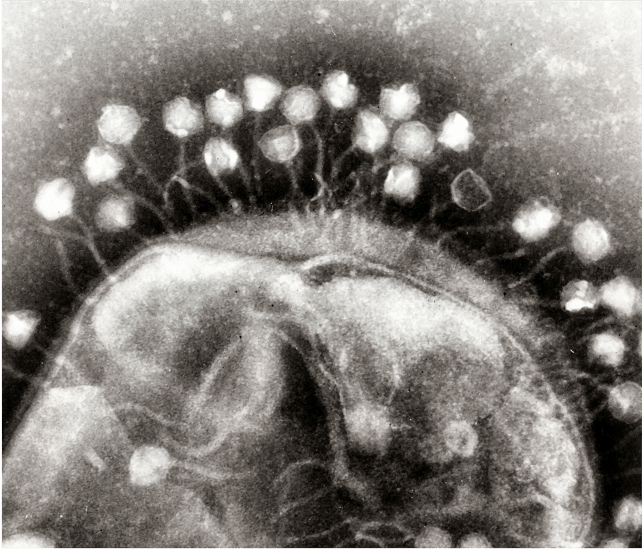 Identifying phages
For phage ther­a­py to be effec­tive, virus­es must be iden­ti­fied that match the needs of each patient. It is not pos­si­ble to pre­dict which phage will be effec­tive against a giv­en bac­teri­um. To find out, it is nec­es­sary to test on a case-by-case basis and hope that the effects with­in the patien­t's micro­bial ecosys­tem will be iden­ti­cal to those observed in vit­ro. In gen­er­al, patients are treat­ed with cock­tails of sev­er­al poten­tial­ly effec­tive phages.
In order to tar­get a max­i­mum num­ber of bac­te­ria, we need large reper­toires of phages from which to draw from. And even though there is a con­sid­er­able nat­ur­al diver­si­ty of phages, esti­mat­ed at 108 species10, we are far from hav­ing cat­a­logued enough of them to be able to gen­er­alise phage ther­a­py. How­ev­er, cer­tain struc­tures have been work­ing on this for decades: the coun­tries of the Sovi­et bloc did not have access to antibi­otics dur­ing the cold war, and their use of phages is par­tic­u­lar­ly devel­oped (which gen­er­ates med­ical tourism).
Fur­ther­more, the effi­ca­cy of phage ther­a­py must be prop­er­ly eval­u­at­ed beyond com­pas­sion­ate cas­es. A few stan­dard clin­i­cal tri­als have been con­duct­ed since 2010, against infec­tions for which phage cock­tails can be stan­dard­ized in a "ready-to-wear" man­ner. Some of these tri­als are promis­ing11, but this eval­u­a­tion method­ol­o­gy is less adapt­ed to "cus­tomised" uses of bacteriophages.
Final­ly, even if it only con­cerns cer­tain patients, one char­ac­ter­is­tic of phages remains lim­it­ing: some areas of the body remain inac­ces­si­ble to them, such as the cen­tral ner­vous sys­tem or the inte­ri­or of our cells.
A treatment in the making
Despite its promise, phage ther­a­py is not (yet) a ther­a­peu­tic rev­o­lu­tion. But this new approach should be thought of in com­bi­na­tion with the tools already at our dis­pos­al! Inter­est­ing syn­er­gies have been observed with antibi­otics, for example.
The use of cer­tain pro­teins pro­duced by bac­te­rio­phages, notably lysines, enzymes capa­ble of degrad­ing bac­te­r­i­al walls and biofilms, is also being con­sid­ered as a ther­a­peu­tic tool in its own right. Or to genet­i­cal­ly mod­i­fy phages to tar­get refrac­to­ry bacteria.
It's hard to pre­dict how bac­te­rio­phages will change our response to bac­te­r­i­al infec­tions, but they seem to have the poten­tial to meet some of our cur­rent needs, and chances are we'll be hear­ing more and more about them12 !
For more about this
Relat­ed event: sym­po­sium on antibi­ot­ic resis­tance orga­nized by Inserm and Insti­tut Pas­teur, June 7: https://​www​.pas​teur​.fr/​f​r​/​j​o​u​r​n​a​l​-​r​e​c​h​e​r​c​h​e​/​e​v​e​n​e​m​e​n​t​s​/​c​o​l​l​o​q​u​e​-​s​c​i​e​n​t​i​f​i​q​u​e​-​a​n​t​i​b​i​o​r​e​s​i​s​t​a​n​c​e-amr