The goal is clear: to keep glob­al warm­ing "well below +2°C" by 2100 (rel­a­tive to the pre-indus­tri­al era). How­ev­er, glob­al efforts to mit­i­gate green­house gas emis­sions are insuf­fi­cient. To achieve the UN's sus­tain­able devel­op­ment goals, it is now crit­i­cal for deci­sion-mak­ers world­wide to be more ambi­tious in terms of both mit­i­ga­tion as well as ecosys­tem and soci­etal adap­ta­tion. This rais­es the ques­tion as to what oppor­tu­ni­ties are pro­vid­ed by the ocean to sup­port inter­na­tion­al cli­mate action.
"More than just a victim, the ocean is also a source of solutions"
The ocean – includ­ing land­locked and mar­gin­al seas – is a 'cli­mate reg­u­la­tor' for the plan­et (Fig. 1). Since the 1970s, it has absorbed 93% of excess heat, lim­it­ing the warm­ing of the atmos­phere. It has also sequestered 25–30% of man-made CO2 emis­sions since 1750 and has received almost all the water released by melt­ing glac­i­ers and polar ice caps. With­out the ocean, cli­mate change would be much more intense than it is today.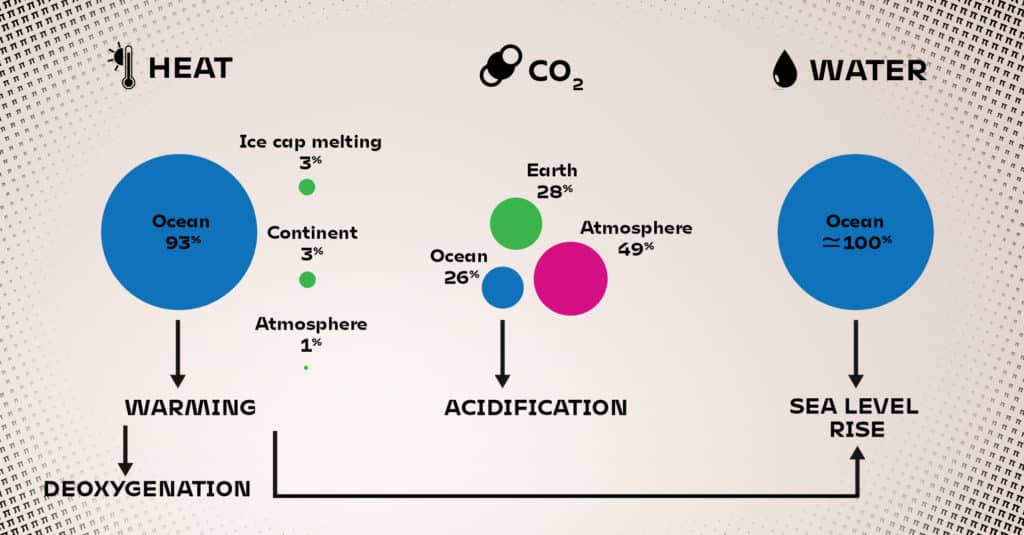 How­ev­er, this has come at the cost of sig­nif­i­cant con­se­quences on the chem­i­cal and phys­i­cal process­es in the ocean, such as warm­ing, acid­i­fi­ca­tion, deoxy­gena­tion, and ris­ing sea lev­els. These upheavals have already had detectable impli­ca­tions for ecosys­tems and their ser­vices, and for soci­eties around the world12. The ocean is how­ev­er more than just a vic­tim of cli­mate change, it is also a source of poten­tial solu­tions. We have assessed the main ocean-based mea­sures that have been described in the sci­en­tif­ic lit­er­a­ture3. They cov­er both mit­i­ga­tion and adap­ta­tion45 and refer to address­ing the caus­es of cli­mate change, pro­mot­ing bio­log­i­cal, eco­log­i­cal and soci­etal adap­ta­tion, and man­ag­ing solar radiation.
Making categories for more efficient action
Accord­ing to dif­fer­ent cri­te­ria – effec­tive­ness, fea­si­bil­i­ty, dura­tion of effects, co-ben­e­fits, dis­ad­van­tages, cost-effec­tive­ness, and gov­ern­abil­i­ty – the ocean-based mea­sures we assessed can be grouped into 4 cat­e­gories: Deci­sive, Low Regret, Unproven, and Risky. Such cat­e­gori­sa­tion is intend­ed to guide the devel­op­ment and imple­men­ta­tion of cli­mate poli­cies, com­bin­ing mit­i­ga­tion and adap­ta­tion, at var­i­ous stages of action: from the inter­na­tion­al lev­el, under the frame­work of the revi­sion of Nation­al­ly Deter­mined Con­tri­bu­tions, to the local lev­el, through con­crete and planned action strate­gies, and pass­ing through the nation­al lev­el when defin­ing Cli­mate Plans.
This cat­e­gori­sa­tion sug­gests that, more ambi­tious con­tri­bu­tions should stim­u­late action based on ocean-based solu­tions by pri­ori­tis­ing Deci­sive (e.g. marine renew­able ener­gy) and Low Regret mea­sures (e.g. con­ser­va­tion and restora­tion of coastal veg­e­ta­tion, involve­ment of local com­mu­ni­ties in adap­ta­tion actions, or revi­sion of risk reduc­tion poli­cies to bet­ter take into account antic­i­pat­ed cli­mate change).
Unproven mea­sures have very high poten­tial effec­tive­ness but have so far been through lit­tle or no test­ing and as some of them, such as improv­ing pro­duc­tiv­i­ty in the open sea and alka­lin­i­sa­tion, may have high poten­tial draw­backs. There is a need to improve knowl­edge of these Unproven mea­sures as well as those that are con­sid­ered Risky due to their poten­tial neg­a­tive col­lat­er­al effects (e.g. solar radi­a­tion management).
No action without planning
It is also cru­cial to note that the rel­e­vance of some mea­sures will depend on the con­text in which they are deployed. While infra­struc­ture-based adap­ta­tion (e.g. coastal dykes) may, in some sit­u­a­tions, offer a sus­tain­able solu­tion for cli­mate risk reduc­tion (Deci­sive), in oth­er con­texts it will prove coun­ter­pro­duc­tive in the long term (Risky). Sim­i­lar­ly, the relo­ca­tion of peo­ple and eco­nom­ic activ­i­ties can be deci­sive in the long term for low-lying coastal areas (Deci­sive), pro­vid­ed that it is sup­port­ed by a long plan­ning and sup­port process before­hand, and with­out which there is a high risk of increas­ing the vul­ner­a­bil­i­ty of relo­cat­ed pop­u­la­tions and activ­i­ties (Risky).
Anoth­er lev­el of com­plex­i­ty lies in the fact that none of the mea­sures will be suf­fi­cient on their own, and there­fore that the design of any robust "cli­mate solu­tion" nec­es­sar­i­ly relies on the iden­ti­fi­ca­tion of con­text-spe­cif­ic com­bi­na­tions of respons­es. While Deci­sive and Low Regret mea­sures are clear­ly pri­or­i­ties for action, it is impor­tant to under­stand that full imple­men­ta­tion of Deci­sive mea­sures will not com­plete­ly elim­i­nate coastal risks. Also, the long-term effec­tive­ness of Low Regret mea­sures, par­tic­u­lar­ly nature-based solu­tions, will be deter­mined by the future lev­el of glob­al warm­ing. There­fore, sci­en­tif­ic research must con­tin­ue to explore the field of Unproven solu­tions and to under­stand the con­di­tions of appli­ca­tion of Risky solu­tions.
This ele­ment of diag­no­sis refers to a key prin­ci­ple of cli­mate action: rather than think­ing in terms of indi­vid­ual, ide­alised solu­tions, a more promis­ing avenue con­sists of think­ing in terms of mit­i­ga­tion and adap­ta­tion "tra­jec­to­ries". The "tra­jec­to­ry" lens refers to the sequenc­ing of a diver­si­ty of respons­es over time, accord­ing to new knowl­edge on cli­mate change and its impacts at both glob­al and local levels.