The 2024 Olympic Games are just around the cor­ner and it's not just the city of Paris that's get­ting ready… sci­ence is get­ting involved too! At Inria Rennes, we are con­duct­ing research with the Olympic box­ing team and its coach: as part of the REVEA project1, we are look­ing at how vir­tu­al real­i­ty can help the team work on cer­tain "sub-skills" that need to be improved, such as speed, motor coor­di­na­tion and strength train­ing, to name a few. Con­trary to what one might expect, our vir­tu­al real­i­ty sys­tem does not aim to repli­cate a real match or com­pe­ti­tion, but rather to iden­ti­fy a spe­cif­ic sub-skill and improve it in a tar­get­ed com­bat sit­u­a­tion. In the case of box­ing, the sub-skill we are look­ing to train is the abil­i­ty to antic­i­pate oppo­nents' attacks.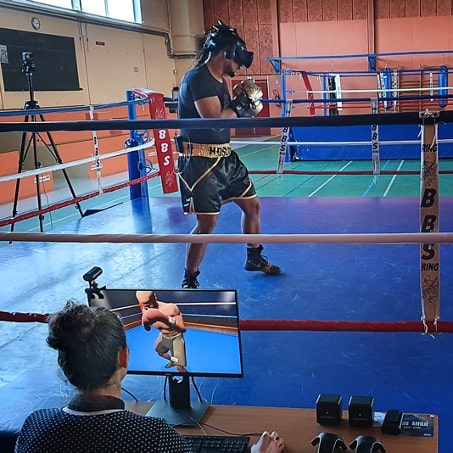 To analyse the oppo­nen­t's behav­iour with­out vir­tu­al real­i­ty, two box­ers must com­bat face to face, with one of them being asked to repro­duce typ­i­cal attacks. It is very dif­fi­cult, how­ev­er, to con­trol and faith­ful­ly repro­duce cer­tain move­ments from one tri­al to the next. This approach inevitably lim­its train­ing time since such an exer­cise is phys­i­cal­ly demand­ing when real punch­es are being exchanged. In vir­tu­al real­i­ty, this type of train­ing can be done with our avatar and a vir­tu­al oppo­nent with­out the risk of any­one being injured. It also offers a range of stim­uli that go beyond what is pos­si­ble in real life: we can exper­i­ment with var­i­ous visu­al and audi­to­ry per­cep­tions or prac­tise with a high­ly-skilled oppo­nent to push the lim­its of tra­di­tion­al training.
A boxer "behaviour map"
To this end, our team has devel­oped a vir­tu­al real­i­ty sim­u­la­tor that uses three-dimen­sion­al mea­sure­ments of the move­ments of pro­fes­sion­al box­ers obtained with motion cap­ture devices – via the Immer­move plat­form installed in the M2S lab­o­ra­to­ry) The data obtained from this sim­u­la­tor, which includes, for exam­ple, antic­i­pa­to­ry defen­sive move­ments, such as slight hip move­ments, is then trans­posed onto vir­tu­al humans with dif­fer­ent mor­pholo­gies. As such, the box­er can visu­alise his oppo­nent, rep­re­sent­ed by an avatar and dis­played in a vir­tu­al real­i­ty head­set. In our exper­i­ments, we observe the box­er's reac­tions to dif­fer­ent types of blows, and whether he is sen­si­tive to the slight antic­i­pa­to­ry move­ments per­ceived by the oppo­nent. These obser­va­tions can be quan­ti­fied, for exam­ple, by suc­cess rates or reac­tion times, to cre­ate a "map" of the box­er's antic­i­pa­to­ry performance.
As well as apply­ing it to box­ing, we used our approach to train goal­keep­ers at the Stade Ren­nais Foot­ball Club. Our vir­tu­al real­i­ty sys­tem trained them not to focus on the play­er with the ball, but to bet­ter man­age periph­er­al vision infor­ma­tion. Indeed, if the foot­baller about to attempt a goal makes a pass to some­one on the oth­er side of the goal at the very last sec­ond, the goal­keep­er may not have time to react.
Applied research
Our research is very applied: our objec­tive is to help the Olympic teams get ready for Paris 2024. Indeed, think­ing about how to include these tech­nolo­gies in the dai­ly life of ath­letes is one of the main goals. We asked our­selves the fol­low­ing ques­tions: how much train­ing should be done with this type of tech­nol­o­gy? At what time of the day and at what stage in the train­ing pro­gramme? How long should a typ­i­cal ses­sion last? Who should we train with – Olympic hope­fuls or all ath­letes, for exam­ple? And how often? Our approach is part of a wider train­ing pro­gramme set by the coach, which includes phys­i­cal, men­tal and tech­ni­cal preparation…
The train­ing pro­gramme includes phys­i­cal, men­tal, and tech­ni­cal prepa­ra­tion… with added vir­tu­al real­i­ty sessions!
Our sys­tem is being used at the Olympic team's train­ing cen­tre and by the sci­en­tists at INSEP work­ing with the French Box­ing Fed­er­a­tion. We are con­tin­u­ing to devel­op it and make it more effec­tive thanks to the feed­back we receive from ath­letes and coach­es. For exam­ple, in our first ver­sion, the oppo­nent made too many repet­i­tive move­ments, which made the com­bat unre­al­is­tic. We are also improv­ing the equip­ment used for vir­tu­al real­i­ty training.
"Translating" the data
We have a soft­ware plat­form that is based on a com­mer­cial tool called Uni­ty, rou­tine­ly used for mak­ing video games. It loads a three-dimen­sion­al envi­ron­ment – in our case, a box­ing ring – as well as vir­tu­al humans and their move­ments. We write a sce­nario in which the move­ments of the vir­tu­al humans are stored in "move­ment libraries", which we play back. There are then algo­rithms linked to the motion con­trol of the avatars. All these ele­ments pro­vide us with the met­rics that allow us to mea­sure the reac­tion times and the antic­i­pa­to­ry behav­iour of the boxers.
We have also start­ed to work on arti­fi­cial intel­li­gence, neur­al net­works and deep rein­force­ment learn­ing to improve the behav­iour of vir­tu­al oppo­nents. This part of the tech­nol­o­gy is not yet mature, but ini­tial results show that it is pos­si­ble to repro­duce the com­plex inter­ac­tions between two box­ers with very few obser­va­tions of real com­bats. Tak­ing this approach to its lim­its, we could con­sid­er sim­u­lat­ing the move­ments and strate­gies of a par­tic­u­lar box­er based on some video footage of his pre­vi­ous matches.
Interview by Isabelle Dumé