Science and technology Society
Can beauty be quantified?
Why does there seem to be a con­sen­sus in appre­ci­a­tion of cer­tain images? What under­ly­ing prop­er­ties and rules deter­mine a pref­er­ence of beau­ty? Physi­cists from École Poly­tech­nique, in col­lab­o­ra­tion with the Art­In­Re­search gallery, pro­vide ele­ments of an answer in a recent pub­li­ca­tion1 in a field at the cross­roads of dis­ci­plines: "quan­ti­ta­tive aesthetics".
A universalist vision of beauty.
"Beau­ti­ful is what, with­out a con­cept, is liked uni­ver­sal­ly." Emmanuel Kant2
The con­cept of beau­ty, con­sid­ered as a uni­ver­sal and intrin­sic prop­er­ty of an object, appears in many artis­tic con­tri­bu­tions, them­selves root­ed in all peri­ods of his­to­ry. From ancient Greece to the Renais­sance, from archi­tec­ture to paint­ing, this quest for the ide­al has often con­verged towards the estab­lish­ment of pre­cise rules of rep­re­sen­ta­tion. These rules, some­times very quan­ti­ta­tive, can mate­ri­alise in dif­fer­ent ways with­in works of art: pro­por­tions of bod­ies for sculp­tures; act dis­tri­b­u­tions and dia­logue in the­atre; sym­me­try in archi­tec­tures, and many oth­er exam­ples. Even for con­tem­po­rary works that are in line with these his­tor­i­cal dis­ci­plines, these rules remain and con­sti­tute the first things that are taught on the aca­d­e­m­ic level.
Order and chaos
"Total chaos is dis­qui­et­ing. Too much reg­u­lar­i­ty is bor­ing. Aes­thet­ics is per­haps the ter­ri­to­ry in-between." Jean- Philippe Bouchaud3
Yet, one can­not help but think of those out­stand­ing works that present at least a sen­si­tive trans­gres­sion of these rules. How many acts and sets are there in Edmond Rostand's Cyra­no de Berg­er­ac? What lev­el of de-struc­tur­ing is there in Picasso's Guer­ni­ca? In a way, isn't the pow­er­ful work the one that trans­ports us between rules and their rejec­tion, the known and the unknown, order and chaos?
What could be more telling for researchers in sta­tis­ti­cal physics, where con­cepts like sud­den sym­me­try break­ing, crit­i­cal­i­ty and insta­bil­i­ty are at the heart of the discipline?
Entropy as a measure of disorder.
From the point of view of physics, order and dis­or­der are famil­iar notions. A mag­net con­sists of an almost infi­nite num­ber of micro-mag­nets, all aligned and ordered. But if the tem­per­a­ture is increased above the "Curie tem­per­a­ture", this order is bro­ken, the micro-mag­nets become inde­pen­dent, and the over­all mag­neti­sa­tion is lost. The mea­sure of this dis­or­der and break­ing of sym­me­try is entropy, a fun­da­men­tal quan­ti­ty in ther­mo­dy­nam­ics. More for­mal­ly, entropy is the num­ber of ways to organ­ise a sys­tem so that it keeps the same phys­i­cal prop­er­ties. There are many ways to cre­ate dis­or­der, but few ways to build order.
A simple experiment on visual preference
Dur­ing our research, we asked the fol­low­ing ques­tion: is there an entropy val­ue for class­es of sim­ple abstract images that would max­imise their aes­thet­ic qualities?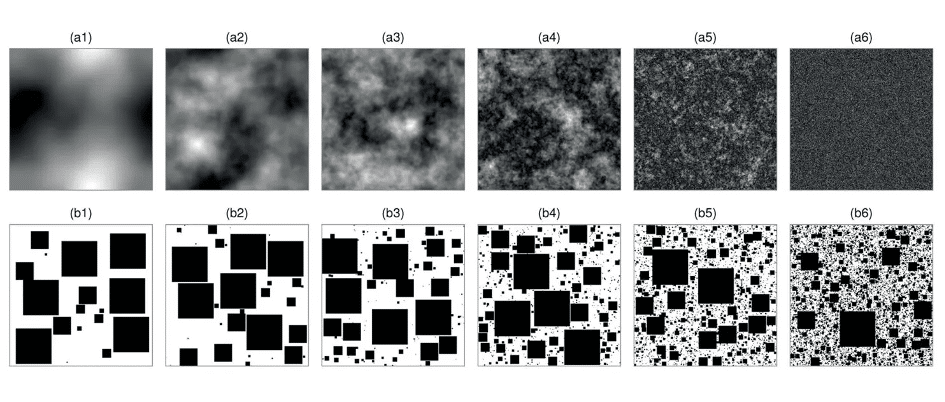 To answer this ques­tion, we first gen­er­at­ed two class­es of abstract images well dis­trib­uted over three known mea­sures of dis­or­der: frac­tal dimen­sion; algo­rith­mic com­press­ibil­i­ty; and pat­tern size dis­tri­b­u­tion with­in an image. Each of these class­es of images tran­si­tions from ordered (left) to dis­or­dered (right) states. We then per­formed sur­vey exper­i­ments to deter­mine which images were most appre­ci­at­ed, first with the help of our col­leagues (Lad­HyX, CFM, ENSAE), and then through adapt­ed dis­tri­b­u­tion plat­forms (Ama­zon MkTurk). In total, near­ly 1000 peo­ple par­tic­i­pat­ed in the dif­fer­ent exper­i­ments. The results con­firmed our intu­ition: the images (a4,b4) obtain the best scores.

Entropy and structural complexity
Intu­itive­ly, extreme entropy val­ues tend to bore us or lose us. Con­verse­ly, inter­me­di­ate val­ues cap­ture our atten­tion by max­imis­ing the pres­ence of inter­est­ing struc­tures – in the form of intel­li­gi­ble pat­terns that make the image unique. In a way, our brain recog­nis­es shapes and pat­terns while "eras­ing" unnec­es­sary noise. To sim­u­late this mech­a­nism, we then pro­posed a mea­sure of "struc­tur­al com­plex­i­ty" (in red on graph above) high­light­ing these struc­tures. In doing so, we obtained a sec­ond result: the images of inter­me­di­ate entropy present, indeed, the great­est struc­tur­al com­plex­i­ty. It should be not­ed that nat­ur­al images, such as pho­tographs of forests or land­scapes, present an entropy (sta­tis­ti­cal­ly con­densed) around this same inter­me­di­ate value.
A contribution in a growing field: quantitative aesthetics.
Today, cam­eras, retouch­ing soft­ware and even search engines all ben­e­fit from recent con­tri­bu­tions in quan­ti­ta­tive aes­thet­ics45. This dis­ci­pline, by com­bin­ing mas­sive data banks6, image pro­cess­ing meth­ods and advanced learn­ing archi­tec­tures7, has sig­nif­i­cant­ly improved the auto­mat­ic scor­ing and clas­si­fi­ca­tion of images. How­ev­er, despite the per­for­mance of these tools, we can regret their inabil­i­ty to pro­vide ele­ments of under­stand­ing on the real mech­a­nisms of appre­ci­a­tion. They are, in a way, automa­ta whose rules escape us.
Our work, even if it is part of the same pre­dic­tive approach, aims at putting the inter­pretabil­i­ty of the results at the cen­tre. A fun­da­men­tal­ly phys­i­cal approach in short.