The first weath­er fore­cast­ing mod­els were devel­oped in the ear­ly 20th cen­tu­ry1 with the idea that if the ini­tial state of the atmos­phere – that is, the con­di­tions of wind, humid­i­ty, tem­per­a­ture and pres­sure at a giv­en time – are known pre­cise­ly, then its future state can be pre­dict­ed thanks to the equa­tions of physics gov­ern­ing the tem­po­ral evo­lu­tion of the atmos­pher­ic vari­ables. For a weath­er fore­cast to be use­ful, it needs to be of a cer­tain qual­i­ty and pro­vide pre­dic­tions for the short term: it can there­fore be thought of as a kind of race against time. More­over, as the weath­er fore­cast at a giv­en point depends on the weath­er con­di­tions observed else­where, weath­er fore­cast­ers set up col­lab­o­ra­tions ear­ly on in the his­to­ry of the field to exchange their obser­va­tion­al data in real time and com­pare the per­for­mance of their models.
Ground and upper air observations
The first obser­va­tion­al sys­tems con­sist­ed of net­works of instru­ments that mea­sured atmos­pher­ic con­di­tions in situ (at the exact loca­tion of the sen­sor) at ground lev­el, but mete­o­rol­o­gists soon realised that they also need­ed obser­va­tions at alti­tude. They thus devel­oped radioson­des – bal­loons car­ry­ing instru­ments to mea­sure tem­per­a­ture, pres­sure, humid­i­ty, and wind, launched sev­er­al times a day and reach­ing up to 20 km in alti­tude. Some bal­loons can also be launched from ships.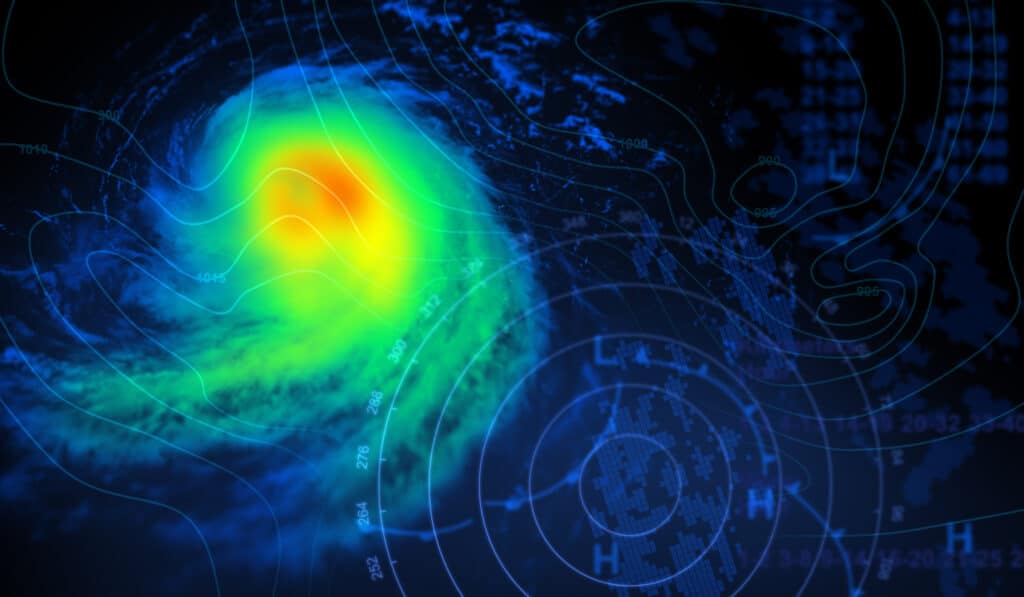 Obser­va­tion tech­nolo­gies have evolved con­sid­er­ably and we are now wit­ness­ing the emer­gence of obser­va­tion projects based on drones, which could be of oper­a­tional inter­est for sam­pling the atmos­phere at alti­tude, par­tic­u­lar­ly over the sea (where deploy­ment con­di­tions are less con­strained), fol­low­ing sam­pling strate­gies that are deter­mined by mete­o­ro­log­i­cal conditions.
The advent of remote sensing
From the 1960–70s, remote sens­ing (the remote mea­sure­ment of atmos­pher­ic para­me­ters) began to be intro­duced into obser­va­tion net­works. Weath­er radar is an exam­ple of such remote sens­ing instru­ments. These devices emit elec­tro­mag­net­ic waves that prop­a­gate and inter­act with rain, snow and hail, and can thus be used to map pre­cip­i­ta­tion over areas of sev­er­al hun­dred kilo­me­tres or more when the instru­ments are net­worked. Today, about 200 weath­er radars are in oper­a­tion in Europe. The num­ber is sim­i­lar in the Unit­ed States and Japan. For many years, weath­er radar data have been assim­i­lat­ed into numer­i­cal weath­er pre­dic­tion mod­els, sig­nif­i­cant­ly improv­ing the qual­i­ty of pre­cip­i­ta­tion fore­casts2.
Anoth­er exam­ple of a remote sens­ing instru­ment is lidar, which is sim­i­lar to radar except that the waves emit­ted are light waves. These waves are sen­si­tive to aerosols – small dust par­ti­cles sus­pend­ed in the atmos­phere – or cloud droplets. Lidars can there­fore mea­sure the prop­er­ties of these par­ti­cles from a dis­tance and are now part of the oper­a­tional net­works used by mete­o­ro­log­i­cal ser­vices3.
Satel­lite observations
Anoth­er major advance has of course been the emer­gence of satel­lite obser­va­tions, which make it pos­si­ble to observe large areas with the same instru­ment. Satel­lites can be divid­ed into two main fam­i­lies. The first are the geo­sta­tion­ary satel­lites, which remain per­ma­nent­ly above a sin­gle point on the equa­tor (at an alti­tude of about 36 000 km). As they can only observe half the globe, inter­na­tion­al col­lab­o­ra­tion is required to cov­er the whole planet.
The sec­ond type of satel­lite is the polar-orbit­ing satel­lite, which, as its name sug­gests, con­tin­u­al­ly orbits the Earth (at an alti­tude of between 300 and 800 km), typ­i­cal­ly cir­cling the globe in about 100 min­utes. These satel­lites can pro­vide obser­va­tions at all lat­i­tudes, includ­ing the poles, with the same spa­tial res­o­lu­tion, unlike geo­sta­tion­ary satel­lites. And because they are about ten times clos­er to the Earth, they offer bet­ter res­o­lu­tion of clouds and surfaces.
A wide vari­ety of instru­ments oper­at­ing in dif­fer­ent wave­lengths are car­ried on these satel­lites and allow the prop­er­ties of the atmos­phere to be mea­sured: clouds, pre­cip­i­ta­tion, aerosols, wind, tem­per­a­ture and humidity.
A new gen­er­a­tion of Euro­pean geo­sta­tion­ary satel­lites has been launched.
The num­ber of mete­o­ro­log­i­cal satel­lites has increased dra­mat­i­cal­ly in recent years and ambi­tious pro­grammes, par­tic­u­lar­ly in Europe, have been launched. Last Decem­ber, for exam­ple, a new gen­er­a­tion of Euro­pean geo­sta­tion­ary satel­lites was launched4, as part of the Euro­pean Agen­cy's pro­gramme for oper­a­tional weath­er satellites.
Time­ly observations
Final­ly, there are the so-called time­ly obser­va­tions – that is, those that come from an infra­struc­ture that was not orig­i­nal­ly designed to car­ry out atmos­pher­ic mea­sure­ments. An impor­tant exam­ple: mobile phone net­works. These net­works use anten­nas (there are sev­er­al thou­sand of them in France) that com­mu­ni­cate with each oth­er at microwave wave­lengths. Oper­a­tors quick­ly realised that the lev­el of recep­tion between anten­nas was reduced when there were areas (or "cells") of rain­fall between them. This is because microwave wave­lengths are affect­ed by precipitation.
« Oper­a­tors react­ed to this prob­lem by equip­ping the sys­tems with a capac­i­ty to increase recep­tion lev­els in the event of observed atten­u­a­tion, but for mete­o­rol­o­gists, the mea­sure­ment of this observed atten­u­a­tion was very inter­est­ing because it pro­vid­ed infor­ma­tion on the inten­si­ty of pre­cip­i­ta­tion occur­ring in a giv­en area, » explains Pierre Tabary, Deputy Direc­tor of Oper­a­tions at Météo France. This indi­rect infor­ma­tion, prop­er­ly processed, can help to improve pre­cip­i­ta­tion maps5. « Nobody had imag­ined at the out­set that mobile phone net­works could be used in this way.
Posi­tion­ing satel­lites – the GPS sys­tem in the US and Galileo in Europe – are anoth­er exam­ple of a time­ly-based mea­sure­ment. « These ded­i­cat­ed posi­tion­ing satel­lites are con­stant­ly emit­ting sig­nals. So, the inge­nious idea was to put oth­er, much small­er satel­lites, that oppor­tunis­ti­cal­ly pick up these sig­nals, into orbit. The sig­nals that are detect­ed are slight­ly refract­ed on their way from the trans­mit­ting satel­lite to the receiv­ing satel­lite as they pass through the atmos­phere, so that they are some­what 'bent'. The lev­el of this bend­ing can be quan­ti­fied by the receiv­ing satel­lite and indi­rect­ly pro­vides valu­able infor­ma­tion about ther­mo­dy­nam­ic con­di­tions, such as humid­i­ty, in the stratos­phere and upper troposphere.
Researchers have ver­i­fied the rel­e­vance of this mea­sure­ment prin­ci­ple (called radio occul­ta­tion) and there are now sev­er­al dozen recep­tion satel­lites of this type in ser­vice, the data from which are analysed by oper­a­tional weath­er fore­cast­ing mod­els6. « Here again, we are able to car­ry out mea­sure­ments at low­er cost: we do not emit waves into the atmos­phere our­selves, but we exploit the waves already emit­ted by others."
Today, about 90% of the data input into glob­al weath­er fore­cast­ing mod­els comes from satel­lites and this trend will con­tin­ue. « That said, ground-based mea­sure­ments will always be impor­tant – espe­cial­ly for cal­i­brat­ing satel­lite data, » con­cludes Pierre Tabary.
Isabelle Dumé