Science and technology Industry Energy Planet
Solutions for producing greener steel
Key takeaways
The steel industry is the world's biggest emitter of greenhouse gases, accounting for 7% of global emissions.
In response to the new Green Industry Act and the demand for steel and iron, the sector is seeking to decarbonise the manufacture of these metals.
According to the IEA, the circular economy is an avenue in the short term, though sobriety should be encouraged as a priority.
"Direct carbon avoidance" and "intelligent carbon use" technologies are already proving their worth, but still need to be developed.
The EU and France are committed to a policy of relocalising industrial activity in order to minimise costs and environmental impact.
The Green Indus­try Act was passed on 11th Octo­ber 2023. Its main aim is to decar­bonise exist­ing indus­tries. The stakes are high: in France, indus­try account­ed for 18.1% of green­house gas (GHG) emis­sions in 20221. The iron and steel indus­try is one of the biggest sec­tors to be decar­bonised. In France, it is the 4th largest indus­tri­al sec­tor in terms of GHG emis­sions (20% of indus­tri­al GHG emis­sions, or 4% of the country's total emis­sions). But on a glob­al scale, the sec­tor is in first place: around 2.8 bil­lion tonnes of CO2 are emit­ted every year in steel pro­duc­tion, or 7% of glob­al GHG emis­sions2. Yet demand is soar­ing. Steel and iron are essen­tial for con­struc­tion, mobil­i­ty, and the pro­duc­tion of renew­able ener­gy – a wind tur­bine is made up of more than two-thirds steel! Accord­ing to pro­jec­tions by the Inter­na­tion­al Ener­gy Agency (IEA), glob­al demand could increase by more than a third by 20503.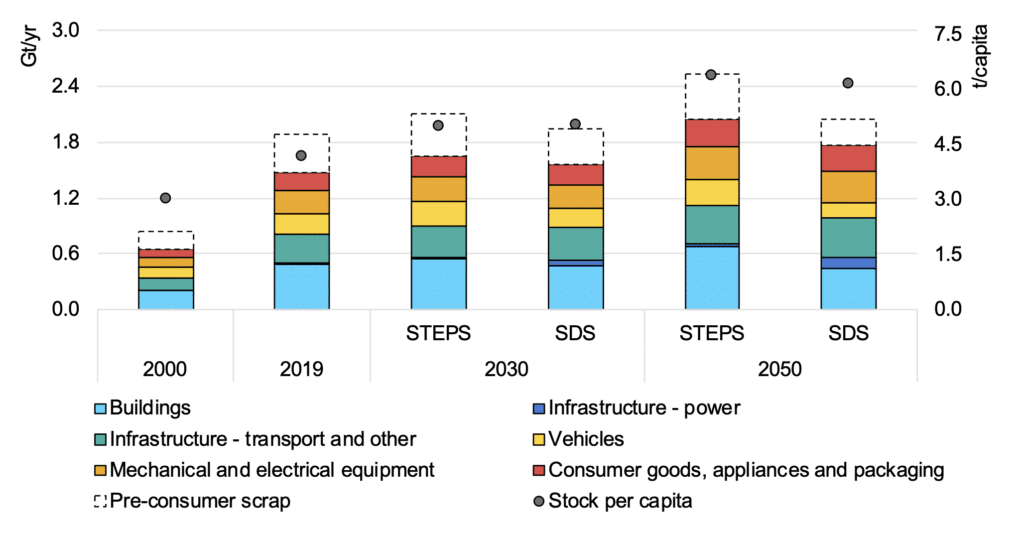 How is steel made?
There are two main meth­ods used around the world to pro­duce steel, an alloy of iron and car­bon. 70% comes from the cast iron process4: iron ore is intro­duced into a blast fur­nace in the pres­ence of coke (pro­duced from the pyrol­y­sis of coal) and trans­formed into cast iron through chem­i­cal reduc­tion. Dur­ing this stage, the car­bon com­bines with the oxy­gen con­tained in the ore to form CO2. The cast iron is then trans­formed into steel in a con­vert­er. Anoth­er process used is the elec­tric arc fur­nace. This method is wide­ly used to recy­cle scrap met­al, which is melt­ed in an elec­tric arc fur­nace. There are sev­er­al alter­na­tive meth­ods: for exam­ple, ore can be used in the elec­tric arc process. In this case, the iron is extract­ed from the ore by direct reduc­tion using coal or nat­ur­al gas, before being trans­formed into steel in the elec­tric arc furnace.
Steel­mak­ing requires large quan­ti­ties of ener­gy: for exam­ple, melt­ing reach­es 1,500°C in the blast fur­nace. Yet in 2019, three quar­ters of the ener­gy con­sumed by the sec­tor was sup­plied by coal. To date, recy­cling with­in the elec­tric­i­ty sec­tor is the most car­bon-free option. It requires only one eighth of the ener­gy of steel pro­duced from ore, and main­ly in the form of elec­tric­i­ty rather than coal. "We need to increase the recy­cled pro­por­tion, but this sec­tor is lim­it­ed by resources: a large pro­por­tion of steel, for exam­ple, is immo­bilised for decades in build­ings," explains Fab­rice Patisson.
Several effective short- and long-term solutions
In the short term, the cir­cu­lar econ­o­my is the most promis­ing dri­ver. Tech­no­log­i­cal inno­va­tions for decar­bon­i­sa­tion are based on renew­ing the pro­duc­tion fleet, which has an aver­age age of 13 years world­wide, or less than a third of its tra­di­tion­al lifes­pan. In its for­ward-look­ing sce­nario aim­ing for a 50% reduc­tion in the sector's emis­sions by 2050, the IEA points out that 40% of the cumu­la­tive reduc­tions in GHG emis­sions between 2020 and 2050 are based on the cir­cu­lar econ­o­my. Sim­ply put, this is the lever for ener­gy sobri­ety: by reduc­ing demand, emis­sions are reduced. This main­ly involves extend­ing the lifes­pan of build­ings, but also improv­ing man­u­fac­tur­ing effi­cien­cy, reduc­ing the use of cars and mak­ing them lighter, improv­ing build­ing design and reusing steel.
At the same time, a num­ber of oth­er solu­tions are avail­able. It is impos­si­ble to meet ris­ing demand with­out pro­duc­ing pri­ma­ry steel. One of the major levers for decar­bon­is­ing pro­duc­tion? Mov­ing away from coal. The steel industry's high GHG emis­sions are main­ly due to the for­ma­tion of CO2 in blast fur­naces through chem­i­cal reac­tions, and the high tem­per­a­tures required. "Green" iron would be pro­duced by the direct reduc­tion of iron ore using elec­tric­i­ty or green hydro­gen (H2), instead of coke. It can then be inte­grat­ed into the usu­al elec­tric­i­ty chain and trans­formed into steel in an elec­tric arc fur­nace. This tech­nol­o­gy is known as "direct car­bon avoid­ance". "To date, the direct reduc­tion process is well known and wide­spread – it accounts for around 7% of the world's steel – but it relies on the use of syn­gas (a syn­thet­ic gas derived from nat­ur­al gas), which con­tains around 60% H2," explains Fab­rice Patis­son. "The biggest chal­lenge is to go to 100% H2 on an indus­tri­al scale."
The hydro­gen route is the most advanced: of the 60 steel decar­bon­i­sa­tion projects iden­ti­fied in Europe in Novem­ber 2022, 42 are based on the use of hydro­gen5. In Swe­den, the Hybrit pilot project has been pro­duc­ing the world's first tonnes of steel using this process since 2021. It could reduce CO2 emis­sions by 85%6. "From now on, the devel­op­ment of the sec­tor depends on the will­ing­ness and capac­i­ty of steel­mak­ers to invest," says Fab­rice Patis­son. As for elec­tric­i­ty require­ments – if hydro­gen is pro­duced by elec­trol­y­sis of water, they would amount to 370 TWh to decar­bonise all the EU's pri­ma­ry steel pro­duc­tion7, or 14% of cur­rent total elec­tric­i­ty pro­duc­tion8.
There is anoth­er tech­no­log­i­cal route – one that is com­ple­men­tary to the car­bon avoid­ance route – and that is the "intel­li­gent use of car­bon". This involves opti­mis­ing exist­ing pro­duc­tion process­es. Even if the indus­try has mas­tered blast fur­naces, there is still room for improve­ment. It has been shown, for exam­ple, that more than half of the ener­gy pur­chased by steel­mak­ers is lost dur­ing the process9. Using the best avail­able tech­nolo­gies and opti­mis­ing process­es could make it pos­si­ble to reduce the sector's cumu­la­tive glob­al emis­sions by 21% between 2020 and 2050, accord­ing to the IEA's for­ward-look­ing sce­nario, which aims to reduce the sector's emis­sions by 50% by 20503. This involves deploy­ing heat recov­ery sys­tems, improv­ing coke qual­i­ty, par­tial­ly replac­ing coal with nat­ur­al gas or bioen­er­gy, and imple­ment­ing pre­dic­tive main­te­nance tools.
Car­bon cap­ture and stor­age is an effec­tive option in the short term, before clean tech­nolo­gies – such as hydro­gen – are deployed
Intel­li­gent use of car­bon also involves its recov­ery. As in many indus­tri­al sec­tors, the cap­ture and recov­ery or stor­age of CO2 is seen as essen­tial if we are to make a suc­cess of the tran­si­tion by 2050. Accord­ing to the IEA, this could make it pos­si­ble to cap­ture 6% of the emis­sions gen­er­at­ed between 2020 and 2050, with the cap­ture rate ris­ing to 25% per year by 2050. Only one com­mer­cial CO2 stor­age unit cur­rent­ly exists in the world, in the Unit­ed Arab Emi­rates. A few recov­ery projects are cur­rent­ly under devel­op­ment. "CO2 cap­ture is eas­i­er in the steel indus­try than in oth­ers," adds Fab­rice Patis­son. "Cap­ture and stor­age is an effec­tive option in the short term, before clean tech­nolo­gies – such as hydro­gen – are deployed."
Final­ly, the EU and France are com­mit­ted to a pol­i­cy of relo­cat­ing indus­tri­al activ­i­ty. Gone are the emis­sions asso­ci­at­ed with trans­port­ing prod­ucts. France's ener­gy mix, with its rel­a­tive­ly low car­bon foot­print, is also an advan­tage in terms of GHG emis­sions. One of the avenues being explored is the devel­op­ment of clus­ters of activ­i­ty based on an indus­tri­al ecol­o­gy approach. "The aim of this approach is to design activ­i­ty clus­ters, like eco­parks, that opti­mise the exchange of flows between dif­fer­ent man­u­fac­tur­ers," explains Mar­i­anne Boix. "By pool­ing ser­vices, the sup­ply chain, ener­gy and raw mate­ri­als, envi­ron­men­tal impacts and costs are min­imised." GHG emis­sions can be cut by up to 75% com­pared with the same plant with­out coop­er­a­tion10. The Arcelor­Mit­tal site in Dunkirk is a case in point: the slag – a by-prod­uct of the blast fur­naces – is recy­cled as a build­ing mate­r­i­al, and the waste heat is fed into Dunkirk's munic­i­pal heat­ing net­work11. Two new EPR nuclear reac­tors are due to be built there, as well as a green hydro­gen pro­duc­tion unit… which will be able to sup­ply ArcelorMittal's future direct hydro­gen ore reduc­tion unit12. Mar­i­anne Boix con­cludes: "Inte­grat­ing the hydro­gen vec­tor into eco­parks makes the process prof­itable, both eco­nom­i­cal­ly and envi­ron­men­tal­ly. It's a very inter­est­ing oppor­tu­ni­ty in this context."
Anaïs Marechal