How is glob­al warm­ing affect­ing Cham­pagne vineyards?
Vin­cent Mal­herbe. Con­di­tions increas­ing­ly resem­ble those of south­ern regions, which has led us to begin har­vest in August three times over the past ten years. Springs used to be cold and humid but they are now hot­ter and dri­er. Before, vines reached matu­ri­ty at the end of Sep­tem­ber, or even the begin­ning of Octo­ber, when it was approx­i­mate­ly 4°C in the morn­ing and 14°C in the after­noon. Now, tem­per­a­tures can reach 25°C dur­ing the har­vest season.
How does this impact quality?
VM. Grape matu­ri­ty is bet­ter so for now it is ben­e­fi­cial, but this could evolve if the cli­mate con­tin­ues to change. In the past, we har­vest­ed in Octo­ber to reach the nec­es­sary ripeness of the grapes and we could expe­ri­ence two prob­lems: an excess of acid­i­ty and a risk of dis­eases relat­ed to humid­i­ty. Nowa­days, we are faced with new issues: the alco­hol lev­el has increased while the acid­i­ty lev­el decreased. We must remain vig­i­lant because it is a key ele­ment for both the con­tent and age­ing of cham­pagnes. Based on rolling aver­age over four years, the degree of alco­hol has increased from 9.6°C in 2007 to 10.1°C in 2020. In the 1980s, we often har­vest­ed when tem­per­a­tures ranged from 7.5°C to 8°C.
Marc Brévot. Cli­mate change has an addi­tion­al impact on the entire ecosys­tem sur­round­ing vine­yards. For exam­ple, we are see­ing mod­i­fi­ca­tions in the micro­bio­ta of grapes which can bring out unknown aro­mas. Some years, we also observe a desyn­chro­ni­sa­tion of verai­son (the change in colour of grapes), due to an accu­mu­la­tion of sug­ar before the grapes reach phe­no­lic and aro­mat­ic matu­ri­ty. Also, by com­par­ing com­po­si­tion­al analy­ses of cur­rent grape musts with those of the 80s from the same land plots, we find that the nitro­gen con­tent has changed, too; it has decreased over time and as such the amino acid com­po­si­tion is less appro­pri­ate for vini­fi­ca­tion. That means we have to be more pre­cise in the way we devel­op our wines to main­tain the desired sen­so­ry characteristics.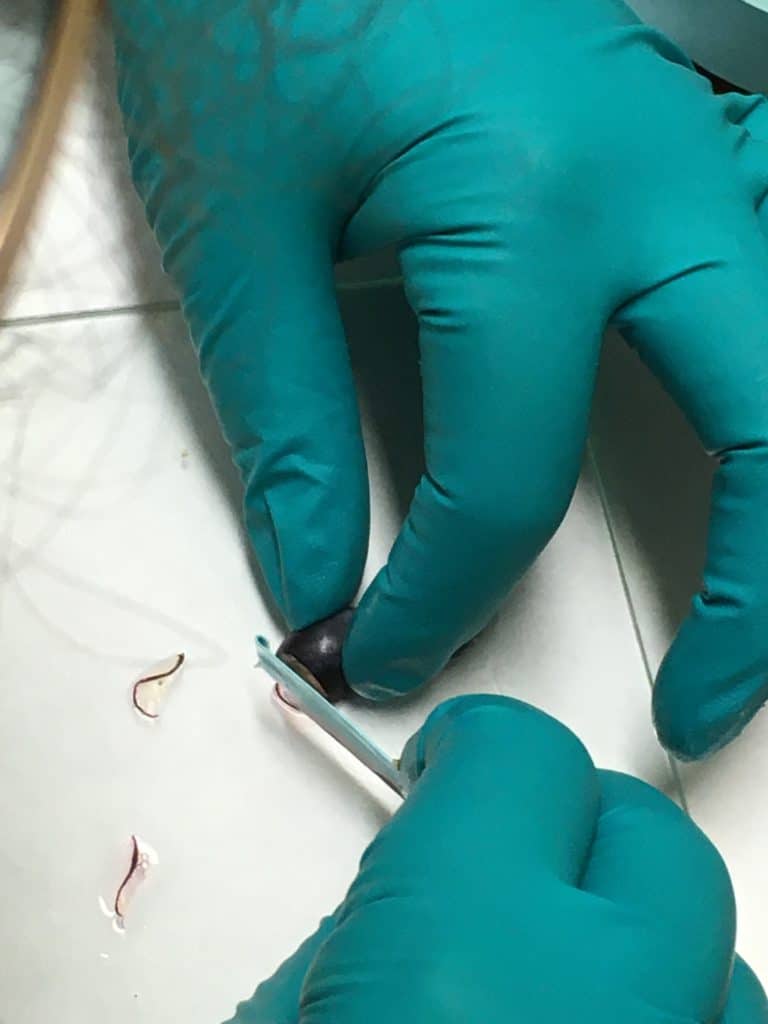 To that end, we devel­oped a method for mon­i­tor­ing fer­men­ta­tion in real-time at our R&D unit, which we have now imple­ment­ed at our wine­mak­ing site of Moët & Chan­don de Mon­taigu. We are also test­ing new tech­nolo­gies for the future. We test­ed cool­ing box­es under vac­u­um to quick­ly and effi­cient­ly get the ide­al tem­per­a­tures of grapes for vini­fi­ca­tion. We tried image analy­sis tech­niques using arti­fi­cial intel­li­gence to char­ac­terise the stage of grape matu­ri­ty, in the vine­yard or after their har­vest, to obtain raw mate­r­i­al that con­forms with our qual­i­ty stan­dards. We are also con­duct­ing research to bet­ter under­stand the micro­bio­ta and its influ­ence on the qual­i­ty of our prod­ucts, include new ear­ly indi­ca­tors of sen­si­tiv­i­ty to dis­eases to assist busi­ness users in their deci­sion-mak­ing (ex: indi­ca­tors of fragili­ty of grape skin), or iden­ti­fy future vari­eties of vines with great poten­tial in the new cli­mate conditions.
What can be done to counter the effects of cli­mate change?
VM. Vine­yard prac­tis­es are chang­ing, trim­ming espe­cial­ly. We use root­stocks from oth­er regions, for exam­ple. But the spec­i­fi­ca­tions of the INAO [the French reg­u­la­to­ry body for pro­tect­ed geo­graph­i­cal indi­ca­tions], are very strict. And, yet we can­not sta­bilise our recipes while our envi­ron­ment is chang­ing. So, we are demand­ing a right to exper­i­ment both from an eco­log­i­cal and agro­nom­i­cal point of view with­out the risk down­grad­ing our prod­ucts. The Ger­man, Swiss and Ital­ian qual­i­ty stan­dards are more flex­i­ble than the French.
Present-day tra­di­tions are not sus­tain­able in the long term, and it would be unwise to let them reach break­ing point. We must progress in order to main­tain style and the qual­i­ty of our wines. Half a cen­tu­ry ago, Chardon­nay did not exist in the Cham­pagne region. Our ances­tors were able to change. In the future, we will need grape vari­eties with a lat­er growth cycle, because there is a cor­re­la­tion between the matu­ri­ty and devel­op­ment of the fruit.
MB. There is con­sid­er­able pres­sure to devel­op agri­cul­tur­al sus­tain­abil­i­ty on one hand, and the oblig­a­tion to adapt to the chang­ing cli­mate on the oth­er hand. Con­tin­u­ous opti­mi­sa­tion is an out­dat­ed post-war agri­cul­tur­al mod­el. We must devel­op sys­temic approach­es, not ana­lyt­ic ones. In this regard, agroe­col­o­gy is a very excit­ing lead. It pilots a com­plex ecosys­tem in which the vine is not iso­lat­ed any­more, but ful­ly inte­grat­ed in the sur­round­ing envi­ron­ment and bio­di­ver­si­ty, and adapt­ed to the local climate.
What does the future hold for the Cham­pagne vine­yards? Are you inter­est­ed by new wine-grow­ing regions like those in the South of England?
VM. Bear­ing in mind what we just dis­cussed, vine­yards in the Cham­pagne region have a bright and sun­ny future ahead of them – pro­vid­ed that we are giv­en the means to rea­son­ably improve our cul­ti­va­tion tech­niques. The solu­tion lies in inno­vat­ing in accor­dance with our tra­di­tions. We have much to do on the 1,200 acres in Cham­pagne. An expan­sion in the South of Eng­land is not in our agen­da, even if we close­ly fol­low the evo­lu­tion of wine-mak­ing prac­tices and tech­niques in the UK.