Where new geo­graph­i­cal regions are ready for wine production?
Cor­nelis van Leeuwen. The arrival of vine­yards in Eng­land, Bel­gium and The Nether­lands is a log­i­cal con­se­quence of cli­mate change. Eng­land, for exam­ple, is becom­ing an estab­lished wine-pro­duc­ing coun­try. It is now capa­ble of pro­duc­ing high-qual­i­ty wines cost­ing €25–30 per bot­tle on the domes­tic market.
Today, these rel­a­tive­ly new "ter­roirs" are well suit­ed for pro­duc­tion of white and sparkling wines because their cli­mate require­ments are low­er than those of red wines. They require sus­tained acid­i­ty and grapes with low sug­ar lev­els, so can there­fore be pro­duced in regions with rel­a­tive­ly cool tem­per­a­tures. We have observed this in the French regions of Alsace and Cham­pagne, or in new wine-mak­ing coun­tries such as New-Zealand and Tas­ma­nia, which all ben­e­fit from the same characteristics.
How does glob­al warm­ing impact the devel­op­ment of these new terroirs?
Vines respond to tem­per­a­ture and sun­light, as well as water avail­abil­i­ty and soil min­er­al con­cen­tra­tions. These resources are dif­fer­ent in each loca­tion. Abun­dance varies from place to place, influ­enc­ing vine phys­i­ol­o­gy, which in turn affects yield, taste, ripen­ing, and grape com­po­si­tion. As such, cli­mate plays an impor­tant part in each of these aspects. Nor­mal­ly, nat­ur­al con­di­tions vary only slight­ly each year – giv­ing rise to the notion of "vin­tage". But in the face of cli­mate change, this sta­ble ele­ment has become a vari­able. In the wine-mak­ing com­mu­ni­ty the first sci­en­tif­ic arti­cles record­ing the effects of glob­al warm­ing were pub­lished 20 years ago. Warm­ing accel­er­at­ed in the 1980s, yet peo­ple only became aware of this issue in the 2000s.
In what way are the con­se­quences of glob­al warm­ing dif­fer­ent from one place to another?
Vine­yards are becom­ing hot­ter every­where in the world, and water con­di­tions are chang­ing too. North of the 45th par­al­lel (includ­ing Bor­deaux and Bologne), rain­fall is tend­ing to increase year on year. Where­as we observe a decrease in the South. Evi­dent­ly, the impact of glob­al warm­ing is dif­fer­ent depend­ing on the cli­mate of the region. North­ern regions have seen prob­lems with the insuf­fi­cient matu­ri­ty of grapes (aro­ma, exces­sive acid­i­ty, deficit in sug­ar) which can be resolved. How­ev­er, coun­tries like Spain or Italy are more impact­ed in terms of qual­i­ty and yield. It will be more dif­fi­cult for these regions to adapt. Between the 35th par­al­lel (Tanger, Tunis) and the 50th par­al­lel (Charleroi, Prague), lim­it­ing fac­tors to pro­duce good wine are not the same.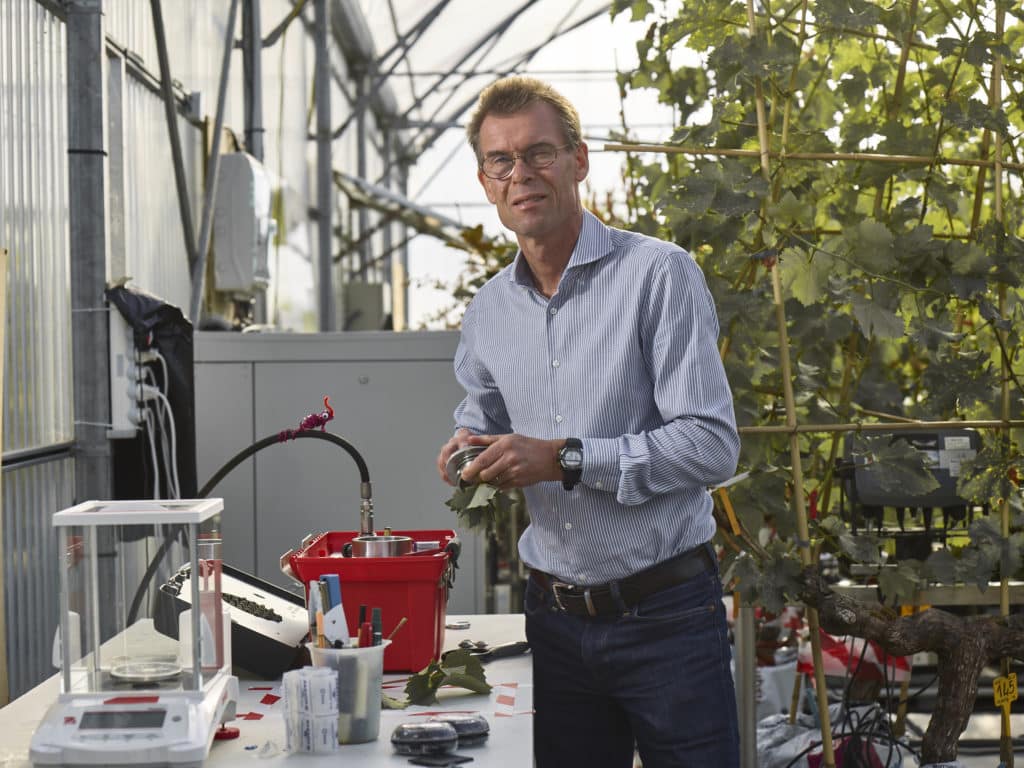 What is the sit­u­a­tion in the South?
We observe a water short­age. But the prob­lem with drought is pri­mar­i­ly a yield prob­lem. When the vine­yard is well man­aged and plant­ed with drought-tol­er­ant grape vari­eties and root­stocks, it is pos­si­ble to pro­duce high-qual­i­ty wines with only 300 or 400mm rain­fall per year. How­ev­er, to ensure finan­cial via­bil­i­ty, you must pro­duce fine wine sold at a good price, with suf­fi­cient yields as well.
There seems to be con­fu­sion as to the effects of tem­per­a­ture and water short­age. You can­not com­pen­sate excess heat with irri­ga­tion; and besides, vines are very well adapt­ed to drought. Wine­mak­ers in Men­doza (Argenti­na) have found an inter­est­ing solu­tion to deal with ris­ing tem­per­a­tures: they now plant at alti­tudes as high as 1,400m com­pared to tra­di­tion­al vine­yards were locat­ed at 800m. But obvi­ous­ly this solu­tion can­not be applied everywhere.
Irri­ga­tion of ter­roirs is there­fore a con­tro­ver­sial practice?
His­tor­i­cal­ly, the large major­i­ty of vine­yards was locat­ed in Europe, where there was no irri­ga­tion, includ­ing in very dry regions such as Andalu­sia or Sici­ly. In the new world, irri­ga­tion is used for oth­er crops, and so could also be applied to viti­cul­ture. Nev­er­the­less, it is more a ques­tion of water avail­abil­i­ty and cul­tur­al deci­sions. Irri­ga­tion can increase yields, but it requires 1–4 mil­lion litres of water per acre, per year. It is upset­ting to see the devel­op­ment of irri­ga­tion on a large scale in coun­tries with lim­it­ed water resources, like Spain. To irri­gate, we often draw on ground­wa­ter, which is an envi­ron­men­tal crime.
UK cli­mate warmer, but less stable
Warmer tem­per­a­tures in the UK due to cli­mate change offer an envi­ron­ment more adapt­ed to wine pro­duc­tion. Viti­cul­ture cli­ma­tol­o­gist and CEO of Vinescapes, Alis­tair Nes­bit has been involved in the UK wine sec­tor for around 20 years. He says that "the sec­tor has grown 200% over the last few years in terms of scale and vol­ume. Peo­ple are grow­ing wine in areas that were too cold only 30–40 years ago. The UK now has around 3,000 hectares (ha) of vines with over 700 vine­yards pro­duc­ing wine." Still com­par­a­tive­ly low when com­pared to oth­er coun­tries more tra­di­tion­al­ly known for their wine pro­duc­tion; ~800,000 ha in France, ~1 mil­lion ha in Spain or 650,000 ha in Italy 1.
"Whilst oth­er coun­tries and regions are strug­gling with heat and drought, the UK wine sec­tor is ben­e­fit­ing from the warmer cli­mate." In par­tic­u­lar a sta­ble 13°C aver­age tem­per­a­ture 2. "But not every­thing is as ide­al as it may seem," he argues. After all, grapes need more than just warm weath­er to grow. British vine­yards are par­tic­u­lar­ly sub­ject to risk of frost and unsta­ble rain­fall, with much vari­abil­i­ty year on year; con­di­tions that grapes don't bode well in.
As such, even though the British wine sec­tor has seen much invest­ment, yields remain low. In a study from 2018, Alis­tair Nes­bit and his col­leagues point­ed out the fact that low yields were due to unsuit­able loca­tions of vine­yards 3. Their report iden­ti­fies suit­able land­mass in the UK of 33,700ha – equiv­a­lent to the French Cham­pagne region – with an aver­age tem­per­a­ture of 13.9°C dur­ing grow­ing sea­son, that could suc­cess­ful­ly be con­vert­ed to vine­yards in the UK.
Still, there is more under­stand­ing need­ed if the sec­tor is to be suc­cess­ful. A project between cli­ma­tol­o­gists, wine sec­tor spe­cial­ists and researchers at the Grantham Research Insti­tute and the Uni­ver­si­ty of East Anglia, CREWS-UK, aims to look at future cli­mate con­di­tions in the UK and its poten­tial impacts on wine pro­duc­tion 4.