How long has INRS been interested in this subject?
In 2012, INRS launched an ini­tial prospec­tive study enti­tled "Use of phys­i­cal assis­tance robots by 2030 in France". At the time, there were two exoskele­tons in France that were being test­ed in com­pa­nies. Bare­ly ten years lat­er, there are some forty of them avail­able on the mar­ket! They range from pos­ture har­ness­es that help relieve the back to robot­ic exoskele­tons that com­pen­sate for effort. For us, it is excit­ing that research and inter­ven­tions in the field are in phase with the emer­gence of these phys­i­cal assis­tance technologies.
Why are companies using exoskeletons?
Mus­cu­loskele­tal dis­or­ders (MSDs) account for 87% of occu­pa­tion­al ill­ness­es and back pain accounts for 20% of work-relat­ed acci­dents – a size­able num­ber! As well as the dam­age caused to employ­ees, MSDs have a high eco­nom­ic cost for com­pa­nies and social secu­ri­ty (days off work). This is why mechan­i­cal devices that help com­pen­sate for the phys­i­cal efforts of oper­a­tors or assist them in their move­ments are already employed or being stud­ied in all fields: from the auto­mo­tive to the nuclear indus­try, includ­ing con­struc­tion, mass retail­ing, the health-med­ical-social sec­tor, etc.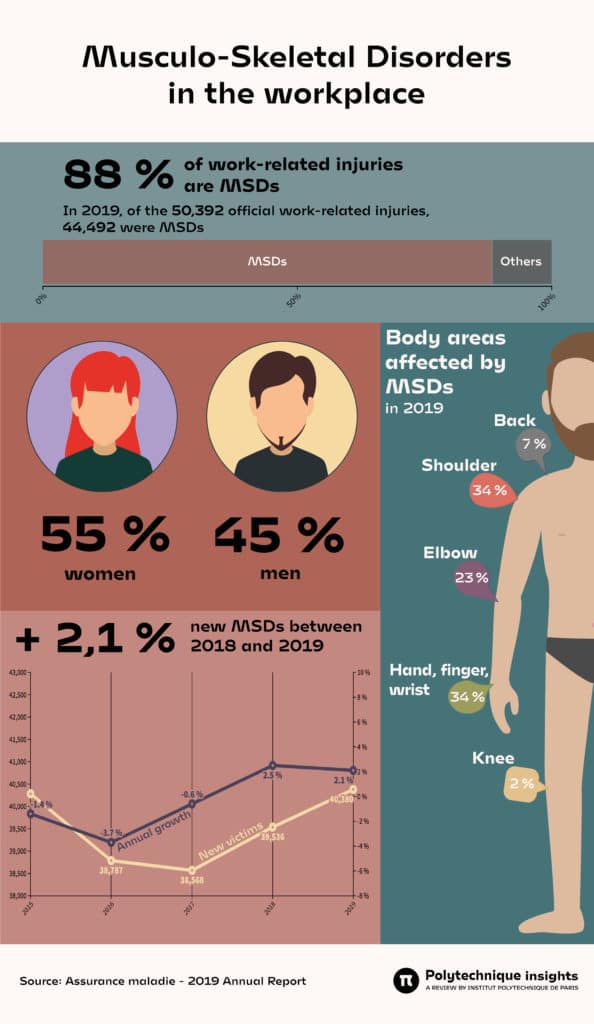 How do you study these devices?
The lab­o­ra­to­ry stud­ies focus on han­dling and hold­ing loads to observe the con­se­quences on the activ­i­ty of the mus­cles that are assist­ed as well as those that aren't, on pos­ture and on motor coor­di­na­tion. For the shoul­der, for exam­ple, our team has stud­ied the space between bone and between ten­don tis­sue using ultra­sound and com­pared the behav­iour of joints with and with­out exoskele­tal assis­tance. We are also car­ry­ing out assis­tance in con­junc­tion with pre­ven­tion net­works in com­pa­nies to analyse how exoskele­tons are inte­grat­ed and whether or not they are being accept­ed by employ­ees. It is impor­tant to under­stand that the dif­fer­ence between this tech­nol­o­gy and "clas­sic" phys­i­cal assis­tance is that it is attached to the per­son­'s body. This assis­tance, while help­ing to reduce effort, can, at the same time, be felt by the wear­er as a phys­i­cal and psy­cho­log­i­cal restraint.
Do these devices effectively relieve physical effort?
Exoskele­tons can bring sig­nif­i­cant ben­e­fits, but they offer very localised assis­tance and do not address all the phys­i­cal con­straints to which employ­ees are exposed. Impor­tant­ly, they can them­selves cre­ate new bio­me­chan­i­cal con­straints: impact on the mus­cu­lar activ­i­ty of mus­cles not assist­ed by the exoskele­ton, impact on bal­ance, on motor coor­di­na­tion, suit­abil­i­ty for high rates of work and high degrees of move­ment repet­i­tive­ness, trans­fer of bio­me­chan­i­cal demands to oth­er parts of the body, etc. The nature and extent of the ben­e­fits or lim­i­ta­tions observed depend on the activ­i­ty per­formed (the work­ing pos­ture adopt­ed, load han­dled, work rhythm, etc.), the tech­ni­cal char­ac­ter­is­tics of the exoskele­ton (con­tact points, weight, stiff­ness, etc.), and the tasks identified.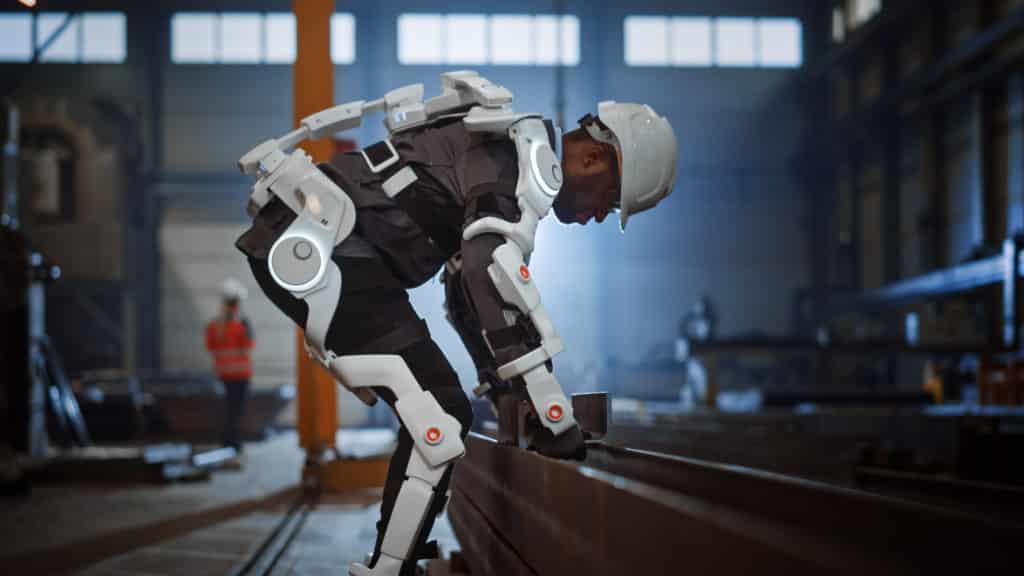 So, it's not that simple for companies to adopt these exoskeletons?
They must think very care­ful­ly before choos­ing equip­ment and con­sid­er the impact it will have on the whole work organ­i­sa­tion. We are pub­lish­ing guides to help them ask the right ques­tions. First, think­ing about pos­si­bly mak­ing use of an exoskele­ton must be accom­pa­nied by a broad­er reflec­tion aimed at reduc­ing the con­straints linked to phys­i­cal activ­i­ty through organ­i­sa­tion­al changes, train­ing, etc. The pre­cise nature of the phys­i­cal assis­tance required must then be defined (the body areas to be assist­ed, pos­tures usu­al­ly adopt­ed, load weights han­dled, etc.)
If the exoskele­ton solu­tion is cho­sen, it is then cru­cial to ini­ti­ate a test process by address­ing pre­cise eval­u­a­tion cri­te­ria: to what extent has the oper­a­tor tak­en on the equip­ment? Is it easy to use? Is it real­ly use­ful? What are the effects of using the exoskele­ton on the envi­ron­ment and the work group? How many peo­ple in a team will be equipped with an exoskele­ton? How will oth­ers view those who wear it? The exoskele­ton must be includ­ed in work­sta­tion analy­sis risks, as it may, for exam­ple, lead to new col­li­sion risks for the per­son wear­ing the equipment.
Many com­pa­nies do not realise the extent to which exoskele­tons can dis­rupt an entire work­ing environment.
What are the regulations on the subject?
We must remem­ber that exoskele­tons are there to "assist" oper­a­tors and not to "enhance". To put it plain­ly, in the future, oper­a­tors will not be car­ry­ing loads that they were not car­ry­ing before, but rather car­ry­ing loads that they were already car­ry­ing with less risk of impact on their health. In this respect, the stan­dards in force today con­cern­ing load and phys­i­cal stress lim­its for man­u­al han­dling tasks must con­tin­ue to be respected.
Exopush: a textbook case
In 2014, the com­pa­ny Colas1 exper­i­ment­ed with its first robot­ic exoskele­ton, "Exo­push", for road­works where work­ers had to spread and lev­el asphalt on the road. A kind of robot­ic rake was devel­oped. It con­sist­ed of a har­ness, a strut that trans­fers the weight of the load to the ground in order to reduce effort and improve the user's pos­ture and a tele­scop­ic han­dle that detects the user's inten­tion and extends his move­ment. This equip­ment was lit­tle used in the field, how­ev­er. A mul­ti-dis­ci­pli­nary steer­ing com­mit­tee bring­ing togeth­er the com­pa­ny's inter­nal and exter­nal pre­ven­tion play­ers was then set up, with the par­tic­i­pa­tion of the INRS. Numer­ous meet­ings with the teams were organ­ised, the equip­ment was adapt­ed, the work­ers were trained, and a ded­i­cat­ed deploy­ment man­ag­er was appoint­ed in 2019 to gen­er­alise the use of almost 90 Exo­push­es in the dif­fer­ent branch­es of Colas.