Around twen­ty indi­vid­u­als are train­ing today in a rather unusu­al gym, on bicy­cles and sta­tion­ary row­ing machines. These peo­ple are spe­cial in that they are all liv­ing with a dis­abil­i­ty. Their legs and arms shouldn't be able to move, but thanks to elec­tros­tim­u­la­tion, their mus­cles can now respond again.
Vance Berg­eron, direc­tor of research at the Physics Lab­o­ra­to­ry of the ENS in Lyon, him­self tetraplegic fol­low­ing a cycling acci­dent, is at the ori­gin of the S.P.O.R.T (Stim­u­lat­ing Peo­ple and Orga­niz­ing Recre­ation­al Ther­a­pies) room, cre­at­ed in 2018 by the asso­ci­a­tion ANTS (Advanced Neu­ro-reha­bil­i­ta­tion Ther­a­pies & Sports).
"The idea of elec­tri­cal­ly stim­u­lat­ing mus­cles is not new," explains Vance Berg­eron. "In fact, it was a French­man, Dr Duchenne de Boulogne, who stud­ied the phys­i­ol­o­gy of move­ment using elec­tri­cal exper­i­ments in a book pub­lished in 1867 that has remained a ref­er­ence ever since! The devel­op­ment of exoskele­tons came lat­er, start­ing in the 1950s, but research in the field stag­nat­ed until the semi­con­duc­tor and elec­tron­ics boom of the 1990s."
Efforts around the world
Japan is lead­ing the way in this area, with exoskele­tons seen as a good way to sup­port an age­ing pop­u­la­tion. The Unit­ed States, on the oth­er hand, is focus­ing on mil­i­tary appli­ca­tions. What remains is to com­bine the two tech­nolo­gies; exoskele­ton and elec­tri­cal stim­u­la­tion. This is what the com­pa­ny Cli­natec, found­ed in 2006 by Pro­fes­sor Alim-Louis Ben­abid, a neu­ro­sur­geon in Greno­ble, is doing. By design­ing an implantable device that col­lects the brain sig­nals emit­ted when a per­son intends to make a move­ment, the Cli­natec researchers hope to give tetraplegics the pos­si­bil­i­ty of men­tal­ly con­trol­ling an exoskele­ton robot to walk and manip­u­late objects.
Gré­goire Cour­tine, a neu­ro­sci­en­tist at the Ecole Poly­tech­nique Fédérale de Lau­sanne (EPFL), is also work­ing towards this goal and has just test­ed the pos­si­bil­i­ty of allow­ing tetraplegics to walk again using an abdomen-implant­ed car­diac neu­rostim­u­la­tor and spinal-cord-implant­ed elec­trodes (see box). These devices are very inva­sive, how­ev­er, and results still uncer­tain. Main­tain­ing phys­i­cal activ­i­ty in the dis­abled brings imme­di­ate ben­e­fits though and is safe. "Stim­u­lat­ing injured limbs effec­tive­ly com­bats the risk of sec­ondary com­pli­ca­tions that can arise fol­low­ing an injury to the spinal cord," explains Vance Berg­eron, "whether it is caused by an acci­dent or a stroke."
Fol­low­ing his acci­dent, Vance Berg­eron reori­ent­ed his laboratory's activ­i­ty to devel­op an elec­tros­tim­u­la­tion bicy­cle. It works as fol­lows: the ped­alling move­ment is recre­at­ed via non-inva­sive sur­face elec­trodes, sim­ply placed on the legs of the paral­ysed per­son. An elec­tric cur­rent stim­u­lates the motor nerves to trig­ger mus­cle con­trac­tions in a sequence that allows them to ped­al again. "We thus pre­vent var­i­ous phys­i­cal risks, such as bed­sores, bone dem­iner­al­i­sa­tion and blood cir­cu­la­tion dis­or­ders," con­tin­ues Vance Berg­eron. "Elec­tros­tim­u­la­tion also has a psy­cho­log­i­cal impact: main­tain­ing mus­cle vol­ume gives the per­son a bet­ter body image and makes dai­ly move­ments eas­i­er, espe­cial­ly trans­fers from the wheel­chair, which require con­sid­er­able phys­i­cal effort."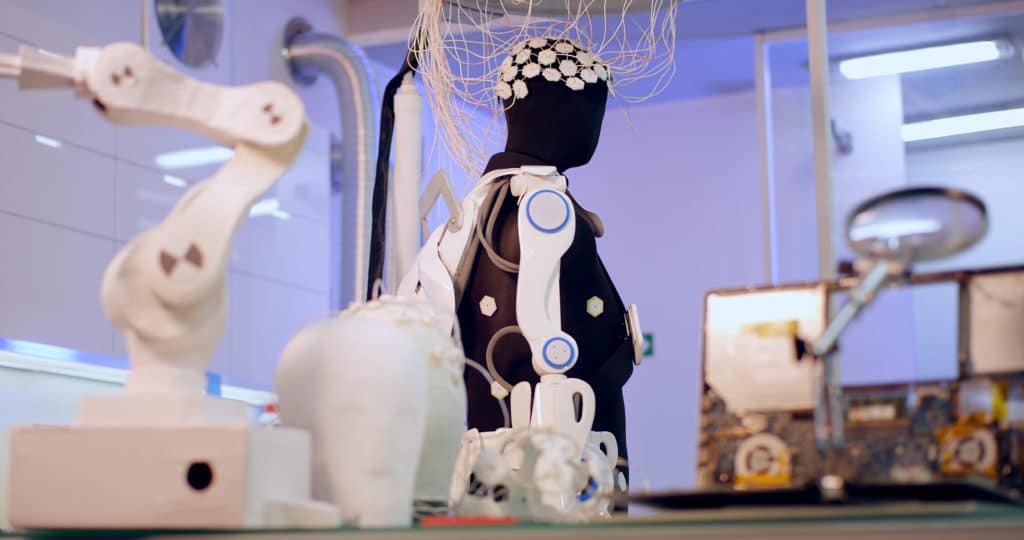 Benefits for well-being
Final­ly, being in a place such as a gym makes social rein­te­gra­tion eas­i­er, reduces iso­la­tion and there­fore the risk of depres­sion. Two bicy­cles and a row­ing machine are now avail­able in the S.P.O.R.T room, which is still the only one of its kind in France. There is prob­lem with these elec­tros­tim­u­la­tion devices, how­ev­er, in that they cause sig­nif­i­cant mus­cle fatigue. "When a marathon run­ner trains, he uses dif­fer­ent mus­cles from those used by a sprint­er," explains Vance Berg­eron. "In the lab­o­ra­to­ry we are try­ing to see how we can tar­get cer­tain mus­cles, and not stim­u­late them all at the same time."
The lab­o­ra­to­ry is also work­ing on improv­ing the equip­ment, with a Blue­tooth sys­tem that would make it pos­si­ble to get rid of the wires by inte­grat­ing the elec­trodes into cloth­ing. Final­ly, the aim is to offer finan­cial­ly com­pet­i­tive equip­ment. "The first bike designed for elec­tros­tim­u­la­tion that I import­ed from the US and adapt­ed it so that it could be used in France cost €30,000! Now I'm work­ing with a Ger­man com­pa­ny1 on a mod­el that is acces­si­ble to the pub­lic, at around €2,000."
What equip­ment will be used by dis­abled peo­ple in the future? Exoskele­tons cer­tain­ly allow peo­ple to stand up, but even in their non-inva­sive ver­sion, they are very heavy, and their oper­at­ing-time is lim­it­ed by bat­tery life. In com­par­i­son, elec­tros­tim­u­la­tion is very sim­ple: a few watts are enough to make the device work…
Making tetraplegics walk again?
In 2020, a team led by researcher Gré­goire Cour­tine, a neu­ro­sci­en­tist and pro­fes­sor at the École Poly­tech­nique Fédérale de Lau­sanne, Joce­lyne Bloch, a neu­ro­sur­geon at the Cen­tre Hos­pi­tal­ier Uni­ver­si­taire Vau­dois (Switzer­land), and Guil­laume Charvet; project leader at CEA-Leti Cli­natec (Greno­ble), used abdomen-implant­ed car­diac neu­rostim­u­la­tors in three paral­ysed men and spinal-cord-implant­ed elec­trodes to tar­get acti­va­tion regions in the trunk and leg mus­cles. The patients were able to take their first steps almost imme­di­ate­ly, even though walk­ing on a lab­o­ra­to­ry tread­mill is not exact­ly the same as nor­mal walking.
In con­crete terms, the tech­nol­o­gy requires at least six cen­time­tres of healthy spinal cord under the lesion, where the elec­trodes are implant­ed. The patient has a walk­er with two but­tons attached. He has to press the right but­ton if he intends to lift his left leg; and the left but­ton if he wants to lift his right leg.
These but­tons are con­nect­ed to a tablet, which con­tains the con­trol soft­ware that trans­mits sig­nals to the neu­rostim­u­la­tor. The neu­rostim­u­la­tor in turn relays these sig­nals to the spinal implants, which then acti­vate the spe­cif­ic neu­rons that con­trol leg lifting.
After five months of reha­bil­i­ta­tion, one of the patients, for exam­ple, was able to walk almost a kilo­me­tre with­out stop­ping. As soon as it is switched off, how­ev­er, the elec­tri­cal stim­u­la­tion has no effect. It can­not be main­tained per­ma­nent­ly though because doing so would exhaust patients.
This tech­nol­o­gy will be the sub­ject of exten­sive clin­i­cal tri­als, led by the Dutch start-up Onward.