Society Health and biotech
Covid-19: why there will be no baby boom
Ear­ly on in the pan­dem­ic, as gov­ern­ments were start­ing to realise the mag­ni­tude of the Covid-19 cri­sis and the first wave of stay-at-home orders with busi­ness and school clo­sures were being imple­ment­ed, news sto­ries about what this new sit­u­a­tion would mean for the fer­til­i­ty rate start­ed appear­ing. Vis­i­bly, as the virus was run­ning wild, so was our fantasy.
These ear­ly news sto­ries almost entire­ly focused on the pos­i­tive effects of stay-at-home orders on cou­ples' inter­course. As such, a com­ing baby boom was being hailed, fuelled by wide­ly cir­cu­lat­ing sto­ries of increased births that fol­lowed 9 months after stay-at-home orders dur­ing hur­ri­canes or snow­storms. Some news­pa­pers went so far as to chris­ten this nov­el gen­er­a­tion of expect­ed chil­dren the "Coro­nials".
Myth or reality?
Most experts, how­ev­er, were scep­ti­cal of this nar­ra­tive. In fact, the research we have on past sud­den stay-at-home orders is much more timid in its con­clu­sions than the pop­u­lar myths that took hold. A rig­or­ous study of the great 1965 New York elec­tric­i­ty black­out found no effect on the fer­til­i­ty rate 1and, while light storm warn­ings lead to a 2.1% uptick in births 9 months lat­er, strong hur­ri­cane warn­ings lead to a ~2.2% decrease in the num­ber of new­borns nine months lat­er2.
More­over, there already exists a sub­stan­tial body of research on how human fer­til­i­ty rates tend to play out dur­ing and after pan­demics; the find­ings of which sug­gest that what was still being excit­ed­ly claimed on after­noon tele­vi­sion by cou­ples' coun­cil­lors was unequiv­o­cal­ly false. His­to­ry tells us that pan­demics do not dri­ve baby booms. Rather, it is the oppo­site: most of the time they result in a severe baby bust.
Lessons from Spanish Flu
The clos­est his­tor­i­cal anal­o­gy we can look back to is the 1918 Span­ish Flu, anoth­er tru­ly glob­al pan­dem­ic – although it should be not­ed that it was con­sid­er­ably more dead­ly for young peo­ple than Covid-19, with the major­i­ty of excess mor­tal­i­ty in 1918 hap­pen­ing among the 20–40 year old pop­u­la­tion 3. The fer­til­i­ty lessons from the Span­ish flu are clear: whether you look in France, the Unit­ed States or Swe­den 4, birth rates in all coun­tries stud­ied dropped sub­stan­tial­ly, by about 13% in the US and by about 8% in Swe­den as soon as the pan­dem­ic broke out.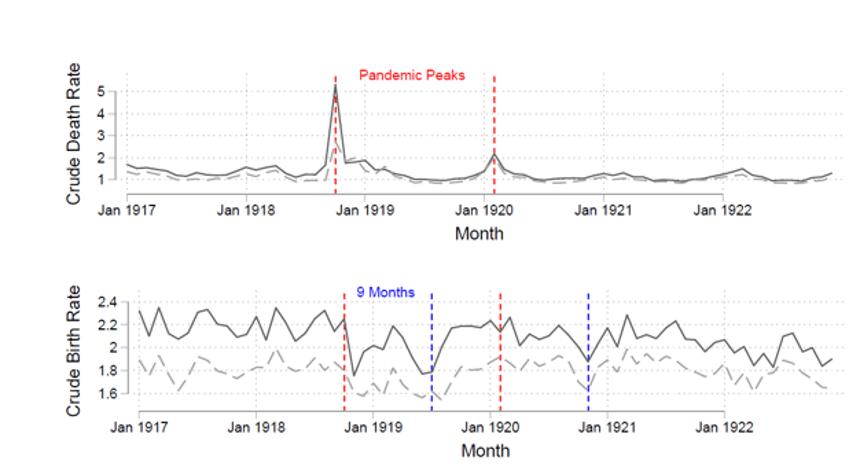 Short­ly after the first lock­down orders were giv­en in France, we decid­ed to look at how U.S. cities that imple­ment­ed non-phar­ma­ceu­ti­cal inter­ven­tions, such as stay-at-home orders, busi­ness, and school clo­sures dur­ing the 1918 pan­dem­ic fared in terms of fer­til­i­ty 5. As could be expect­ed, fer­til­i­ty plum­met­ed by an aver­age of 10–15% due to Span­ish Flu in the cities we stud­ied. How­ev­er, the drop was less pro­nounced in cities that imple­ment­ed longer last­ing and stricter measures.
As such, we con­sid­ered the pos­si­bil­i­ty that maybe there was some­thing to the much-her­ald­ed link between stay­ing at home and increased inter­course after all? How­ev­er, anoth­er strik­ing char­ac­ter­is­tic of cities that imple­ment­ed longer lock­downs was that they had con­sid­er­ably less severe pan­dem­ic out­breaks with much low­er num­bers of mortality.
There­fore, anoth­er pos­si­ble expla­na­tion was that lock­downs only increased birth rates because they reduced the neg­a­tive effects that a strong pan­dem­ic out­break had on people's deci­sion to have babies. To con­trol for that we con­sid­ered the strength of pan­dem­ic out­break in our sta­tis­ti­cal mod­els. After doing so, the net effect of lock­downs on fer­til­i­ty rate was neg­a­tive – mean­ing less babies were born as a direct con­se­quence of lock­downs, beyond their effects on pan­dem­ic strength.
Covid-babies
Com­ing back to the cur­rent pan­dem­ic, the first data-based insights on what to expect come from sur­veys and from google search data. Sur­veys con­duct­ed in March and April of 2020 in France, Ger­many, Spain, Italy, and the UK showed that peo­ple aged 18–34 were increas­ing­ly plan­ning to post­pone or aban­don their child­bear­ing plans for 2020. In Italy, where the out­break was par­tic­u­lar­ly strong, only 26% of indi­vid­u­als that planned to get preg­nant in 2020 said they still had those plans, with 37% plan­ning to post­pone and 37% say­ing they had aban­doned their child plans. In France only 14% report­ed aban­don­ing the child plans but 51% did report that they would post­pone them if pos­si­ble. 6.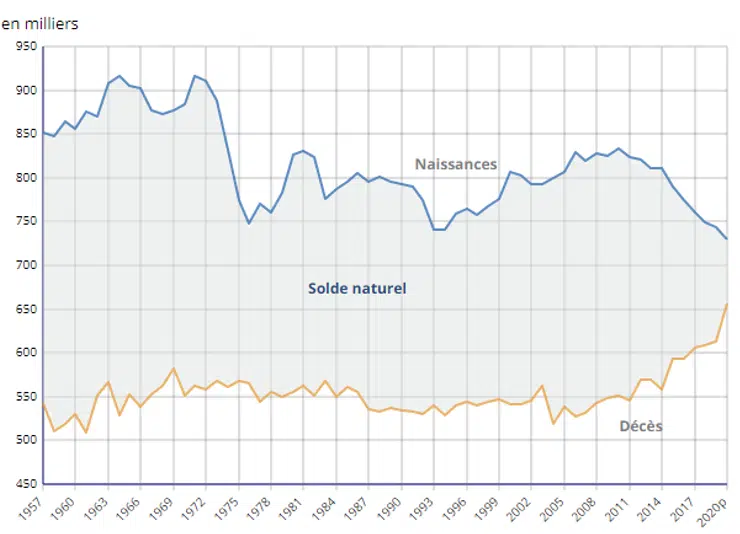 Anoth­er approach was to use Google Search­es. It is pos­si­ble to pre­dict fer­til­i­ty rates based on the fre­quen­cy of com­mon search terms, such as "ovu­la­tion", "preg­nan­cy test" and "morn­ing sick­ness" amongst oth­ers. When this analy­sis was applied to the Unit­ed States, this type of mod­el fore­sees a fer­til­i­ty drop of 15% for the com­ing months. 7.
Final­ly, we are also start­ing to get a first glance at fer­til­i­ty data from 2020 and, in doing so, we see that they sup­port the baby bust hypoth­e­sis. In France there was a fer­til­i­ty drop of 2% for the year and in the U.S. one of 3.8%, which how­ev­er was 8% for the month of Decem­ber, when the pan­dem­ic effects start­ed to real­ly show 8.
Many ques­tions remain. Did stay-at-home orders and school clo­sures have an addi­tion­al effect that was inde­pen­dent of the pan­dem­ic this time around? Did eco­nom­ic aid, in the places where it was avail­able, reas­sure peo­ple to con­tin­ue their fam­i­ly plan­ning and there­by cush­ion the fer­til­i­ty drop? Will the pre­dict­ed eco­nom­ic boom fol­low­ing the Covid cri­sis lead to catchup fer­til­i­ty, mak­ing up for the fore­gone births? As researchers con­tin­ue to eval­u­ate these ques­tions, for the short-term we must con­tend with a world in which less babies are one of the many con­se­quences the virus has had on our lives.