Could you explain what 3D print­ing is and who uses it?
Fabi­en Szmyt­ka. The sec­tors that use 3D print­ing (i.e., addi­tive man­u­fac­tur­ing) most are main­ly the man­u­fac­tur­ing and trans­porta­tion indus­tries, aero­space and motorised sports. These use 3D print­ers to make machines, robot parts, spare parts, machin­ery, casts, mod­els, etc. The most fre­quent­ly used mate­ri­als are still plas­tic poly­mers in dif­fer­ent for­mats (pow­der, thread, etc.). Only a small part of the mate­ri­als used are metal­lic, ceram­ic or oth­er types.
In the auto­mo­tive indus­try, addi­tive man­u­fac­tur­ing was first used a way to make pro­to­types, but today it is also used to make mechan­i­cal parts as well as ele­ments of design (car body, spoil­er, etc.). For instance, car man­u­fac­tur­ers like Hon­da have already built vehi­cles com­plete­ly print­ed in 3D, although they are not yet marketed.
The aca­d­e­m­ic world is also increas­ing­ly turn­ing to addi­tive man­u­fac­tur­ing to sup­port research. Many projects use exper­i­men­tal pro­to­types made with 3D print­ing tech­nol­o­gy. To this end, some lab­o­ra­to­ries or research insti­tu­tions have equipped them­selves with their own print­ers, or even Fab Labs (fab­ri­ca­tion lab­o­ra­to­ry) like those, for exam­ple, of the Insti­tut Pas­teur (FLIP) or the Insti­tut Poly­tech­nique de Paris.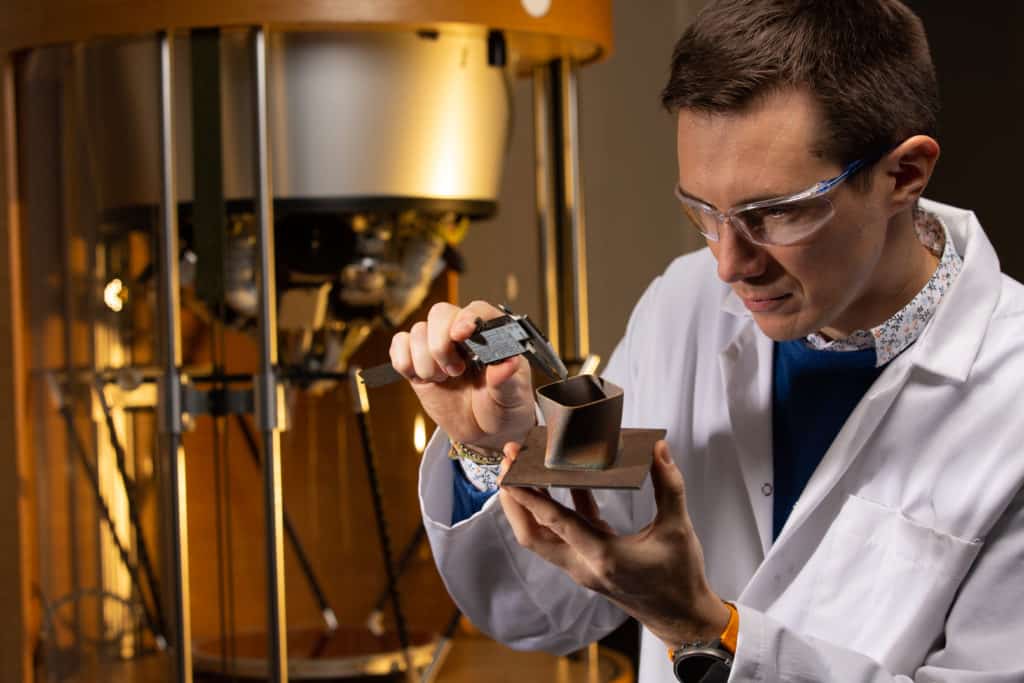 What are the main advan­tages of addi­tive man­u­fac­tur­ing in your field?
Nowa­days, metal­lic addi­tive fab­ri­ca­tion makes it pos­si­ble to cre­ate com­po­nents with com­plex geom­e­try. These would be impos­si­ble to make by using con­ven­tion­al meth­ods. For exam­ple, very small details would break dur­ing demould­ing in a clas­sic foundry. In some cas­es, weld­ing can be used to repair parts, but this tech­nique is very sen­si­tive to ambi­ent con­di­tions (air tem­per­a­ture, humid­i­ty) and very dif­fi­cult to auto­mate. You need many spe­cialised oper­a­tors, who require much long train­ing. Addi­tive man­u­fac­tur­ing thus makes it pos­si­ble, to some extent, to make up for the lack of spe­cialised workers.
What does your research on metal­lic 3D print­ing con­sist of?
Our objec­tive is to study metal­lic mate­ri­als pro­duced by addi­tive man­u­fac­tur­ing. We use a spray­ing tech­nique based on metal­lic pow­der called "Direct­ed Ener­gy Depo­si­tion" to make our own mate­ri­als. Their qual­i­ty depends on sev­er­al para­me­ters: pow­der com­po­si­tion, pow­er and speed of the machine. We then observe the effects of the vary­ing these para­me­ters on the microstruc­tures of the mate­r­i­al. Final­ly, we test the resis­tance of this new metal­lic mate­r­i­al to mechan­i­cal stress. For instance, we eval­u­ate the strain pro­duced by trac­tion, or mea­sure the effects of heat treatment.
In our lab­o­ra­to­ry, we con­duct tests on com­plex struc­tures clos­er to the geom­e­try of indus­tri­al parts, while stan­dard tests use a sim­pler geom­e­try (plates, cylin­ders). Our research on metal­lic mate­ri­als tries to meet the demands and needs of indus­tri­al part­ners. For exam­ple, they can ask us to devel­op a mate­r­i­al in com­pli­ance with deter­mined char­ac­ter­is­tics for a spe­cif­ic use. We also lead research stud­ies on poly­mers in col­lab­o­ra­tion with chemists from the CNRS.
In what fields are your stud­ies applied? And who are the final users of these materials?
One of the most promis­ing areas of inves­ti­ga­tion is the use of these process­es to repair dam­aged struc­tures. To devel­op appli­ca­tions for these metal­lic mate­ri­als, we work with the ener­gy, trans­porta­tion and aero­nau­tic sec­tors. For exam­ple, our part­ners EDF and SNCF use parts with very large dimen­sions. Their design some­times dates back to near­ly twen­ty years ago and, as such, they are very dif­fi­cult to replace since they are not pro­duced any­more. Hence the need to find prac­ti­cal and cost-effec­tive solu­tions to repair them.