Space, hith­er­to an area restrict­ed to a few gov­ern­men­tal agen­cies, is now acces­si­ble to a wide range of peo­ple. As such, satel­lites have ben­e­fit­ed from the minia­tur­i­sa­tion of elec­tron­ics to shrink to the size of "nanosatel­lites". Even if this cat­e­go­ry is not clear­ly defined, it gen­er­al­ly des­ig­nates small-sized satel­lites: between 1 and 25 kg, while "min­isatel­lites" weigh between 100 and 500 kg and a stan­dard telecom­mu­ni­ca­tions satel­lite weighs near­ly 6,000 kg.
Their small size, low cost and the rise of an ecosys­tem of sup­pli­ers have grant­ed stu­dents, sci­en­tists, or pri­vate com­pa­nies, an eas­i­er access to space. From 1998 to 2012, only 136 nanosatel­lites were launched. In the past sev­en years, this fig­ure has been mul­ti­plied by 10 and has reached a total of 1338 nanosatel­lites. They have a bright future ahead of them: an esti­mat­ed 630 nanosatel­lites are to be launched on aver­age each year in the near future1.
The ori­gins of nanosatellites
Intro­duced as a design exer­cise at the Stan­ford Uni­ver­si­ty in 1999, the Cube­Sat for­mat is one of the pre­cur­sors of nanosatel­lites. It is the first stan­dard space plat­form which made it pos­si­ble to reuse sys­tems between dif­fer­ent mis­sions. It allowed many com­pa­nies to offer ele­ments based on the plug-and-play mod­el to rapid­ly devel­op new mis­sions. In view of the pro­lif­er­a­tion of these satel­lites, rideshare launch ser­vices (to allow com­pa­nies to share launch­ers) became wide­spread and many launch projects emerged. More than 140 micro-launch­ers are now in devel­op­ment to meet the increas­ing demand and eight of them are already oper­a­tional2.
Sci­en­tists and engi­neers very quick­ly used these new low-cost plat­forms to devel­op mis­sions of tech­nol­o­gy demon­stra­tion, like the GomX series (ESA and Gom­Space), as well as sci­en­tif­ic mis­sions like AMI­Cal Sat, UVSQSat and Eye­sat to only men­tion French Cube­Sats launched in the past two years.
Their small size does not pre­clude com­mer­cial mis­sions. This has not gone unno­ticed by French com­pa­nies which have sent into orbit satel­lites such as ANGELS to locate bea­cons (Heme­ria, 2019), or the BRO satel­lites for elec­tro­mag­net­ic intel­li­gence (Unseen­Labs, 2019 and 2020).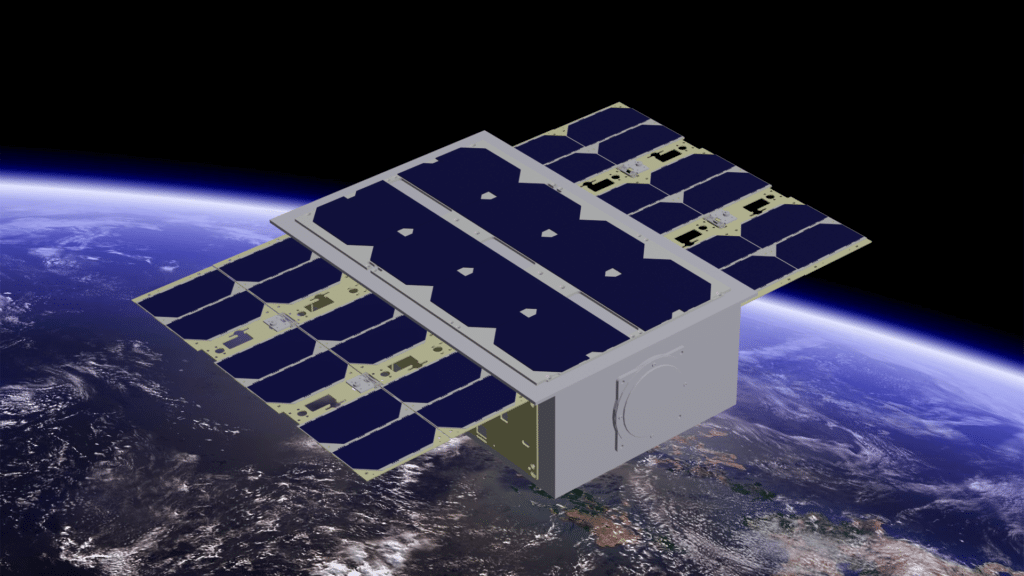 A pow­er­ful edu­ca­tion­al tool
Their reduced cost usu­al­ly makes nanosatel­lites a first-class edu­ca­tion­al tool. They answer a real need in high­er edu­ca­tion by mak­ing it pos­si­ble for stu­dents to acquire con­crete expe­ri­ence through stu­dent projects. Indeed, up until now, an engi­neer left his or her school with a won­der­ful the­o­ret­i­cal back­ground, but with no prac­ti­cal expe­ri­ence. This prob­lem is even more impor­tant in the space sec­tor because engi­neers, once they get a posi­tion, can spend years design­ing a space sys­tem with­out ever real­ly see­ing it.
Par­tic­i­pat­ing in a space project dur­ing stud­ies thus rep­re­sents a rich expe­ri­ence for stu­dents. All the more so since they work on var­i­ous fields cov­er­ing mechan­i­cal design and embarked data pro­cess­ing, as well as ther­mal analy­sis and flight mechan­ics, not to men­tion project man­age­ment and team­work. The expe­ri­ence is all the more reward­ing because a nanosatel­lite remains a com­plete­ly non-repairable autonomous sys­tem oper­at­ing in a dif­fi­cult, even hos­tile, envi­ron­ment: there is no sec­ond chance.
It is for these rea­sons that the École Poly­tech­nique chose to men­tor Cube­Sat stu­dent projects as ear­ly as 2011. The X‑CubeSat mis­sion (mem­ber of the QB-50 mis­sion launched in April 2017, and which end­ed in Feb­ru­ary 2019) involved more than 80 stu­dents from 7 dif­fer­ent year groups. Fol­low­ing that oper­a­tional and aca­d­e­m­ic suc­cess, a sec­ond project, named Ion­Sat3, was ini­ti­at­ed by the Space Cen­tre of the École Poly­tech­nique in 2017, in col­lab­o­ra­tion with the ThrustMe start-up. The main mis­sion of Ion­Sat is keep­ing the nanosatel­lite in very low orbit thanks to an elec­tric thruster. More than 50 stu­dents have already con­tributed to the pre­lim­i­nary design of this 6‑unit Cube­Sat (a vol­ume of 30x20x10 cm). But these projects are also of inter­est for major stake­hold­ers. Thus, Ion­Sat is led in part­ner­ship with Thales Ale­nia Space, which is, in addi­tion to Ari­ane­Group, a spon­sor of the edu­ca­tion pro­gram "Space: sci­ence and space-relat­ed chal­lenges" of École polytechnique.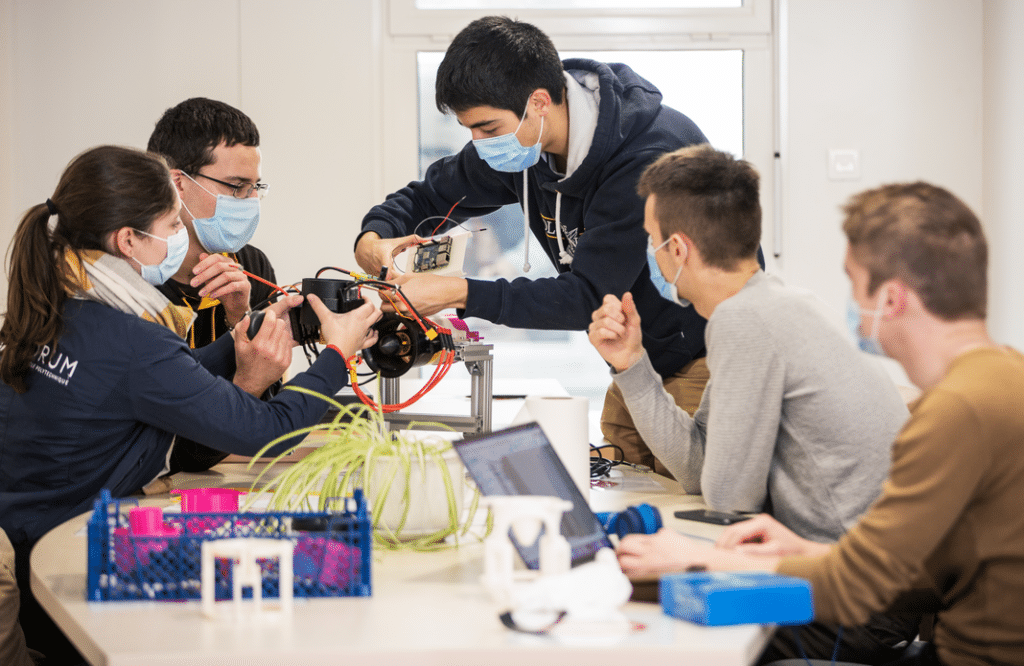 The new par­a­digm of constellations
The lim­it­ed per­for­mance of these nanosatel­lites is off­set by their use as satel­lite con­stel­la­tions (mean­ing in net­works or swarms) in order to offer ser­vices which typ­i­cal mis­sions can­not achieve. The Amer­i­can com­pa­ny Plan­et thus launched more than 100 3‑unit Cube­Sats (30x10x10 cm) between 2013 and 2020 to observe all the Earth's sur­face at least once a day. In 2020, 90 con­stel­la­tion projects were thus record­ed4.
How­ev­er, all the weak­ness­es of nanosatel­lites can­not be solved by launch­ing them in great num­bers. For exam­ple, there is a ques­tion of bal­ance between the part of the satel­lite ded­i­cat­ed to the mis­sion and the oth­er func­tion­al­i­ties, for instance to main­tain orbit. For obser­va­tion, res­o­lu­tion is pro­por­tion­al to sen­sor size, nanosatel­lites are thus lim­it­ed in this respect. The for­mat pos­es fur­ther lim­i­ta­tions, espe­cial­ly with regard to com­mu­ni­ca­tions: these are lim­it­ed by the low agili­ty and elec­tri­cal capac­i­ty of the platform.
To face these chal­lenges, some com­pa­nies, like the Kineis com­pa­ny from Toulouse, pro­duce slight­ly big­ger satel­lites, but which are still small enough to belong to the "nanosatel­lite" cat­e­go­ry. Oth­ers, with a big­ger mar­ket, have cho­sen to increase the per­for­mance of their satel­lites by tak­ing advan­tage of the ben­e­fits of con­stel­la­tion with­out lim­it­ing their size to the nanosatel­lite for­mat. That is why more ambi­tious mega-con­stel­la­tion projects, such as OneWeb and Star­link, focus on "Small­Sats" (150 kg and 230 kg, respec­tive­ly). With a big num­ber of low-cost but pow­er­ful satel­lites, they have the best of both worlds.
A strong latent potential
Yet nanosatel­lites will not stay lim­it­ed to low-cost or edu­ca­tion­al projects only. Indeed, the expe­ri­ence feed­back from pio­neer mis­sions has shown their val­ue in the con­text of sci­en­tif­ic mis­sions5. In addi­tion to observ­ing Earth, as pre­vi­ous­ly men­tioned, these Cube­Sats can be used in solar weath­er research thanks to mass spec­trom­e­ters (SENSE in 2013) or X‑ray detec­tors (MinXSS in 2016); in astro­physics with the minia­ture tele­scope ASTERIA (2017) or the HaloSat mis­sion (2018); in space explo­ration, as was the case for the Mar­CO Cube­Sats (Mars Cube One) which accom­pa­nied the Insight Probe to Mars in 2018, and the Lunar Flash­light which will accom­pa­ny the Artemis I mis­sion on the Moon in 2021. The appli­ca­tions of nanosatel­lites are thus lim­it­ed only by our imagination!