You co-found­ed ThrustMe in 2017 with Dmytro Rafal­skyi. What issues did you seek to resolve?
Ane Aanes­land. Our aim is to ensure that the space indus­try, which is under­go­ing major changes, becomes eco­nom­i­cal­ly and envi­ron­men­tal­ly sus­tain­able. To that end, we want to con­trol satel­lites bet­ter. We want to make sure that they can remain in posi­tion as long as pos­si­ble by avoid­ing col­li­sions and improv­ing their move­ments in orbit, as well as their ser­vice life.
The mul­ti­pli­ca­tion of con­stel­la­tions rais­es sev­er­al issues. To keep their cost afford­able, many micro- and nanosatel­lites do not have engines, and there­fore, are not autonomous. They are placed in low orbit, between 350 and 700 km, and at these alti­tudes one of two things will hap­pen. Either they grad­u­al­ly under­go fric­tion which mod­i­fies their orbit, pro­gres­sive­ly makes them descend and brings them into the atmos­phere where they burn; or they remain in orbit, where they die.
The lifes­pan of a satel­lite varies expo­nen­tial­ly depend­ing on the dis­tance of their orbit: 7 months at 300 km, more than 30 years at 700 km, and prob­a­bly 100 years at 1 000 km. Thus, satel­lites would have to be equipped with a propul­sion sys­tem in order to increase their lifes­pan in low alti­tudes and to descend those in high alti­tudes at the end of their ser­vice life. The prob­lem is that in the cur­rent sit­u­a­tion, propul­sion sys­tems con­sid­er­ably increase the cost and com­plex­i­ty of satel­lites. The ambi­tion of ThrustMe is to solve this issue.
What solu­tion did you come up with to rec­on­cile eco­nom­ic and envi­ron­men­tal challenges?
We devel­oped a com­plete propul­sion sys­tem, which inte­grates the thruster, elec­tron­ics and fuel. It is an elec­tric thruster with sol­id iodine devel­oped for mini-satel­lites that weigh 10–100 kg/m. Three of these sys­tems were placed in orbit at the end of 2019 and in 2020 by the Chi­nese com­pa­ny Space­ty. Each were very dif­fer­ent: the first was a 6‑unit Cube­Sat (approx­i­mate­ly 12 kg), the sec­ond was a microsatel­lite weigh­ing around 50 kg, and the third a small satel­lite of 180 kg. We test­ed the dif­fer­ent fea­tures of our propul­sion sys­tems, and the results were extraordinary.
How is your propul­sion tech­nol­o­gy dif­fer­ent from those that already exist?
Cur­rent­ly, there are two types of propul­sion: chem­i­cal or elec­tric. The elec­tric sys­tem is rel­a­tive­ly new and only 20% of very big satel­lites are equipped with that. It is more effi­cient and eas­i­er to minia­turise than chem­i­cal propul­sion, which makes it per­fect for micro- and nanosatellites.
We chose iodine as the pro­pel­lant (the "fuel" of the thruster), because it is pos­si­ble to store it in sol­id form, and it only requires lit­tle heat to be sub­li­mat­ed into gas. In con­trast, xenon, used by most cur­rent elec­tric propul­sion sys­tems, must be stored under high pres­sure. Xenon is also a rare gas and in 5 to 10 years, the demand will be twice as high as the pro­duc­tion capacity.
Fur­ther­more, for a con­stel­la­tion of 800 to 1000 satel­lites, the cost of xenon is around €40M. SpaceX opt­ed for kryp­ton, which allowed them to divide by 3 the cost of the pro­pel­lant. But iodine divides this cost by 40. In oth­er words, only €1M are need­ed to pro­pel an entire con­stel­la­tion. It's a real rev­o­lu­tion! We also demon­strat­ed in lab­o­ra­to­ry con­di­tions and direct­ly in space that iodine is more effi­cient than xenon at equal pow­er. This makes it pos­si­ble to keep the satel­lite in the right orbit or deor­bit it.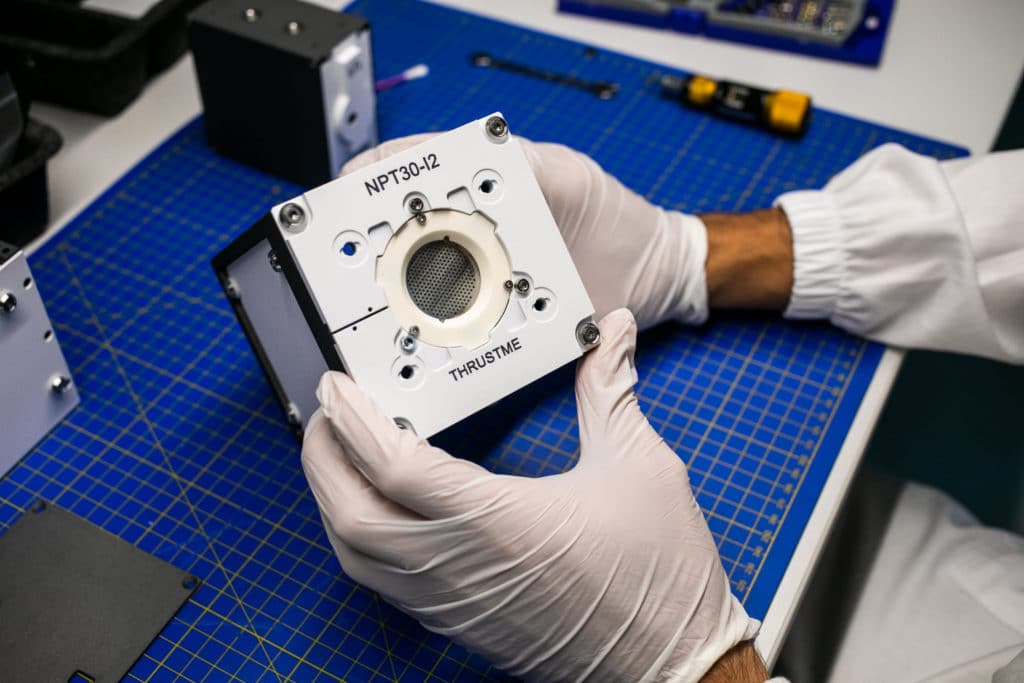 Do you have com­peti­tors on this technology?
In the years 2015–2018, sev­er­al start-ups got involved in propul­sion, because there was a real lack of solu­tions on this area. So, yes, there is com­pe­ti­tion. Even the NASA tried to devel­op a solu­tion with man­u­fac­tur­ers, but iodine is not an easy sub­ject. It is cor­ro­sive. You need to know chem­istry, mate­ri­als sci­ence and so on. We devel­oped a solu­tion to trans­form iodine into gas then into plas­ma which, in addi­tion to its orig­i­nal­i­ty, also makes it pos­si­ble to reduce the weight and cost of the propul­sion sys­tem. It is not only the work of engi­neers. And here­in lies the strength of ThrustMe.
Could you be more specific?
We are a young and very small com­pa­ny com­pared to our com­pe­ti­tion. We only have 17 per­ma­nent staff and a few interns. But when deeptech com­pa­nies devel­op a prod­uct, they first run a proof of con­cept (PoC) and then see how to man­u­fac­ture the prod­uct. In our case, we con­sid­ered the man­u­fac­tur­ing of our propul­sion sys­tem from the very begin­ning. Of course, we have sci­en­tists, but we also have aero­space engi­neers, engi­neers in elec­tron­ics, etc. It was very impor­tant for us to hire engi­neers along with our sci­en­tists at the start of the com­pa­ny. We want­ed to con­tribute to the space rev­o­lu­tion which is cur­rent­ly under way. We want to change things and make the space indus­try more sustainable.
What is next for ThrustMe?
At the begin­ning of 2020, we signed a first con­tract with the Euro­pean Space Agency (ESA), relat­ed to the ARTES pro­gram (Advanced Research in Telecom­mu­ni­ca­tions Sys­tems). It aims to solve the emerg­ing space-relat­ed chal­lenges asso­ci­at­ed with the rise of satel­lite con­stel­la­tions. We are also mak­ing sev­er­al sys­tems designed to equip a con­stel­la­tion for Earth obser­va­tion for a client.
More­over, we are con­duct­ing a mis­sion with the space agency of Nor­way on a satel­lite which will be launched at the begin­ning of 2022. The aim is to demon­strate col­li­sion avoid­ance with our elec­tric low-thrust thruster, the NPT30. It is the first mis­sion of this kind on a com­mer­cial satel­lite with an on-board high-pre­ci­sion GPS system.
Final­ly, we are also par­tic­i­pat­ing in a sci­en­tif­ic project of the INSPIRE pro­gram (Inter­na­tion­al Satel­lite Pro­gram in Research and Edu­ca­tion) with sev­er­al uni­ver­si­ties to study the upper ionos­phere, from 300 to 1000 km. The aim is to con­trol the descent of a satel­lite to 300 km and to main­tain it at this alti­tude to study cli­mate change.