Economics Digital
Why the European Central Bank wants to digitize the euro
[Sum­ma­ry of an arti­cle from vari​ances​.eu.]
In mid-2021, the Euro­pean Cen­tral Bank (ECB) is expect­ed to announce a project for a dig­i­tal euro to be imple­ment­ed with­in the next 5 years. The Unit­ed States could fol­low with their "dig­i­tal dol­lar", but this will be lat­er. There is already a lot of talk about this Cen­tral Bank Dig­i­tal Cur­ren­cy project. In sim­ple terms: what will this dig­i­tal euro be, why is the ECB inter­est­ed in it and how will it be implemented?
What is a Cen­tral Bank Dig­i­tal Cur­ren­cy (CBDC)?
As a reminder, only phys­i­cal cash – coins and ban­knotes –, called "fidu­cia­ry" mon­ey, are issued by the sov­er­eign author­i­ty and are legal ten­der in a coun­try mean­ing they can­not be refused in pay­ment. So-called "scrip­tur­al" mon­ey (part­ly made up of bank deposits) is cre­at­ed by super­vised and reg­u­lat­ed banks and can be trans­ferred elec­tron­i­cal­ly. These two forms – fidu­cia­ry and non-cash – togeth­er per­form the three func­tions of mon­ey: unit of account, means of pay­ment and store of val­ue (pro­vid­ed that infla­tion remains low).
As such, a CBDC com­bines the advan­tages of these two forms of mon­ey. (1) It rep­re­sents a claim on the cen­tral bank that is as secure as a ban­knote (and there­fore more secure than a bank deposit); (2) It is acces­si­ble to every­one, like a ban­knote (where­as cur­rent­ly only banks have an account with the cen­tral bank); (3) But it is elec­tron­ic and can be used remote­ly (unlike a ban­knote). It is thus at the heart of the dia­gram below.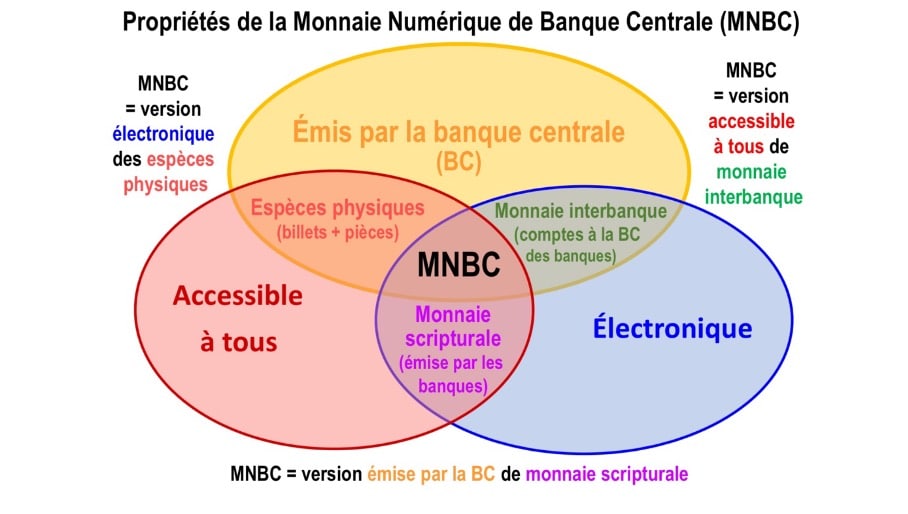 How would the dig­i­tal euro dif­fer from Diem or Bitcoin?
CBDC should not be con­fused with "sta­ble­coins", elec­tron­ic assets that are start­ing to be pro­duced by the pri­vate sec­tor but are indexed to exist­ing cur­ren­cies. The best-known exam­ple of these sta­ble­coins remains the Diem, ini­tial­ly named Libra by Face­book as ear­ly as 2019, but still in the pipeline. Sta­ble­coins, issued by unsu­per­vised enti­ties, pose risks to mon­e­tary and finan­cial sta­bil­i­ty (data pro­tec­tion, poten­tial glob­al oli­gop­o­lies, etc.).
CBDC also dif­fers from cryp­to-assets (mis­tak­en­ly called "cryp­tocur­ren­cies"), whose val­ue is not based on any exist­ing cur­ren­cy. The val­ue of Bit­coin, the most famous exam­ple, is extra­or­di­nar­i­ly volatile because it is based on its announced scarci­ty (at most 21 mil­lion units) and its increas­ing eco­nom­ic and envi­ron­men­tal pro­duc­tion costs. Thus, one Bit­coin trans­ac­tion cur­rent­ly con­sumes the ener­gy need­ed for half a mil­lion trans­ac­tions per card. This also lim­its its scal­a­bil­i­ty, which is essen­tial for a cur­ren­cy. Nev­er­the­less, cryp­to-assets are in demand as spec­u­la­tive assets, which need to be reg­u­lat­ed 1.
Why dig­i­tize money?
On the one hand, to main­tain pub­lic con­trol over mon­ey cre­ation in the face of pri­vate com­pe­ti­tion. The CBDC pro­vides a com­ple­ment to ban­knotes, whose use for trans­ac­tions is decreas­ing (in vol­ume and in val­ue) but whose issued stock is increas­ing (hoard­ing). It is a ques­tion of propos­ing a mon­e­tary asset guar­an­teed by the State in an uncer­tain dig­i­tized world. Mon­ey is a pub­lic good, and the cen­tral bank must offer a risk-free alter­na­tive to dig­i­tized assets issued by unsu­per­vised pri­vate enti­ties. There is also a geopo­lit­i­cal dimen­sion: for­eign dig­i­tal cur­ren­cies (pub­lic or pri­vate) risk desta­bi­liz­ing, if not crowd­ing out, nation­al cur­ren­cies, as in the case of the « dol­lar­iza­tion » of devel­op­ing economies.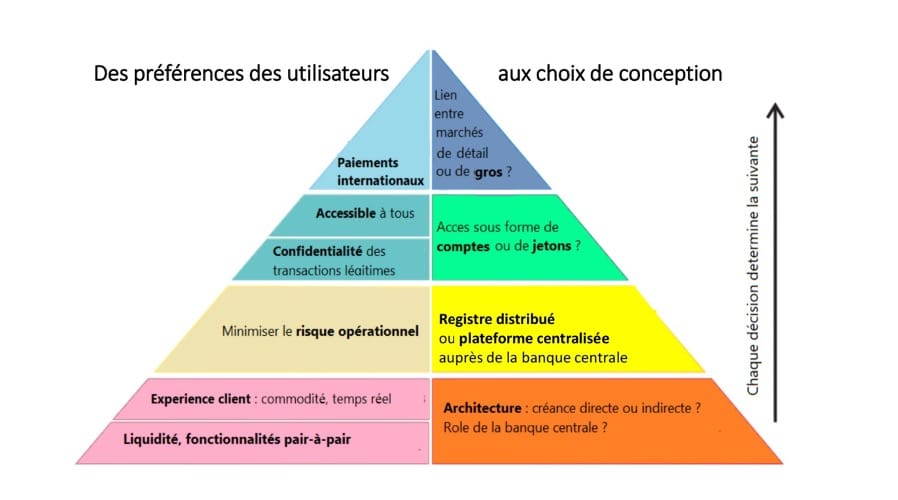 How to design a dig­i­tal currency?
Between now and the actu­al dig­i­ti­za­tion of the euro, var­i­ous choic­es still need to be made, notably con­cern­ing the scope of the pub­lic-pri­vate part­ner­ship, the bal­ance between con­fi­den­tial­i­ty and com­pli­ance, and the legal frame­work. Trust in the cur­ren­cy is at stake.
The ECB will prob­a­bly opt for a hybrid archi­tec­ture (red base of the pyra­mid): it will not ful­ly del­e­gate the man­age­ment of the dig­i­tized euro to the pri­vate sec­tor but will not direct­ly man­age it either. In its 2020 report, it thus explains that "super­vised pri­vate inter­me­di­aries would be best placed to pro­vide ancil­lary ser­vices" and that "a mod­el in which access to the dig­i­tal euro is inter­me­di­at­ed by the pri­vate sec­tor is there­fore preferable".
The ECB must also decide on the issue of the tech­ni­cal infra­struc­ture (yel­low lev­el). This could be cen­tral­ized on a sin­gle plat­form or use a dis­trib­uted ledger via a decen­tral­ized net­work of com­put­ers, which may pose a scal­a­bil­i­ty problem.
The green lev­el cor­re­sponds, in par­tic­u­lar, to the trade-off between pri­va­cy pro­tec­tion, favoured by the choice of a token (like a bear­er bill), and reg­u­la­to­ry com­pli­ance; the lat­ter could require an account to trace trans­ac­tions, in par­tic­u­lar to avoid mon­ey laun­der­ing or ter­ror­ist financing.
The tip (blue) of the pyra­mid refers to inter­op­er­abil­i­ty, i.e. the abil­i­ty of the CBDC to link whole­sale and retail mar­kets by being con­nect­ed to nation­al and cross-bor­der pay­ment sys­tems. Thus, the ban­knotes are spe­cif­ic to each cur­ren­cy zone, but respect glob­al stan­dards allow­ing them to be exchanged.
Final­ly, and in addi­tion to var­i­ous tech­ni­cal aspects (cyber risks, offline trans­ac­tions, etc.), legal con­sid­er­a­tions need to be clar­i­fied. These include: the legal basis for dig­i­tal issuance, the legal impli­ca­tions of dif­fer­ent for­mats, and the applic­a­bil­i­ty of cur­ren­cy zone laws to the cen­tral bank as issuer. With­out going into detail, a com­bi­na­tion of arti­cles in the Treaty on the Func­tion­ing of the Euro­pean Union and the Statute of the Euro­pean Sys­tem of Cen­tral Banks should make this pos­si­ble, accord­ing to the ECB 2020 Report.
Inno­va­tions have marked the his­to­ry of cur­ren­cies. An MNBC will be anoth­er great step in the "Cash Odyssey". The need for cen­tral banks to accel­er­ate the ongo­ing process is clear, espe­cial­ly in part­ner­ship with the pri­vate sec­tor. From cryp­to-assets or sta­ble­coins to MNBC projects like the dig­i­tal euro, a gen­er­al prin­ci­ple always seems to apply: "the pri­vate ini­ti­ates, the state reg­u­lates or appropriates".