Economics Geopolitics Industry Planet
Plastic waste: the need to act quickly before we are submerged
[This arti­cle is a sum­ma­ry of a note pub­lished by the Insti­tut des poli­tiques publiques. To read the orig­i­nal arti­cle click here]
In Jan­u­ary 2021, the Euro­pean Com­mis­sion banned the export of dif­fi­cult-to-recy­cle waste to non-OECD coun­tries. We have exam­ined the poten­tial impact of this new mea­sure for French exporters by com­par­ing it to China's abrupt deci­sion to ban plas­tic waste imports in 2017.
Plastic as a raw material
An esti­mat­ed 6.3 bil­lion tons of plas­tic waste were pro­duced world­wide between 1950 and 20151. Only about 20% of this waste was recy­cled or incin­er­at­ed. The rest has accu­mu­lat­ed in land­fills or in the envi­ron­ment in gen­er­al2.
Plas­tic waste is now a trad­ed com­mod­i­ty sold by the tonne. In the­o­ry, devel­op­ing coun­tries (with low labour costs) should be able to prof­it eco­nom­i­cal­ly by import­ing this waste. In prac­tice, how­ev­er, most do not have the infra­struc­tures to treat the waste cor­rect­ly. It there­fore just ends up on rub­bish heaps.
Despite the Basel Con­ven­tion on the Con­trol of Trans­bound­ary Move­ments of Haz­ardous Wastes and their Dis­pos­al, which was signed in 1989 to pro­tect these coun­tries from "envi­ron­men­tal dump­ing", exports of haz­ardous waste have remained high. To counter this phe­nom­e­non, some emerg­ing coun­tries have adopt­ed uni­lat­er­al mea­sures. The most rad­i­cal of these was the 2017 ban by Chi­na, who no longer want­ed to be the "world's rub­bish-bin" (fig­ure 1).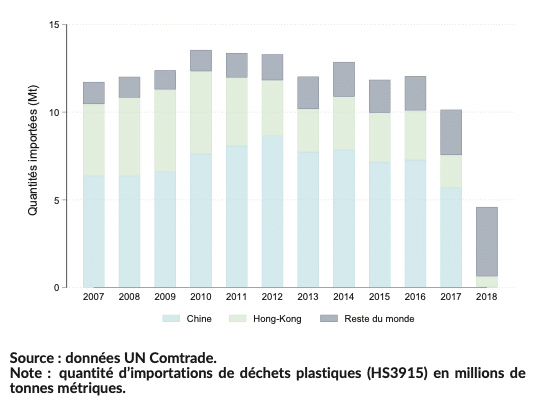 China's deci­sion not only changed the sta­tus quo of glob­al plas­tic waste man­age­ment, it also dra­mat­i­cal­ly revealed many of its short­com­ings on a nation­al lev­el. So much so that the Euro­pean Com­mis­sion, for its part, adopt­ed new reg­u­la­tions from 1 Jan­u­ary 2021, both for with­in the EU and between the EU and the rest of the world. Except for clean waste sent for recy­cling, the export of plas­tic waste from the EU to non-OECD coun­tries (that is, less indus­tri­alised nations) is now pro­hib­it­ed. Exports to OECD coun­tries and with­in the EU are also more strict­ly regulated.
China's ban as a comparison
France export­ed 4 mil­lion met­ric tonnes (Mt) of plas­tic waste between 2010 and 2019. About a quar­ter of this waste was shipped most­ly to Chi­na and the rest sent main­ly to oth­er EU coun­tries. To bet­ter pre­dict the impact of the new reg­u­la­to­ry changes intro­duced by the Euro­pean Com­mis­sion, we analysed how French exporters had pre­vi­ous­ly adapt­ed to the Chi­nese ban – in terms of quan­ti­ties export­ed, des­ti­na­tions and prices.
We used a data set pro­vid­ed by French cus­toms. This infor­ma­tion does not, how­ev­er, take into account ille­gal trade, which is dif­fi­cult to esti­mate. We com­pared how the behav­iour of two groups of com­pa­nies changed fol­low­ing the 2017 deci­sion. The first, or "treat­ed", group includ­ed firms that were active­ly export­ing to Chi­na in 2016 or 2017. The sec­ond, or "con­trol", group was not export­ing to these destinations.
What does the study show?
A col­lapse in glob­al trade in plas­tic waste, which fell by a half by 2018. It also high­lights that half of the waste pre­vi­ous­ly export­ed to Chi­na has been real­lo­cat­ed to oth­er coun­tries (fig­ure 2). The prob­lem has thus large­ly been displaced.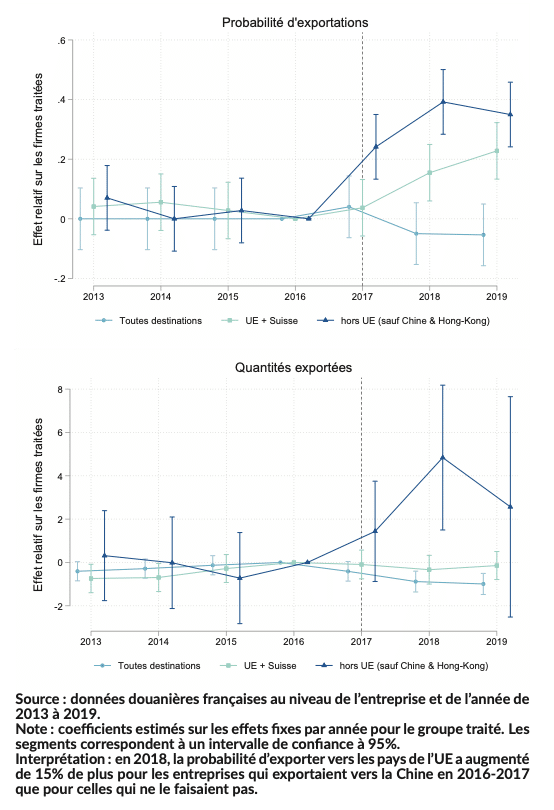 France, for its part, increased exports to Malaysia and oth­er East Asian coun­tries, but not to the EU, imply­ing that this lat­ter mar­ket was already sat­u­rat­ed. Over­all, exports fell by 30,000 tonnes in 2018, sug­gest­ing that more plas­tic waste had to be processed domes­ti­cal­ly. Treat­ed French com­pa­nies were also 15% more like­ly to export to the EU in 2018 and 22% more like­ly in 2019. The fig­ures are high­er for exports to out­side the EU with an addi­tion­al increase of 39% in 2018 and 37% in 2019.
We did find, how­ev­er, that the sit­u­a­tion was very dif­fer­ent for the two sets of des­ti­na­tions: affect­ed com­pa­nies react­ed imme­di­ate­ly by redi­rect­ing their exports to oth­er coun­tries out­side the EU, but they also start­ed to redi­rect these exports to Euro­pean part­ner coun­tries from 2018 onwards – and increas­ing­ly so in 2019. A longer time peri­od would be need­ed to con­firm these trends.
The quality of French exports and prices
The Chi­nese ban also affect­ed the type of plas­tic waste export­ed by France to oth­er coun­tries. The data shows that Malaysia has replaced Chi­na for when it comes to low qual­i­ty waste, which is sold on aver­age 60% cheap­er than the aver­age price of exports to the Nether­lands (an impor­tant trad­ing part­ner for France) for the same prod­uct categories.
What is more, the dif­fer­ent Euro­pean mem­ber states seem to have reor­gan­ised their plas­tic waste man­age­ment and a form of spe­cial­i­sa­tion has appeared. Bel­gium has become a plat­form, for exam­ple, while Ger­many and the Nether­lands import the cheap­est waste and burn it to pro­duce ener­gy from recy­cled mate­ri­als. Cer­tain coun­tries, such as Italy and Spain, are focus­ing on pro­cess­ing high­er qual­i­ty, more expen­sive waste.
Conclusions
The way in which the 2017 Chi­nese ban affect­ed French exports both with­in the Euro­pean mar­ket and to the rest of the world can pro­vide valu­able infor­ma­tion on how France will adapt to the new 2021 EU reg­u­la­tions. One impor­tant con­se­quence is that much of the country's dif­fi­cult-to-recy­cle waste will now have to be treat­ed at home. In the short term, this will require mas­sive invest­ment in mod­ern and effi­cient sort­ing and recy­cling infra­struc­tures. Any delay in set­ting up these sys­tems could encour­age an increase in ille­gal trade in this lucra­tive sec­tor. This is some­thing that hap­pens in gen­er­al when poli­cies are tight­ened and state invest­ment is lacking.
Our study pro­vides guide­lines for quick action by mak­ing use of ini­tia­tives such as the Green Pact for Europe, which aims to recy­cle 50% of the plas­tic waste gen­er­at­ed by the EU by 2030. Con­cert­ed efforts by mem­ber states could allow the trade in plas­tic waste to become a source of eco­nom­ic gain for Europe by 2030, while being ben­e­fi­cial for the environment.
Summary by Isabelle Dumé