Of dif­fer­ent reg­u­la­to­ry mech­a­nisms, what issues are there around use-by dates?
This is an impor­tant issue, because more than 50% of French peo­ple do not know the dif­fer­ence between the "Use By" date and the "Expi­ra­tion Date". The lat­ter, which is manda­to­ry for rapid­ly per­ish­able food­stuffs, is the date after which the prod­uct becomes unfit for con­sump­tion, as it may present a risk to human health. The for­mer is the date after which the prod­uct los­es some of its nutri­tion­al or organolep­tic qual­i­ties, but does not con­sti­tute a health risk. It is indi­cat­ed by the words: "Best before XX/XX/XXXX".
It is esti­mat­ed that this lack of aware­ness is respon­si­ble for around 20% of food waste at the con­sumer lev­el. More­over, this issue goes beyond the nation­al frame­work and is posed at the Euro­pean lev­el, requir­ing changes to the reg­u­la­tions gov­ern­ing con­sumer information.
Sev­er­al reg­u­la­to­ry changes could reduce the waste linked to the mis­in­ter­pre­ta­tion of these dates. For exam­ple, the state­ment "Use by" could be reword­ed to read "Best before". Pol­i­cy action could also be con­sid­ered to replace some use-by dates with best-before dates and to expand the list of prod­ucts exempt from use-by dates. For exam­ple, cur­rent­ly salt or vine­gar are exempt, but not pas­ta or rice.
What is X‑Food ?
"Launched in late 2018 under the impe­tus of École Poly­tech­nique alum­ni, X‑Food aims to shed light on con­tro­ver­sies on top­ics relat­ed to agri­cul­ture and food, and to pro­mote inno­va­tion. The tran­si­tion to healthy and sus­tain­able food, in a con­text of world pop­u­la­tion growth, is a cru­cial chal­lenge. We have a dual approach, sci­en­tif­ic and holis­tic. On each sub­ject we study, we involve experts from all walks of life: researchers, indus­tri­al­ists, engi­neers, from the pri­vate and pub­lic sec­tors, and associations.
We have organ­ised four dis­cus­sion meet­ings over the course of 2020, mov­ing pro­gres­sive­ly up the val­ue chain: con­sump­tion and cater­ing, dis­tri­b­u­tion, pro­cess­ing, and then pro­duc­tion, and each time call­ing on 3 or 4 experts from the sec­tor. These meet­ings were fol­lowed by a sum­ma­ry con­fer­ence, the pub­li­ca­tion of a loss cal­cu­la­tion tool for pro­fes­sion­als and a fifty-page sum­ma­ry doc­u­ment in which we pro­pose to act on 12 levers for con­trol­ling food loss­es."
Anne-Claire Asselin, Pres­i­dent of X‑Food
Oth­er poli­cies are more dif­fi­cult to put in place, as they are at the inter­face of dif­fer­ent links in the food chain?
Yes, this is the case with fruit and veg­etable waste, for exam­ple. Pro­duc­ers can­not always sell their entire pro­duc­tion, due to cli­mat­ic haz­ards, mar­ket dynam­ics, or san­i­tary and reg­u­la­to­ry con­straints. The siz­ing cri­te­ria result­ing from reg­u­la­tions, as well as cer­tain buy­ers' spec­i­fi­ca­tions, lead to a sig­nif­i­cant rejec­tion of down­grad­ed pro­duc­tion. While health cri­te­ria are unde­ni­able, qual­i­ty cri­te­ria (sug­ar con­tent, pro­tein con­tent, etc.) or aes­thet­ic cri­te­ria (colour, size, shape, etc.) seem more ques­tion­able. They gen­er­ate sig­nif­i­cant rejects of so-called "ugly" fruit and veg­eta­bles. Euro­pean reg­u­la­tions impose such size and appear­ance cri­te­ria on ten prod­uct cat­e­gories that rep­re­sent about 75% of the mar­ket! This excludes down­grad­ed fruit and veg­eta­bles from tra­di­tion­al dis­tri­b­u­tion channels…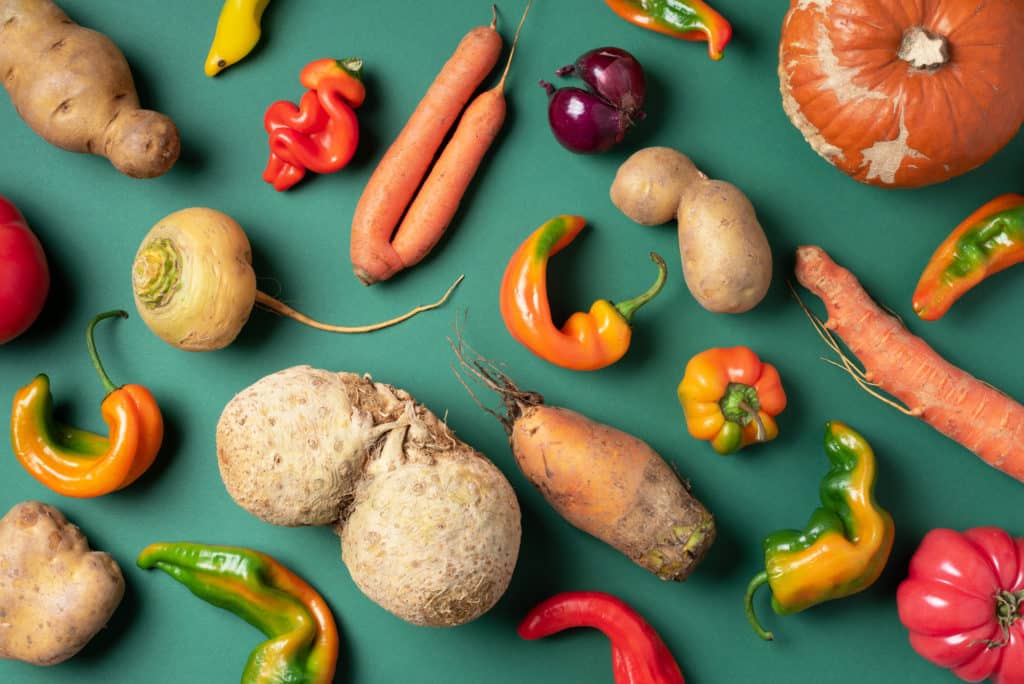 This is a good exam­ple of the com­plex­i­ty of the fight against waste. We could make use of this spoiled food by pro­duc­ing canned food. But this pro­duc­tion chain would then have to be sup­plied reg­u­lar­ly, which is con­tra­dic­to­ry when we are talk­ing about spoiled fruit and veg­eta­bles. It would also be pos­si­ble, by chang­ing the leg­is­la­tion, to offer them more sys­tem­at­i­cal­ly to con­sumers at a reduced price.
It is not enough to allow the sale of imper­fect prod­ucts; con­sumers must also want to buy them?
As we can see here, again, the fight against waste involves sev­er­al play­ers. In this case, pro­duc­ers con­tin­ue to pro­duce qual­i­ty-assured food because the con­sumer demands it. We there­fore need to encour­age peo­ple at the end of the chain to buy these prod­ucts through pro­mo­tion­al cam­paigns, such as the one that was car­ried out on "bro­ken heads" or "ugly vegetables".
This is all the more true since the "anti-gaspi" shelves or bas­kets con­tain­ing prod­ucts "close to the use-by date" suf­fer from a lack of expo­sure when they are not sim­ply dis­card­ed, as they are often placed in bulk at the back of the shop. Cheap­er food is also asso­ci­at­ed with low­er food qual­i­ty. Com­pa­nies such as Zéro Gâchis or Smart­way, for exam­ple, pro­pose to trans­form the image of these shelves to make them attrac­tive, in par­tic­u­lar by play­ing on the pos­i­tive image of the fight against waste. It is also nec­es­sary to raise aware­ness among super­mar­kets of the pos­i­tive eco­nom­ic impact of these departments.
The 12 solu­tions to food waste and loss­es as cit­ed in the report
1. Align the def­i­n­i­tion of food waste between France & oth­er organisations.
2. Clar­i­fy the dis­tinc­tion between Use By and Expi­ra­tion dates, and remove some.
3. Mobilise Ter­ri­to­r­i­al Food Plans (TAP) and pub­lic funding.
4. Rebal­ance trade rela­tions in favour of farmers.
5. Take anoth­er look at cal­i­bra­tion and com­mer­cial specifications.
6. Make date con­tracts between sup­pli­ers and dis­trib­u­tors more flexible.
7. Facil­i­tate the repro­cess­ing of agri­cul­tur­al surpluses.
8. Iden­ti­fy and mon­i­tor prod­ucts that are close to expiry.
9. Devel­op the sale of near-expiry products.
10. Strength­en and improve the qual­i­ty of unsold food donations.
11. Raise aware­ness among pro­fes­sion­als and consumers.
12. Imple­ment food waste education.
One of the last (but not least) levers is infor­ma­tion and education?
A major source of loss and waste is to be found at the distribution/consumption inter­face; it is the hyper-choice offered to a "hyper-con­sumer" who has to find his way between prod­ucts with a low car­bon impact, organ­ic prod­ucts, pro­mo­tions on cheap­er prod­ucts, etc.
At the nation­al lev­el, we need to increase the vis­i­bil­i­ty of the sub­ject, and make it a major nation­al cause, as Guil­laume Garot pro­posed dur­ing one of our debates. We should also set up, why not in schools, an edu­ca­tion on food waste. The youngest are gen­er­al­ly sen­si­tive to these sub­jects, and they can bring about a change in attitude.
What will be the next theme of X‑Food?
The issue of food loss and waste was our first top­ic. In 2021–2022, we have cho­sen the theme of ani­mal pro­teins: what are the dif­fer­ent impacts? Should we real­ly con­sume less of it? A sub­ject just as com­plex and con­tro­ver­sial as food waste!
The report can be read here (in French only)
Interview by Marina Julienne