Planet
Radulanine A: discovery of a natural herbicide
The use of syn­thet­ic pes­ti­cides and her­bi­cides is a sen­si­tive sub­ject in terms of pub­lic opin­ion, who are often con­cerned about the safe­ty of exposed pop­u­la­tions and bio­di­ver­si­ty. With­out enter­ing too much into this debate, it must nev­er­the­less be stressed that the search for sus­tain­able solu­tions and alter­na­tives is an active field in chem­istry, par­tic­u­lar­ly focused on nat­ur­al substances.
In organ­ic chem­istry, we some­times play Lego with atoms to repro­duce small nat­ur­al mol­e­cules with inter­est­ing prop­er­ties. This is what we call total syn­the­sis. Once these mol­e­cules have been syn­the­sised, we try to bring them to life through new applications.
Research in this field has already made it pos­si­ble to bring mol­e­cules of nat­ur­al ori­gin onto the mar­ket. To give an idea of the extent of the phe­nom­e­non, it should be not­ed that about a third of the pes­ti­cides patent­ed between 1997 and 2010 are "nat­ur­al" 1. Alter­na­tives there­fore exist, but "nat­ur­al" does not nec­es­sar­i­ly mean "safe".
This fig­ure is much low­er in the cat­e­go­ry of her­bi­cides: over the same peri­od, only 8% of patent­ed mol­e­cules are "nat­ur­al". It is in this con­text that we dis­cov­ered a nat­ur­al her­bi­cide with poten­tial appli­ca­tions. Notably in agri­cul­ture, but also in the treat­ment of rail­way tracks, which must remain per­fect­ly free from weeds to run high-speed trains on them, for exam­ple. Our project is financed by the inno­va­tion clus­ters at the CNRS 2 and Insti­tut Poly­tech­nique de Paris 3.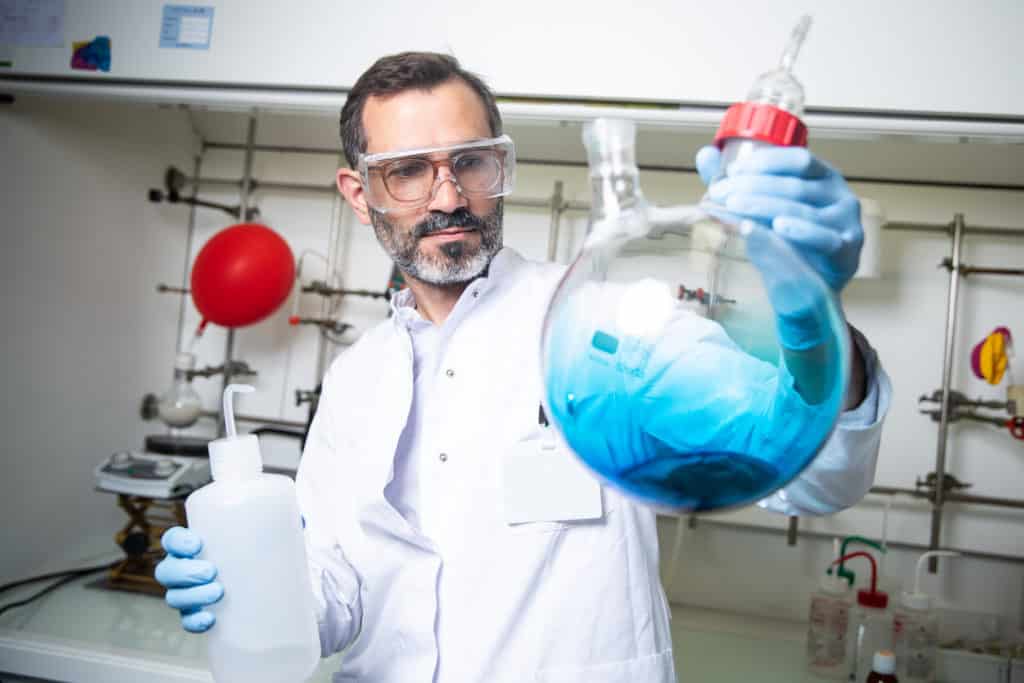 Unexpected discovery
In May 2019 our team from the Organ­ic Syn­the­sis Lab­o­ra­to­ry of École poly­tech­nique 4 announced that we had suc­ceed­ed in syn­the­sis­ing a nat­ur­al her­bi­cide: Radu­lanin A. The sto­ry is an exam­ple of "serendip­i­ty" – the abil­i­ty to make a sci­en­tif­ic dis­cov­ery by chance and grasp its use­ful­ness. For it was not a new her­bi­cide that we were work­ing on at first, but rather a new method of syn­the­sis, tar­get­ing com­plex molecules.
The mol­e­cules tar­get­ed in our research are often com­plex and require long-term work. Basi­cal­ly, what we were aim­ing for was a mol­e­cule pro­duced by a fun­gus; a com­plex mol­e­cule with cer­tain motifs that inter­est­ed us. To repro­duce these motifs (sev­en-chain oxy­genat­ed cycles) we devel­oped a new method of syn­the­sis, using a par­tic­u­lar chem­i­cal reac­tion (for the spe­cial­ists read­ing, this was by a rearrange­ment of the retro-Claisen type). To test the use­ful­ness of this method, we there­fore chose a sim­pler mol­e­cule: Radu­lanin A. And, low and behold, our method of syn­the­sis worked. In the begin­ning, there­fore, Radu­lanin A was not specif­cal­ly our target.
First reflex: find an application
Once syn­the­sised, the ques­tion arose as to how this mol­e­cule is used in nature. In doing so, we dis­cov­ered that it has sim­i­lar­i­ties with mol­e­cules known to have plant hor­mone prop­er­ties. A fel­low researcher from Sor­bonne Uni­ver­si­ty, Emmanuel Bau­douin, then took over and showed that Radu­lanin A does indeed have the abil­i­ty to inter­act with plants, through phy­to­tox­ic prop­er­ties. With­out know­ing it, we had syn­the­sised a nat­ur­al herbicide!
At a time when we are look­ing for indus­tri­al alter­na­tives to glyphosate, this was good news. The her­bi­ci­dal prop­er­ty of Radu­lanin A has now been patent­ed, and indus­try is inter­est­ed in it. For the patent to be exploit­ed, it will be nec­es­sary to under­stand how, over time, the mol­e­cule inter­acts with the envi­ron­ment, and whether it can have effects on the human body. These ques­tions, cen­tral to indus­try, are a pre­req­ui­site for approval. The impact of a mol­e­cule also depends on how it is used, which must remain rea­son­able to lim­it its impact on the envi­ron­ment. The tox­i­c­i­ty of a sub­stance is almost always a mat­ter of concentration.