Economics
Will the pandemic trap economies in secular stagnation?
[This arti­cle is a sum­ma­ry of an in-depth analy­sis pub­lished at vari​ances​.eu, for the orig­i­nal arti­cle click here]
It is a rare event: in 2020, eco­nom­ic activ­i­ty in the devel­oped world fell by 5.3%. As such, the Covid-19 cri­sis could trap economies in "sec­u­lar stag­na­tion", a pro­longed peri­od of slug­gish growth. Three fac­tors sup­port this hypoth­e­sis: a decline in poten­tial out­put, changes in house­hold and busi­ness behav­iour, and the accel­er­a­tion of the dig­i­tal tran­si­tion, which is a major fac­tor in inequality.
His­to­ry shows that deep reces­sions often have last­ing con­se­quences on the main macro­eco­nom­ic vari­ables (GDP, pro­duc­tiv­i­ty, unem­ploy­ment), even after the ini­tial shock has ful­ly dis­si­pat­ed. This is known as "hys­tere­sis": the phe­nom­e­non that caused the cri­sis (in this case the pan­dem­ic) dis­ap­pears, but the cri­sis con­tin­ues in the long term.
This hys­tere­sis effect will play a par­tic­u­lar­ly impor­tant role in the case of work­ers who have been thrown out of work by numer­ous bank­rupt­cies. If the work­ing pop­u­la­tion has been spared the virus, which main­ly affects old­er peo­ple, then mass redun­dan­cies could result in a loss of employ­a­bil­i­ty of work­ers, who would then strug­gle to find a job after the cri­sis. But the adverse effects will also affect phys­i­cal cap­i­tal accu­mu­la­tion and productivity.
The effective lower bound on rates
Many devel­oped economies entered this cri­sis in a vul­ner­a­ble state, with his­tor­i­cal­ly low inter­est rates and huge debt bur­dens. Since the sub­prime mort­gage cri­sis, cen­tral banks low­ered pol­i­cy rates to almost zero and resort­ed to uncon­ven­tion­al poli­cies (notably quan­ti­ta­tive eas­ing). But this did not trans­late into a sat­is­fac­to­ry recov­ery in activity.
The eco­nom­ic rebounds were mod­er­ate and tem­po­rary, while under­ly­ing infla­tion remained stub­born­ly low, long-term inter­est rates con­tin­ued their down­ward trend, and stock mar­ket val­u­a­tions rose. Over­all, mon­e­tary pol­i­cy since 2008 has paved the way for the accu­mu­la­tion of finan­cial vul­ner­a­bil­i­ties – explod­ing lever­age, exces­sive risk-tak­ing, asset bub­bles – with­out pro­vid­ing a sus­tain­able boost to activ­i­ty. And the Covid-19 cri­sis threat­ens to accen­tu­ate this dynam­ic. The cen­tral banks are now cor­nered: it is impos­si­ble for them to con­tin­ue low­er­ing their rates.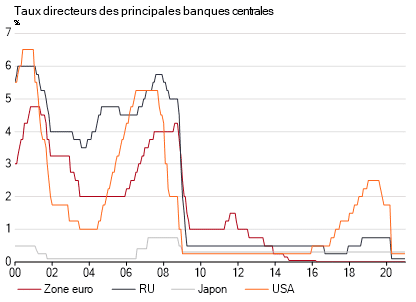 The inter­est rate that cen­tral bankers seek to achieve is the 'nat­ur­al' inter­est rate – the the­o­ret­i­cal real inter­est rate at which the econ­o­my is nei­ther infla­tion­ary over­heat­ing nor defla­tion­ary depres­sion. It is esti­mat­ed that this rate has fall­en over the last few decades to the point where it is close to zero, mak­ing con­ven­tion­al mon­e­tary poli­cies inef­fec­tive. The expla­na­tion for this decline lies in the imbal­ance between too much sav­ing and too lit­tle investment.
The cur­rent excess of sav­ings is part­ly due to the increase in inequal­i­ties – the mar­gin­al propen­si­ty to save of the most for­tu­nate being clear­ly high­er than that of the least for­tu­nate – but also to the efforts to reduce debt made since 2008, as well as to the age­ing pop­u­la­tion (old­er peo­ple hav­ing a greater ten­den­cy to save in antic­i­pa­tion of their retire­ment). The fall in busi­ness invest­ment is, for its part, main­ly a con­se­quence of the weak­en­ing of growth poten­tial, syn­ony­mous with a decline in future real returns on investment.
The sec­u­lar stag­na­tion hypoth­e­sis assumes that cen­tral bank pol­i­cy rates will remain so low that cen­tral banks will fre­quent­ly be unable to reduce them suf­fi­cient­ly to com­bat reces­sions effec­tive­ly. Con­strained by the effec­tive low­er bound on rates, the econ­o­my can only move towards full employ­ment if gov­ern­ments increase the gov­ern­ment deficit or if mon­e­tary pol­i­cy becomes high­ly expan­sion­ary, encour­ag­ing the dis­tri­b­u­tion of cred­it and the rise in asset prices that become the engine of growth.
An econ­o­my suf­fer­ing from sec­u­lar stag­na­tion is not going to remain per­ma­nent­ly stag­nant. But the under­pin­nings of growth – the inflat­ing debt and asset price bub­bles – increase the economy's vul­ner­a­bil­i­ty to crises. Decline in activ­i­ty due to crises become stronger and longer than recov­er­ies, mechan­i­cal­ly low­er­ing aver­age GDP growth.
Risk aversion
The Covid-19 cri­sis is like­ly to aggra­vate the prob­lem of excess sav­ings. One rea­son for this is that "extreme" risk events – also known as "black swans" in the finan­cial sec­tor – often lead to a chal­lenge to old belief sys­tems. As econ­o­mists have point­ed out, "The great­est eco­nom­ic cost of the Covid-19 pan­dem­ic may be the result of behav­iour­al changes that per­sist long after the imme­di­ate res­o­lu­tion of the health cri­sis 1."
The seis­mic shock of the pan­dem­ic could result in a struc­tur­al increase in risk aver­sion of firms and house­holds, lead­ing to a reduc­tion in their invest­ment and con­sump­tion spend­ing, in order to build up a larg­er sav­ings cush­ion for future crises. A fall in con­sump­tion, which means few­er oppor­tu­ni­ties for com­pa­nies, gen­er­al­ly results in a fall in invest­ment. More­over, the inclu­sion of epi­demi­o­log­i­cal risk is like­ly to increase the risk pre­mi­um required to jus­ti­fy cer­tain pro­duc­tive invest­ments, fur­ther curb­ing the accu­mu­la­tion of phys­i­cal capital.
Increasing inequality and the digital revolution
Covid-19 could also con­tribute to sec­u­lar stag­na­tion by exac­er­bat­ing socio-eco­nom­ic inequal­i­ties. The sec­tors most affect­ed by the cur­rent cri­sis are those employ­ing an irreg­u­lar work­force (such as the hotel indus­try). But the expo­nen­tial devel­op­ment of the dig­i­tal econ­o­my since the begin­ning of the pan­dem­ic is also a vec­tor of inequal­i­ty, for two main rea­sons: it favours high­ly qual­i­fied work­ers (this is known as « skill-biased tech­no­log­i­cal change »), and leads to the robo­t­i­sa­tion of rou­tine tasks, which were main­ly car­ried out by low- or medi­um-skilled labour.
How­ev­er, as the most afflu­ent are those with the high­est propen­si­ty to save, the phe­nom­e­non of excess pri­vate sav­ings at the ori­gin of the fall in the nat­ur­al rate of inter­est should become even worse.
Nev­er­the­less, sec­u­lar stag­na­tion is not an evil with­out a rem­e­dy: fis­cal pol­i­cy has an impor­tant role to play in its res­o­lu­tion, by absorb­ing excess pri­vate sav­ings via an increase in pub­lic deficits 2. More­over, the dig­i­tal trans­for­ma­tion could result, as some pre­dict, in a pro­duc­tiv­i­ty boom that would boost eco­nom­ic growth.