Economics
Will there be a "post-covid" economy?
We are all won­der­ing what the pan­dem­ic will change in the long term. Will the Covid-19 health cri­sis leave a long-last­ing trace in our eco­nom­ic sys­tem? Its a ques­tion we still can­not answer with cer­tain­ty because it is dif­fi­cult to assess what struc­tur­al rup­tures will remain after the cri­sis is over. How­ev­er, we can see at least six pos­si­ble dis­rup­tions in the fields of the labour mar­ket, indus­try, ener­gy tran­si­tion and dig­i­tal­i­sa­tion, as well as mon­e­tary and fis­cal poli­cies. At this stage, these are only trends and weak sig­nals, so only time will tell if they come to pass.
Labour mar­ket: few­er appli­cants and high­er wages?
Since the late 1990s, OECD coun­tries have expe­ri­enced a dis­tor­tion of the income dis­tri­b­u­tion to the detri­ment of employ­ees. There has been a decline in employ­ee bar­gain­ing pow­er with com­pa­nies they work for (Fig­ure 2A). How­ev­er, since the begin­ning of the health cri­sis, there has been a decline in par­tic­i­pa­tion rate, i.e. the pro­por­tion of work­ing-age peo­ple enter­ing the labour mar­ket has fall­en (Fig­ure 2B). If this trend were to con­tin­ue or increase, the ris­ing ten­sion on the labour mar­ket would be favourable to employ­ees and wages would rise, thus gen­er­at­ing some inflation.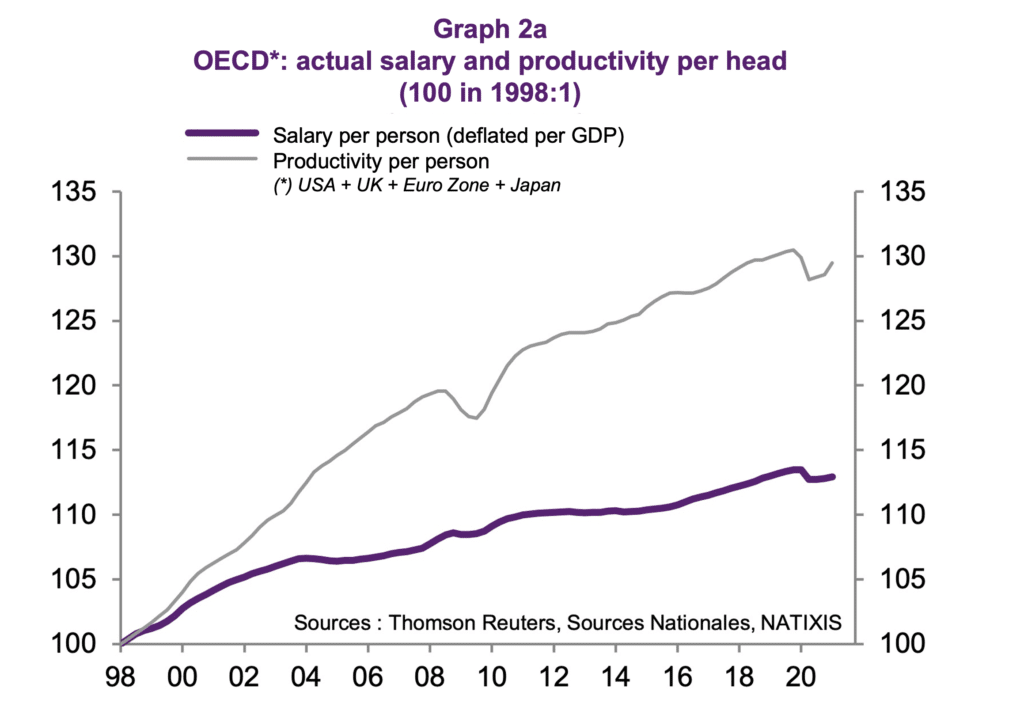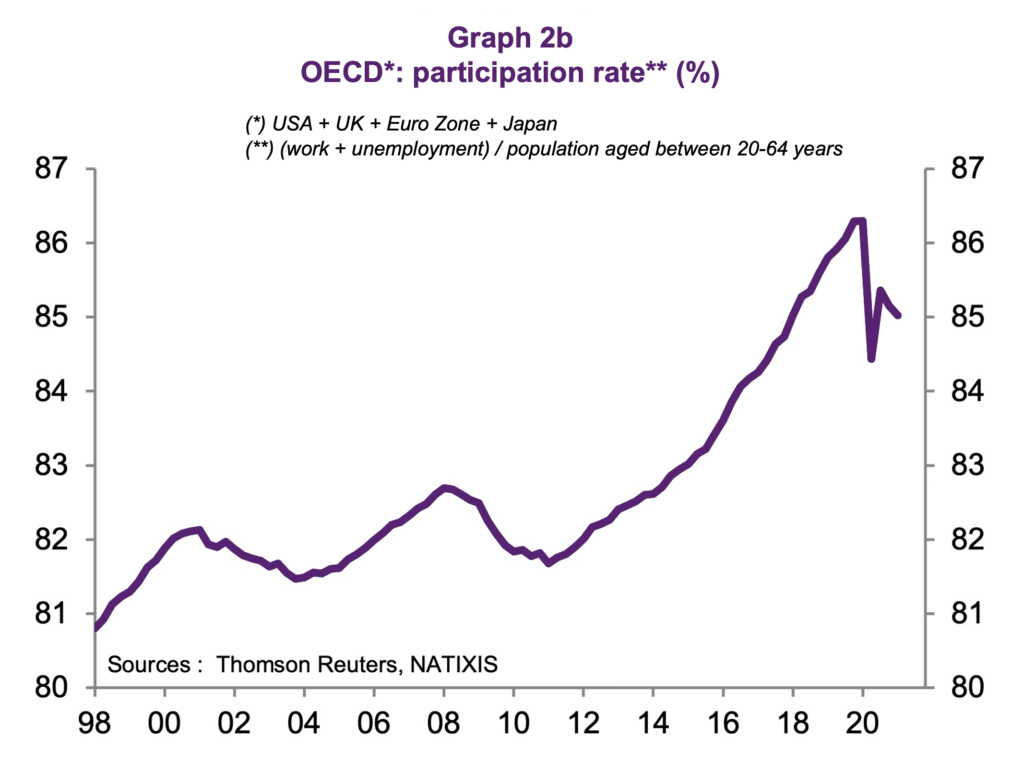 2. Will indus­tries recover?
For more than twen­ty years, the amount of pro­duc­tion by advanced economies has been on the decline. How­ev­er, since the begin­ning of the Covid cri­sis, we have seen a drop in the con­sump­tion of ser­vices due to health restric­tions (restau­rants, leisure activ­i­ties, etc) accom­pa­nied by a sharp rise in the con­sump­tion of goods. This is linked to the devel­op­ment of online com­merce and dif­fer­ent needs or desires that emerged dur­ing the lock­downs (gar­den­ing, dec­o­ra­tion, cre­ative leisure activ­i­ties, etc.). In the face of this, will indus­try recov­ery (graph 3B)? Yes, there is rea­son to believe so thanks to the new needs linked to work­ing from home (elec­tron­ics, fur­ni­ture), the need for equip­ment for renew­able ener­gies (wind tur­bines, elec­trol­y­sers for hydro­gen) and because of gov­ern­ment recov­ery plans and invest­ments in infra­struc­ture. Will this cre­ate jobs in OECD coun­tries? It could be the case, if some pro­duc­tion is relo­cat­ed for rea­sons of sov­er­eign­ty or to sim­pli­fy the sup­ply chain (med­i­cines, high-end tex­tiles) this would increase the need for skilled workers.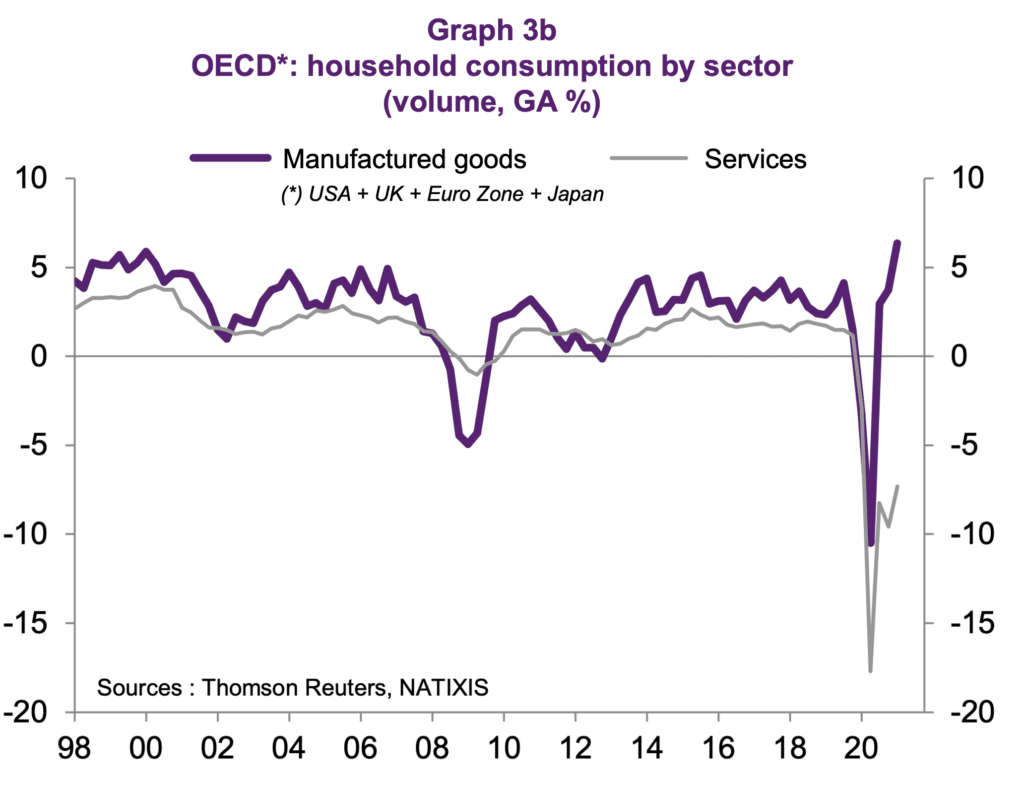 3. What will be the con­se­quences of accel­er­a­tion in the ener­gy transition?
The pan­dem­ic has con­tributed to accel­er­at­ing the ener­gy tran­si­tion, but it is not yet clear what the con­se­quences of a rapid tran­si­tion to net zero CO2 emis­sions in 2050 would be. Will the jobs destroyed (car indus­try, oil sec­tor) be replaced by oth­ers (ther­mal insu­la­tion, wind farms)? Will renew­able ener­gy equip­ment be man­u­fac­tured in OECD coun­tries or import­ed? For the moment, the share of the these prod­ucts man­u­fac­tured in France is very low. The sec­ond option – import – would lead to a decrease in added val­ue for these economies. And final­ly, what effect will the ener­gy tran­si­tion have on the price of ener­gy? The inter­mit­ten­cy of renew­able ener­gy pro­duc­tion will like­ly mean a sharp increase in price because of the need for elec­tric­i­ty storage.
4. Is dig­i­tal­i­sa­tion pos­i­tive for the economy?
Noth­ing is less cer­tain. Dig­i­tal­i­sa­tion of the econ­o­my has accel­er­at­ed since the begin­ning of the pan­dem­ic (e‑commerce, deliv­er­ies). How­ev­er, while dig­i­tal tech­nol­o­gy cre­ates high­ly skilled jobs in the design of ser­vices (com­put­er devel­op­ers, engi­neers), it also cre­ates a large num­ber of unskilled jobs (deliv­ery per­son­nel, pack­ers). This polar­i­sa­tion results in strong income inequal­i­ties. More­over, it is not at all cer­tain that the dig­i­tal econ­o­my increas­es pro­duc­tiv­i­ty. On the con­trary, it has been observed over the past 20 years that the increase in invest­ment in new tech­nolo­gies has coin­cid­ed with a slow­down in pro­duc­tiv­i­ty (Fig­ure 5B).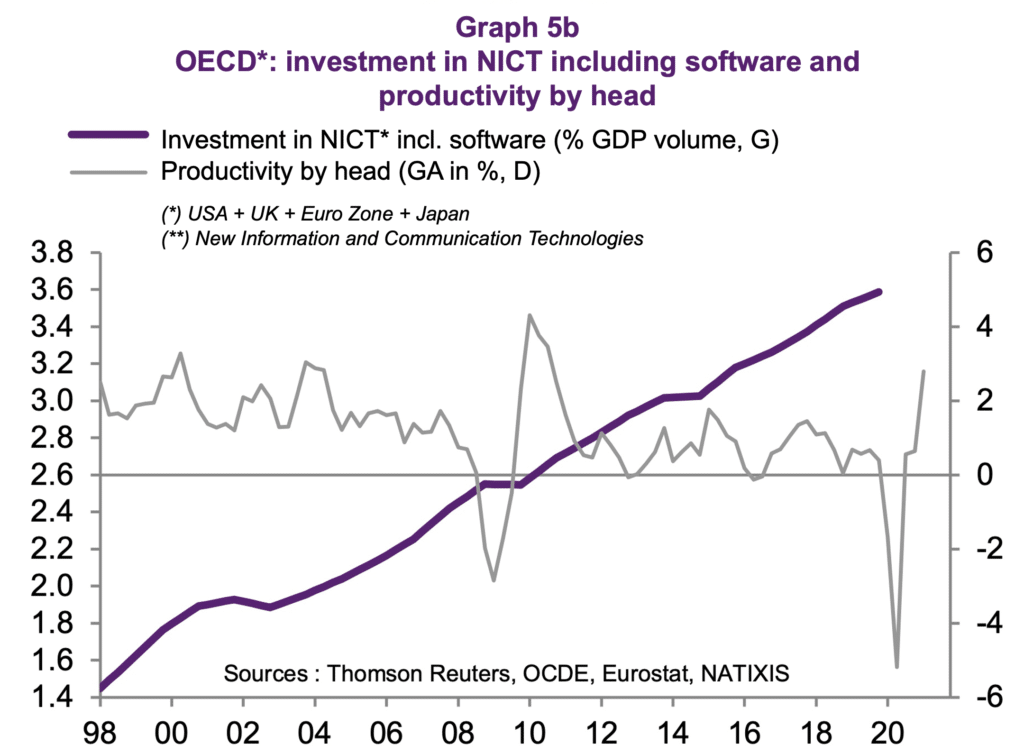 5. Can cen­tral banks change their policies?
The "what­ev­er the cost" approach to sav­ing com­pa­nies and jobs by the gov­ern­ment has required the inter­ven­tion of cen­tral bankers. In doing so, they have mon­e­tised state debt by great­ly increas­ing the vol­ume of mon­ey in cir­cu­la­tion i.e. print­ing ban­knotes. Con­trary to wide­spread belief, gov­ern­ments will not have to repay a large part of the debts they have con­tract­ed, as these are now record­ed as lia­bil­i­ties of the Euro­pean Cen­tral Bank (ECB) and the Fed­er­al Reserve, and it is dif­fi­cult to see why this option should change (Fig­ure 6B). On the oth­er hand, if mon­e­tary pol­i­cy has made it pos­si­ble to main­tain the sol­ven­cy of states, it has strong reper­cus­sions on asset prices. The avail­abil­i­ty of liq­uid­i­ty results in high­er asset prices (real estate and cor­po­rate val­ues) which increase wealth inequal­i­ty (Graph 6B). On the oth­er hand, it is not clear whether a rise in inter­est rates would lead to a pub­lic debt crisis.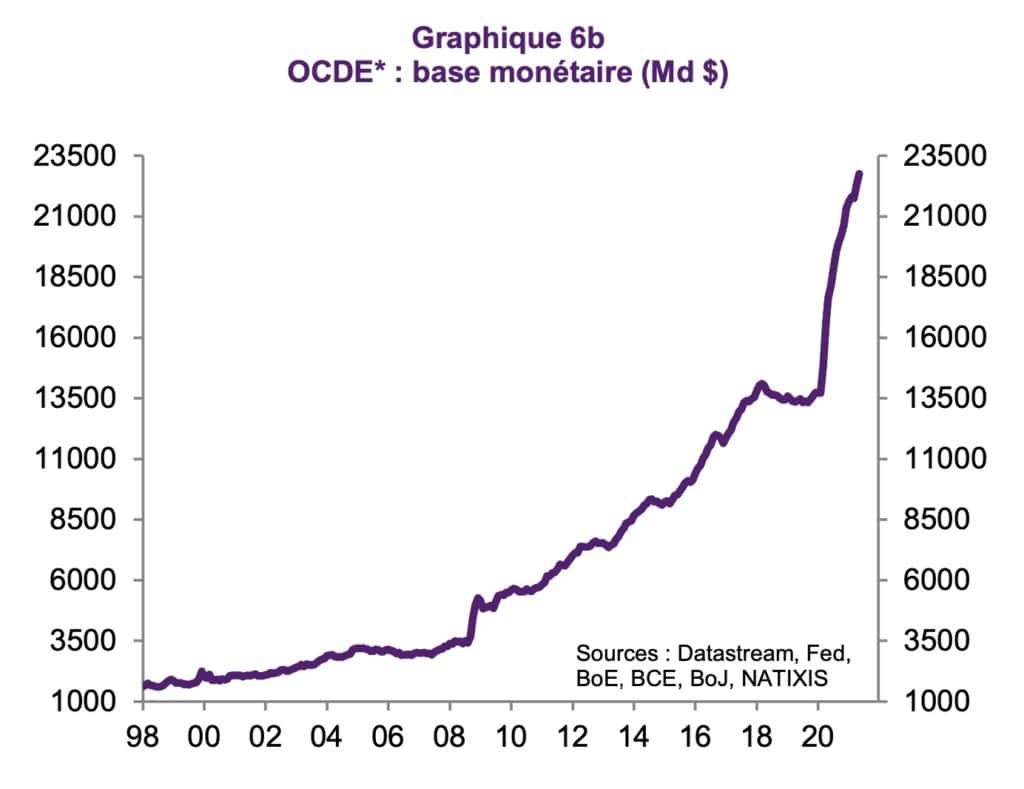 6. Can states forego pub­lic deficits?
The health cri­sis has required huge mobil­i­sa­tion of liq­uid­i­ty and gov­ern­ments have real­ly pushed the usu­al lim­its of deficits and pub­lic debt (Graph 6E). Pub­lic opin­ion has become all the more accus­tomed to these increas­es because of the grow­ing num­ber of needs: ener­gy tran­si­tion, relo­ca­tion, health, research, young peo­ple, the fight against pover­ty. In France, for exam­ple, there are sev­er­al announce­ments per week that require an increase in pub­lic debt (invest­ments in Mar­seille, reim­burse­ment of psy­chol­o­gy con­sul­ta­tions, com­mit­ment income for young peo­ple). Will states be able to return to more sobri­ety? We don't know, but we do know that if they don't, the pres­sure on cen­tral banks to main­tain their accom­mo­dat­ing poli­cies will be considerable.